BEIRUT -- Hizbullah's erection of posters, billboards and statues of the late Iranian general Qassem Soleimani in areas of Lebanon where the party wields influence has enraged a large segment of the Lebanese population.
In interviews with Al-Mashareq and on social media, many Lebanese said they were irked to see the image of the Islamic Revolutionary Guard Corps Quds Force commander along the Beirut airport highway -- a gateway to Lebanon.
With this move, the Iran-backed party intended to send a signal that Iran is tightening its grip on Lebanon, they said.
In the run-up to the January 3 anniversary of Soleimani's killing in Baghdad, Hizbullah raised giant portraits of him in its areas of influence in Beirut, the south and the Bekaa Valley, as well as along the airport road.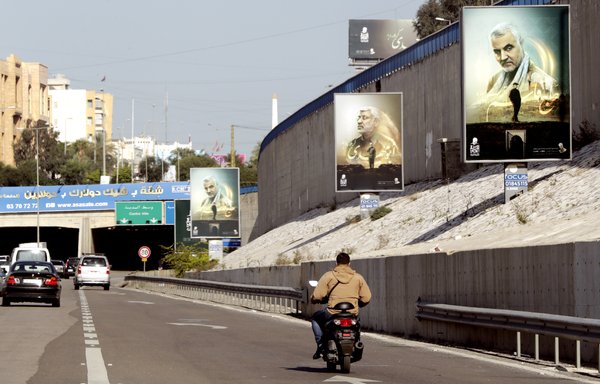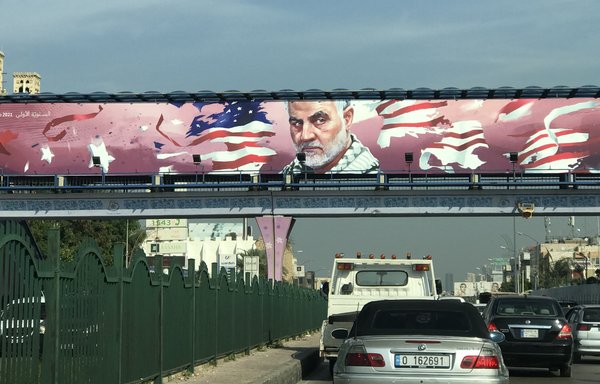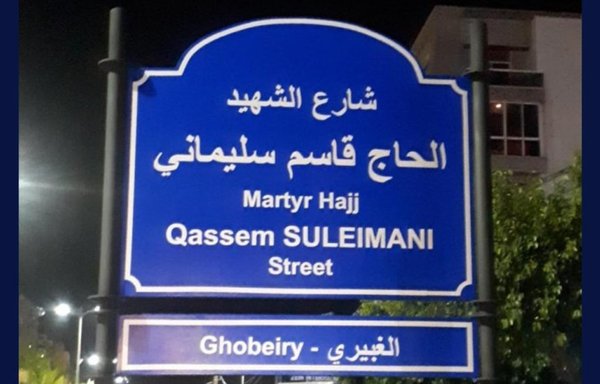 The party unveiled several statues of him, notably in al-Ghobeiry in the southern suburbs, where it also named a street after him.
'Hijacking Lebanon'
"It is unacceptable for Hizbullah to raise portraits of Soleimani on the road to the airport, the gateway for those coming to Lebanon and those departing it," writer and political activist Asaad Bishara told Al-Mashareq.
In so doing, it seeks "to consecrate the image of Iranian tutelage, and to say that it is the most powerful [force] in Lebanon", he said.
Bishara said the matter "goes beyond just raising portraits of a foreign figure in Beirut, or naming a street", as Soleimani is a symbol of the Iranian regime. He fought in Syria and formed militias in Lebanon, Iraq and Yemen "that threaten the existence of these states".
"The raising of a portrait is a symbolic act that says that Lebanon is ruled by Hizbullah and by Tehran behind it," he said.
"Iran is responsible for isolating and hijacking Lebanon, and destroying its economy, which was historically built on a market economy and on strong and organic relations with the Arab world and the international community," he said.
Since October 2019, Lebanese taking part in popular protests have been calling for an end to corruption and Hizbullah's dominance.
In defiance of the protesters, Hizbullah affixed Soleimani's portrait to the "revolution fist" in Beirut's Martyrs Square. Some protesters set fire to portraits of Soleimani on the Nahr al-Kalb highway in Jounieh, north of Beirut.
Many politicians and activists took to social media to denounce Iran's influence.
In a social media post, May Chidiac, a former Lebanese minister of State for Administrative Development, asked Hizbullah to "stop distorting Lebanon's identity and involving the country in wars that have nothing to do with it", warning that "Lebanon will not be an Iranian canton!".
The erection of statues, raising of portraits and naming of streets for Soleimani, late Iraqi Popular Mobilisation Forces commander Abu Mahdi al-Muhandis and Iranian Supreme Leader Ali Khamenei "will backfire on you", Chidiac said.
"Naming Lebanese streets after leaders of subversion and Iranian militias does not represent Lebanon," Gen. (ret.) Ashraf Rifi, a former Lebanese justice minister, said on Twitter, describing this as "an illegal and provocative act".
Deceptive appearances
Despite the heavy media coverage of the anniversary of Soleimani's killing, not all Lebanese Shia subscribe to the doctrine of Wilayat al-Faqih (Guardianship of the Jurist), said Shia Reform Movement member Hussein Ezzedine.
The doctrine calls for allegiance to Khamenei.
"Few Shia observed the anniversary of Soleimani's killing, and appearances, while grandiose, are deceptive," he said.
Provocative portraits of Soleimani were absent from towns affiliated with the Amal movement, an ally of Hizbullah, he pointed out.
"The portraits and statues are an affront to an independent and sovereign state," said independent journalist Sawsan Abu Zuhr.
"Portraits of Arab leaders, presidents and kings were raised in Lebanon in the past, but never on the road to the airport, and never has the airport entrance greeted visitors to Lebanon with an Iranian façade," she said.
"Soleimani's portraits are another manifestation of the disintegration of what remains of the state, in the absence of sovereignty," she added.