BEIRUT -- Lebanese citizens are waiting to see if their caretaker government and local authorities will follow through with a decision to take down images of Iranian political and religious leaders that line the road to Beirut's airport.
The road leading to Rafik al-Hariri International Airport has been a source of ire for many in Lebanon for its billboards featuring the likes of former Islamic Revolutionary Guard Corps Quds Force (IRGC-QF) commander Qassem Soleimani.
Hizbullah chief Hassan Nasrallah also appears on a number of billboards along the well-travelled thoroughfare, along with symbolic religious, political and military figures from the Iranian regime.
In a television interview earlier this month, Minister of Tourism Waleed Nassar called on Hizbullah and the Amal movement "to reduce the number of pictures and symbols posted along Airport Road" for at least three months.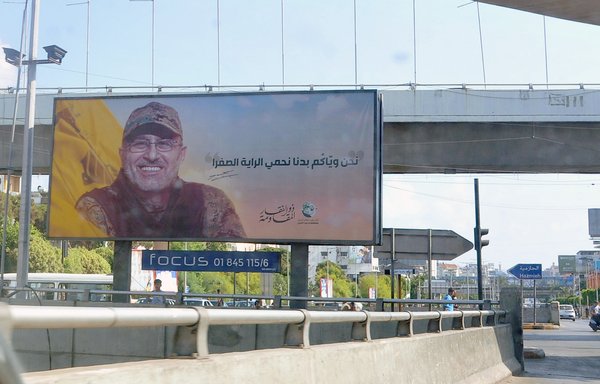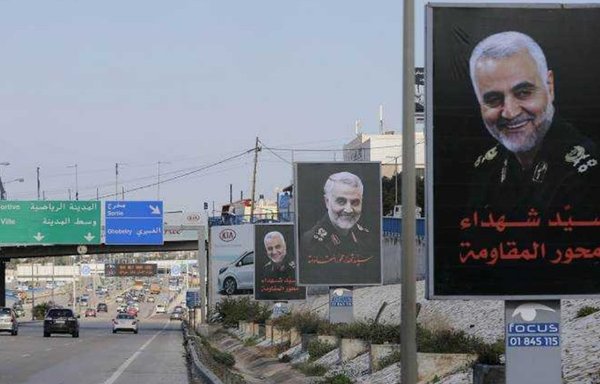 He urged the caretaker government to post pictures of Lebanon's tourist attractions instead, especially since private sector indicators point to a promising summer for tourism.
Between 10,000 and 12,000 visitors are expected to arrive in the country each day this summer, he said, for a total of "up to one million tourists".
After Nassar's statement, the Ministry of Tourism met with the tourist unions and Haj Maan al-Khalil, the mayor of Ghobeiry, the municipality where Airport Road is located, and companies that rent out the corridor's advertising space.
They agreed to form a committee and put in place an advertising programme for the advertising space along Airport Road, and in other areas as well.
Airport Road is considered the "gateway to Lebanon", and for many years it has been dominated by pictures of Iranian figures such as Soleimani and Iran's leader Ali Khamenei.
The Airport Road displays have roused the resentment of Lebanese travellers and tourists from around the world, who see in the billboards a change of Lebanon's identity and the consolidation of an Iranian scene.
'Gateway to Lebanon'
Beirut's Airport Road "is the main entrance to tourism in Lebanon", said Tony al-Ramy, president of the Syndicate of Owners of Restaurants, Cafés, Night-Clubs and Pastries in Lebanon.
"It is supposed to make tourists feel comfortable and safe to continue on their way towards the centre of Beirut, and from there to the tourist areas they wish to visit," he said. "But Airport Road today is the opposite of what we want it to be, namely an entrance to the tourist face of Lebanon."
During the recent meeting with the Ministry of Tourism, a request was made "that the pictures of Iranian leaders raised along the road be removed", he told Al-Mashareq.
The mayor of Ghobeiry "responded positively, and he promised us that the pictures will be soon removed and pictures of tourist sites and advertisements for restaurants and hotels will be raised in their place", al-Ramy said.
He hailed this as "a positive step", noting that the decision to remove the pictures of Soleimani and others "was taken by consensus".
Syndicate of Marine Tourist Complex Owners head Jean Beiruti, who also serves as secretary general of the Federation of Tourism Institutions, said the move to remove the photos of Iranian and Hizbullah leaders "is a political decision".
It "was seriously discussed in the Ministry of Tourism meeting", he told Al-Mashareq.
The minister of tourism's response is "a positive and welcome step", he said, but "words should be supported by action".
'Nothing to do with Lebanon'
"Every time we visit, we see the same scenes repeated on Airport Road," said Dr. Alain Sarkis, a Lebanese cardiologist residing in France who founded the Lebanese Citizens Around the World group.
The photos of Iranian leaders along the road that welcome visitors into Lebanon "have become disgusting and revolting", he said.
"It is unfortunate that every time we visit Lebanon, we are introduced to another face, namely the face of violence and images of martyrs and fighters who have nothing to do with Lebanon," he said.
Like thousands of Lebanese expatriates, he said, "I am in favour of removing all these pictures" and accompanying Iranian slogans.
"In any sovereign and independent country, the airport road is the main entrance to the country and facade for arriving visitors," political writer Asaad Bishara said.
"The scenes along airport roads generally reflect the culture and spirit of the country, except for the Beirut airport road, which has no resemblance to Lebanon."
That the pictures are displayed so prominently in Beirut "gives a certain impression that Lebanon is under Iranian tutelage", Bishara said.