Saudi Aramco said Tuesday (November 24th) that a strike by the Iran-backed Houthis (Ansarallah) on its plant in Jeddah tore a hole in an oil tank, triggering an explosion and fire that was quickly extinguished.
The Houthis launched a missile attack on the oil facility in Jeddah on Monday, triggering an explosion and a fire in a fuel tank, officials said.
The Houthis claimed responsibility for the attack, saying they had launched a Quds-2 missile at the oil distribution facility.
"An explosion took place as a result of a terrorist attack by a projectile, causing a fire in a fuel tank at the petroleum products distribution terminal in the north of Jeddah," the Saudi energy ministry said in a statement.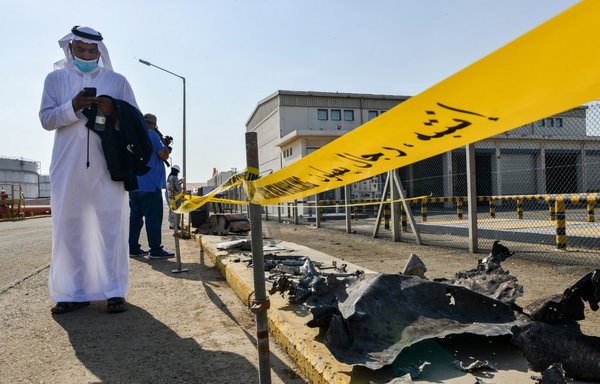 Firefighting teams extinguished the blaze and there were no casualties, it said, adding that Aramco's fuel deliveries were not affected by this act of "terrorism and sabotage".
The Arab coalition noted that the attack did "not target the national capabilities of the kingdom, but rather targets the nerve of the global economy and its supplies as well as global energy security".
TankerTrackers, an oil shipping monitoring website, cited satellite photos from Planet Labs as showing that a fuel storage tank at the North Jeddah Bulk Plant was "struck and quickly extinguished".
The roof of the tank suffered "major damage" with a hole measuring two metres across, said Abdullah al-Ghamdi, manager of the North Jeddah Bulk Plant. "It was a big fire, it was a big explosion but it was controlled."
The manager said that distribution from the plant, which provides refined products including jet fuel to the country's west, was restored within three hours even though the damaged tank -- one of 13 -- remained out of action.
"The fire was extinguished in a very short time, it only took about 40 minutes to put out a major fire in a major tank like this," he said.
International condemnation
Arab League secretary-general Ahmed Aboul Gheit condemned the attack as "an act of terrorism" in a statement published by the Saudi Press Agency.
Arab Parliament speaker Adel Abdurrahman al-Assoumi also denounced it, describing it as "part of a plan to target vital and economic facilities and affect energy supplies and oil prices in the global market".
Gulf Co-operation Council (GCC) secretary general Nayef Falah M. al-Hajraf said "these repeated and deliberate terrorist attacks" not only target the security of the kingdom "but the security and stability of the Gulf region".
Attacks of this nature "represent a flagrant violation of international laws and norms that prohibit targeting civilians and civilian objects", he said.
The General Secretariat of the Organisation of Islamic Co-operation (OIC) also condemned the attack and affirmed its solidarity with Saudi Arabia.
The UN meanwhile expressed concern over the attack on a civilian target, which it said violated international law.
It called on "all actors to exercise maximum restraint and to demonstrate a serious commitment to engage in the UN-facilitated political process".
Kuwait, Jordan, Egypt and the UAE were among the Arab states that issued statements expressing their solidarity with Saudi Arabia.
Britain's Middle East Minister James Cleverly condemned the strike, saying it threatened to derail efforts to end the war which has devastated Yemen.
"The only way to end Yemen's dire humanitarian crisis is for the parties to cease their hostilities and get round the negotiating table," he said on social media.
'Resilience will remain'
Saudi Arabia has been targeted with dozens of ballistic missile and drone attacks since the start of last year, including a devastating and unprecedented strike on Aramco's facilities in the country's east.
The US and Saudi Arabia held Iran responsible for that attack.
Earlier this month, a fire broke out at an offshore Saudi oil terminal after two explosives-laden boats launched by the Houthis (Ansarallah) were intercepted by Arab coalition troops.
Al-Ghamdi likened Monday's incident to the September 2019 assault on the Abqaiq processing plant and Khurais oil field which temporarily halved the kingdom's crude output and caused turmoil on global energy markets.
"What happened yesterday was another hostile attack, similar to what happened at Khurais and Abqaiq," he said.
"However, this will only demonstrate that Aramco's resilience to such hostile attack will remain, and demonstrate the reliability of our energy supply" within and outside the kingdom, he added.
Houthi aerial assaults have mostly targeted southern provinces along their shared border. Jeddah however lies some 600 kilometres from the frontier.
Yemeni Information Minister Moammar al-Eryani said the targeting of Aramco was a "full-fledged war crime" that affected not only Saudi Arabia but energy security and the global economy as well.