In an effort to strengthen its presence in eastern Syria's Deir Ezzor province and improve its standing among the local community, the Islamic Revolutionary Guard Corps (IRGC) has been enticing women to join its affiliated militias.
The move comes at a time of heightened competition for influence and control in the eastern regions of Syria among the Iranians, Russians and the Syrian regime of Bashar al-Assad, local sources said.
The move to admit women into the militias that operate in Deir Ezzor is "unprecedented", Syrian journalist Firas Allawi told Al-Mashareq.
The women who have been recruited are not serving in combat roles, he said, but are performing administrative tasks and serving as "ambassadors" for the Iranians, as they seek to consolidate their presence.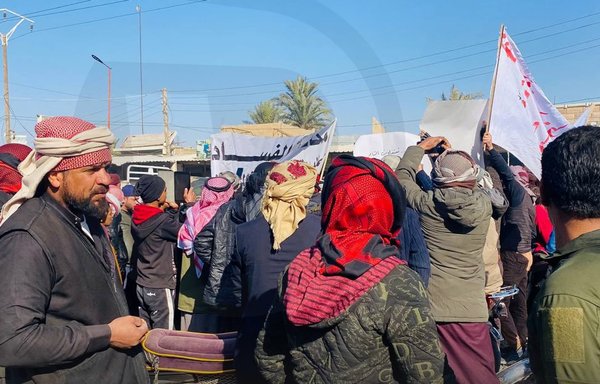 So far, 50 women from the Deir Ezzor towns of al-Mayadeen and Albu Kamal have joined IRGC-aligned militias, he said, and have received training in supportive roles such as nursing, emergency medical care and childcare.
Women in this part of Syria are desperate to earn money, as many have few options and their families are "struggling with extreme poverty, the high price of basic commodities and lack of job opportunities", Allawi said.
They are a source of cheap labour for the IRGC and also help it make inroads into the local community and thereby gain some measure of acceptance.
'Soft power' inroads
In addition to opening the door to women, the IRGC is continuing to recruit impoverished Syrian youth to boost the influence of its militias in Deir Ezzor at the expense of Russia-backed militias and Syrian regime forces, Allawi said.
He noted that competition for recruits among the Iranians, Russians and Syrian regime has been fierce, even though they are ostensibly on the same side.
The Iranian militias are even attempting to draw children into their orbit, he said, bringing them in as "cubs" of specific militias.
The children are taught to uphold and defend the doctrine of Wilayat al-Faqih (Guardianship of the Jurist), which calls for allegiance to Iran's supreme leader.
Iranian militias are in particularly cutthroat competition with the Syrian regime, which in November began to pardon Deir Ezzor residents who had fled or failed to report for compulsory military service, normalising their status, Allawi said.
The IRGC has begun an aggressive recruiting campaign targeting these youth, who the Syrian regime wants to fulfill their mandatory military service, he said, and now dozens of them have joined the Iranian militias in Albu Kamal instead.
The IRGC commands at least 20 large militias in Deir Ezzor, variously comprised of Iraqi, Lebanese, Afghani, Pakistani and Syrian fighters.
They include the Fatemiyoun Division, Zainabiyoun Brigade, Harakat al-Abdal, Kataib Hizbullah, Asaib Ahl al-Haq, Kataib Sayed al-Shuhada and Harakat al-Nujaba.
Russia, through the powerful Wagner Group, supports mercenaries and militias comprising Syrian fighters.
These include the Syrian regime's 9th Division (Nimr Forces), the 5th Corps militia and the Qaterji militia, some of which are deployed in Deir Ezzor.
Intimidation and enticement
Syrian Tribal Council spokesman Sheikh Mudar al-Asad said the close alliance among the Iranians, Russians and al-Assad does not mean that each side is not looking to consolidate its influence and interests on Syrian territory.
"These sides, especially Iran, are using all means of intimidation and enticement to coerce residents" into the ranks of their militias, he told Al-Mashareq.
"Elements of the Iranian militias are imposing an economic siege on Deir Ezzor residents and tightening the screws on them to force the youth, children and most recently, women, to join their ranks in exchange for money," he said.
The militias are granting protection from pursuit and arrest to defectors and deserters from the Syrian regime's forces.
In recent years, al-Asad noted, the Iranians have been able to recruit close to 10,000 Syrians in the provinces of Deir Ezzor, al-Raqa and al-Hasakeh, including teenagers and children.
Some of these recruits were sent to Iran to undergo military and ideological courses, and were given privileges and command positions.
"Some notable elders from Syrian tribes participated as mediators in recruiting youth for the IRGC and Russian militias," he said.
In an effort to draw in new recruits, he said, Iran sought to "gain the loyalty of these leaders by lavishing them with money and organising trips to Tehran for them to receive orders and instructions from officials there".
Al-Asad noted the proliferation of corruption and deterioration of living conditions and public services in Deir Ezzor, which is under the shared control of the Iranian and Russian militias and Syrian regime forces.
He said the Iranians and their proxies continue to deprive residents of their most basic rights, seize their property, and promote their own interests and ideology, which is propagated via newly constructed "religious centres".