Militias operating in eastern Syria under the direction of the Islamic Revolutionary Guard Corps (IRGC) have been hemorrhaging fighters as their bases come under attack and the local population spurns Iranian hegemony.
And as fighters desert Iran-backed militias in increasing numbers, Russian recruiters are waiting to snap them up and incorporate them into their own ranks, marking a new phase of the Syrian conflict, local activists said.
According to recent reports in Syrian media, dozens of Deir Ezzor residents who had been recruited into IRGC-backed militias have deserted their posts, Deir Ezzor media and social activist Mohammed Farouk told Al-Mashareq.
These reports are "entirely true", he said, noting that many of these militiamen are opting to change their alliance and join the ranks of Russian militias.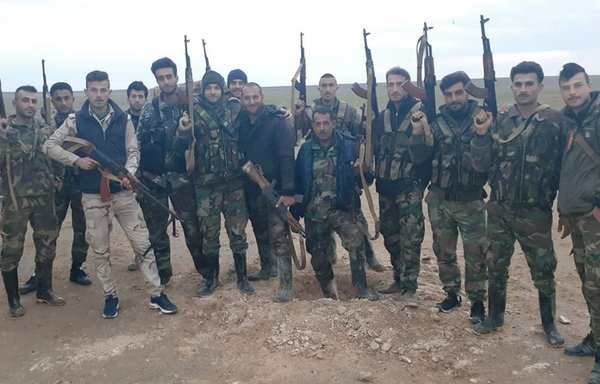 In fact, he added, desertion figures are higher than reported, as militiamen have been abandoning IRGC-aligned militias in a steady stream for months, with the number of desertions gradually increasing.
The IRGC-affiliated 47th Regiment militia has been particularly hard-hit by desertions, he said, with the number estimated at "more than 100 at least".
Bearing witness to this trend are "the stepped up patrols by Iranian militias in search of deserters in all the areas under their control in Deir Ezzor province", he said, noting that they have rounded up a number of deserters.
Some civilians also have been detained "on the charge of inciting desertion".
IRGC-aligned militias in turmoil
"Fear prevails at the headquarters of all IRGC militias, and many of them are being vacated," Farouk said, noting that some headquarters have raised the official Syrian flag instead of militia flags as a cover.
Groups of militiamen have concealed themselves among the civilian population in an attempt to escape the constant air strikes targeting their bases, he added.
Deir Ezzor youth are unwilling to "give up their lives in defence of the militias' headquarters amid the recent escalation of air strikes against them", he said.
Israeli air strikes on eastern Syria on January 13 killed at least 57 regime forces and allied IRGC-backed fighters, according to the Syrian Observatory for Human Rights.
The overnight raids targeted arms depots and military positions, and killed at least 14 Syrian regime forces, 16 Iraqi militia fighters and 11 Afghan members of the pro-Iran Fatemiyoun Brigade, the Observatory said.
Farouk pointed to security tensions gripping various parts of the eastern desert (Badiya), where clashes are taking place and militias are suffering heavy losses.
Though deserters have been flocking to the Russian militias, especially the 5th Corps, he said, they are doing this "not because they are pro Russia or accept its presence, but rather for protection from both IRGC militias and the regime".
Many of them also simply need money, he said.
Russian forces have been delighted to exploit this turn of events, employing "a cunning ruse in Deir Ezzor to recruit youth into their ranks", Farouk said.
They have been "opening offices to conduct reconciliation between the regime and Deir Ezzor tribesmen under the direct auspices of senior Russian officers".
Under this ruse, he explained, "those who return to the region are given amnesty documents to protect them from harassment by security services, after which the youth are pressured to join the Russia-affiliated militias".
Promoting Wilayat al-Faqih
"Over the past period, IRGC militias coerced many residents of Deir Ezzor region to join their ranks," said Deir Ezzor province resident Moataz al-Akidi.
They have done this via "military threats as well as financial enticement, taking advantage of the scarcity of job opportunities", he said.
This situation started to change, however, after the militias suffered heavy losses amid a volley of air strikes, and as the "Iranian plot" for eastern Syria began to become clear to local residents, he said.
The Iranian agenda, he said, "is based on sowing sectarian strife, effecting demographic change and promoting the ideology of the IRGC and the doctrine of Wilayat al-Faqih", which calls for allegiance to Iran's Supreme Leader Ali Khamenei.
Added to that, basic services are virtually non-existent in IRGC areas, infrastructure is lacking and the rubble from buildings destroyed by the war with the "Islamic State of Iraq and Syria" (ISIS) has yet to be removed.
All of that has sparked societal repudiation of IRGC-affiliated militias, al-Akidi said, "signs of which began to appear publicly, with the youth rejecting their efforts to recruit them into their ranks, and desertion by the youth of IRGC militias".
Amid the anti-Iran backlash, some local youth opted to join Russian militias "for protection", al-Akidi said.
Russian private military companies
Russian forces in Deir Ezzor did not stop at promoting the 5th Corps militia they established and are directing, said Deir Ezzor media activist Jamil al-Abed.
"They employed a ruse to recruit youth in all the areas in which they have a presence in Deir Ezzor province, announcing the establishment of a private security company" that is ostensibly providing protective security services.
This new security company, one of a number of private Russian security firms in Syria, among them the notorious Wagner Group, employs youth in Deir Ezzor for salaries starting from 175,000 Syrian pounds ($340).
Al-Abed said this company "does not require the applicants to present documents showing they completed their mandatory military or reserve duty". Instead, they need only produce their regular identification and other paperwork, such as health forms.
By joining the Russian security apparatus, youth receive "protection from being pursued by the Syrian regime to fulfill their military duty", he said.
"The company is affiliated with Qaterji International Group, which is close to Russia," he said. "This new security company is nothing but a civilian façade for a new militia affiliated with Russia."
This company lures in unemployed youth, along with those who do not want to join Iranian and Russian militias, he said, "even though the tasks carried out by this company are not different from those carried out by the militias".
The company's activities expand beyond Deir Ezzor, he said, to encompass Damascus, Homs, Tartus and Aleppo provinces, where Russian forces and allied militias have a presence.