High tensions prevail in Deir Ezzor province areas where Iran's Islamic Revolutionary Guard Corps (IRGC) and affiliated militias have a presence, after the Syrian army issued a decree summoning Syrian nationals to report for mandatory military service, a local activist said.
IRGC-affiliated militias have a heavy presence in eastern rural Deir Ezzor, "while the Syrian army has no presence in those areas", activist Jamil al-Abed told Diyaruna Wednesday (December 26th).
"Regime forces issued a circular in the Deir Ezzor region instructing all Syrians with IRGC-backed and affiliated militias to cease serving with these militias and report to conscription and reserve duty centres," he said.
These recruits will be sent to Syrian army training centres and assigned for service, he said.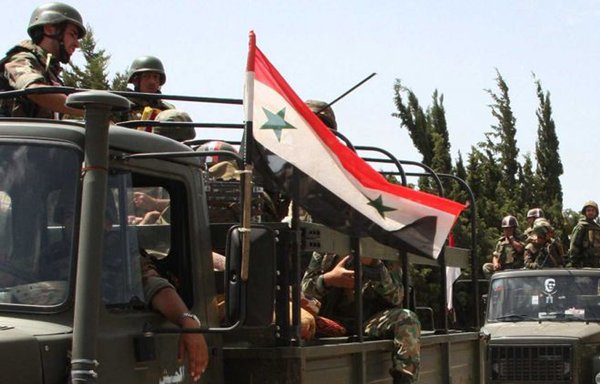 This development "has sparked confusion and tension in the region since the summons would strip the region of [IRGC-affiliated] militia fighters and leave these militias facing a severe shortfall in manpower", he said.
The decree was met with opposition from those called for service as they had been promised by the regime and the IRGC that time served with the militias would be deducted from their mandatory service, he said.
The IRGC had recruited thousands of Syrians from Deir Ezzor through financial enticements, al-Abed said, "in contrast to the Syrian army which offers no such enticements".
Additionally, these fighters were promised security privileges and that they would be exempted from military or reserve service with the Syrian army, he said.
"The IRGC command has brought in a large number of its non-Syrian elements to the region to offset any manpower shortfall that may occur," said al-Abed.
They imposed a security cordon around the region and set up dozens of checkpoints to prevent the Syrian fighters from leaving, he added.
The part of the city of Deir Ezzor controlled by Iran has witnessed a heavy deployment of Syrian elements, accompanied by Iranian fighters, he said.
Meanwhile eastern rural Deir Ezzor, especially the city of Mayadeen, has witnessed a heavy deployment of non-Syrian elements, he said.