Iran and Russia are engaged in a "frantic race" in southern Syria to entice local youth into the ranks of their respective militias, local activists said, with each attempting to outdo the other as they vie for new recruits.
The two sides are offering various incentives to prospective fighters, from lucrative salaries and financial assistance to promises to remove liens the Syrian regime had placed on their properties.
If they refuse to co-operate with the militias, however, threats and intimidation await them, residents say.
In addition to northern Syria's al-Hasakeh and Deir Ezzor provinces, the recruitment drive is now very active in southern Syria and seems to be focused on Daraa province, Daraa-based activist Jumaa al-Masalmeh said.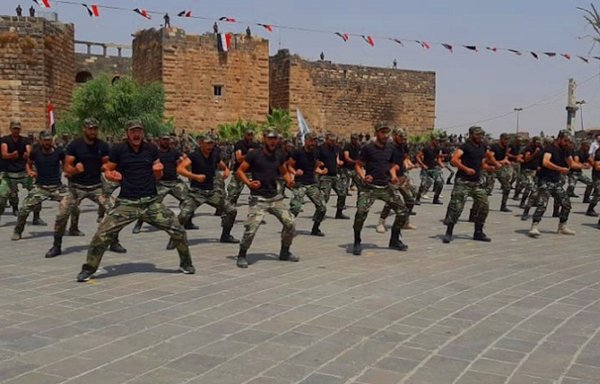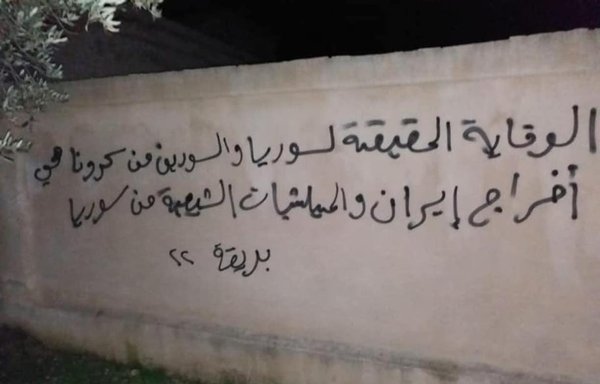 This strategic area is close to the border with Jordan and is part of a route that links Damascus with the Syrian Badiya (eastern desert) region and the border with Iraq.
The Iranians have been circulating an audio recording in the Daraa city of Busra al-Sham that features Wassim Omar, a native son and prominent commander affiliated with the Islamic Revolutionary Guard Corps (IRGC).
Omar founded Saraya al-Areen, or Brigade 313, which is based in the town of Azraa and takes its orders from Iran.
In the recording, Omar promises prospective recruits various privileges, including protection from pursuit by Syrian regime forces. Many youth are wanted by the regime for failure to perform their mandatory military service.
Al-Masalmeh said the pledge to remove property liens is especially enticing, as hundreds of southern Syria residents are unable to sell their properties or even live in them while the regime forces are after them.
Most properties in Daraa are controlled by IRGC-affiliated militias without any legal justification or court ruling, he said, and these may be the properties whose owners would be allowed to regain possession if they join Iranian militias.
Russia enticement
Sweida-based activist Nizar Bou Ali said Russian-affiliated forces also offer financial incentives, and also make it known that serving in their militias can be done in place of the year-long mandatory military service.
Bou Ali said the military service exemption is handled through mediators working with the Russian Federation Military Police, which is currently trying to recruit fighters for the 8th Brigade, led by Ahmed al-Awda.
Recruitment incentives used to be offered discreetly, he said, but the audio recording featuring Omar that is currently circulating on social media has broken the tradition of silence.
"The recording had a huge impact not only in Daraa but in the Houran region as well, because the residents of that region also suffer from the placement of liens on their properties," he said.
Syrian regime forces are unable to enter many southern regions, where they are unwelcome, he said. So some young men see offers to join the IRGC and Russian militias as the only option they have to obtain protection and money.
True Iran, Russia motives
If the way those militias have handled non-compliance in northern Syria is any indication, however, it does not bode well for the youth in the south.
Those who refuse to co-operate with the militias are dealt with in a totally different manner, said Mudhar Hammad al-Asaad, a member of the Council of Syrian Tribes and Clans in al-Hasakeh province.
In the event of noncompliance, IRGC-backed militias "set out to threaten and harm them, confiscate their property and displace them from their homes", he said.
Recruitment is also coupled with cultural and sectarian indoctrination.
The Iranian agenda "is based on sowing sectarian strife, effecting demographic change and promoting the ideology of the IRGC and the doctrine of Wilayat al-Faqih", which calls for allegiance to Iran's Supreme Leader Ali Khamenei, said Deir Ezzor province resident Moataz al-Akidi.
Recruitment efforts also belie Russia's true intent: to protect its interests in Syria.
Russia, which has intervened in the Syrian conflict to prop up the brutal regime of Syrian President Bashar al-Assad, views Syria's natural resources as a major prize and has set its sights on securing major reconstruction contracts.
It has quietly expanded its armed presence in Syria by establishing private security companies, for which many of the Syrian youth are being recruited.
Misleading promises
Syrian lawyer Bashir al-Bassam said the placement of liens on real estate in southern Syria is "one of the most sensitive issues for the people of this region".
"The regime's institutions used these liens to prevent people from having the power of disposition over their property, especially in areas close to the borders," he explained, noting that selling real estate in southern Syria is almost impossible.
Since the beginning of the war, liens have been placed on many properties, especially those of regime opponents, he said, and many dissidents whose properties were seized fled the region and sought asylum abroad.
"The IRGC's call for the region's residents to join its [militias'] ranks in exchange for lifting the liens is surprising, and indicates that an agreement must have been reached between the IRGC and the Syrian regime," al-Bassam said.
This would seem to point to a push to draw youth and former opposition fighters into the ranks of the IRGC and away from Russia-affiliated militias, he added.
Al-Bassam said despite the IRGC's promise, he doubted they would honour their word and remove property liens, as doing so would require a court ruling.
Most liens placed on properties are related to terrorism charges or charges of association with terrorist groups, he said; "therefore, it is expected that only a handful of people would be able to return to their homes or land".