The assassination of Massoud Molavi-Vardanjani, a defector and Iranian scientist, by Iranian intelligence in Turkey in 2019 was likely aimed at preventing him from exposing the Iranian regime's corruption and missile activities, experts say.
November 14 will mark the second anniversary of Molavi's assassination. He was gunned down on a street in Istanbul about a year after he fled Iran.
For a few years after the inception of the Islamic Republic in 1978, regime-commissioned assassinations were focused on officials from the previous regime (Pahlavi era).
Afterward, the regime's focus started shifting to individuals who were part of the system at some point but who later distanced themselves from the regime for various reasons and fled abroad where they started exposing its atrocities.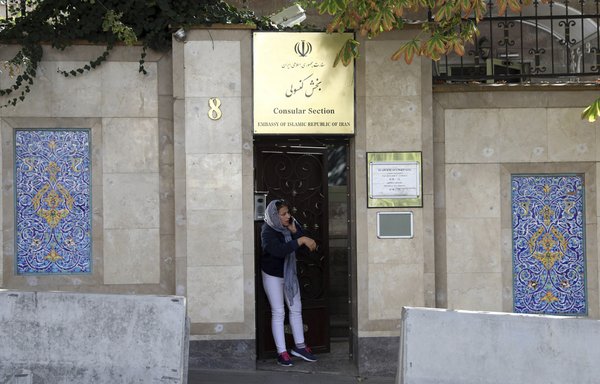 The regime's aim has been to silence them.
Video footage broadcast on Turkish television after Molavi's killing showed a gunman running past two men as they walked in central Istanbul's Sisli neighbourhood, firing several shots at one of them, Reuters reported in March 2020.
Two senior Turkish officials told Reuters that two intelligence officers at Iran's consulate in Turkey instigated the killing.
The suspected gunman and several other suspects, including Turkish and Iranian citizens detained for questioning in the weeks after the killing, told officials two intelligence officers at the Iranian consulate had ordered the attack, according to one official.
Evidence, including the suspects' statements, suggested "Iranian nationals played a serious role in both instigating and co-ordinating" the killing, a second Turkish official said.
According to a senior US official, there was evidence that Iran's Ministry of Intelligence was directly involved in Molavi's killing, several news outlets reported.
In February 2021, Turkish police detained an Iranian citizen -- reported to be an Iranian consulate employee -- on suspicion of planning Molavi's assassination.
Who was Massoud Molavi?
Molavi's disillusionment with and criticism of the Iranian regime led to him being targeted, say analysts.
He had worked for about 10 years as a consultant and the director of a data security company called Parseh Research in Esfahan before starting his work as a military consultant specialising in artificial intelligence.
He was recruited to work for the Islamic Revolutionary Guard Corps (IRGC), reportedly in an IRGC missile facility, after a robot he had built for the Defence Ministry, one that could be used in irrigation and septic systems, caught the attention of IRGC officials.
Molavi's investigation of cyber security affairs and his uncovering of corrupt practices that saw public funds going into the pockets of regime officials led to his 2017 arrest, imprisonment and torture in Evin prison's infamous Ward 209.
He was kept in solitary confinement under the pseudonym "Reza Faribozi", then was sentenced to eight years in prison but did not serve that sentence after acquaintances he had made during his work for the IRGC fought for his freedom.
Upon his release from prison, Molavi left Iran for Turkey in 2018, where he started exposing through social media Iranian officials' corruption.
According to ample evidence, his assassination is one of more than 200 political and extrajudicial killings that the Islamic Republic has committed outside Iran.
In August 2019, three months before he was shot dead, Molavi posted a message on Twitter in response to a friend, in which he was targeting the IRGC.
"God willing, I shall root out these corrupt mafia commanders," the post said. "Pray they don't kill me before I do this."
Molavi disseminated information related to senior government officials on a Telegram channel and several accounts on other social networks. His Telegram channel, which exposed regime officials, was called "Jabeh-ye Siah" (The Black Box).
The channel at one point directly criticised Iranian leader Ali Khamenei and claimed Molavi was in possession of evidence and documentation regarding Iran's nuclear activities and corruption in government organisations.
Molavi also provided details about the tracking methods and techniques for the kidnapping, assassination and murder of Iranian dissidents, and theft of Iranian intelligence outside Iran, particularly in Turkey.
He accused certain individuals, such as Khamenei's senior security and foreign policy advisers, of involvement in smuggling activities, narcotics trafficking, financial corruption and regional interference.
Silencing dissidents
Molavi's allegations of "widespread financial corruption of the country's judicial and security officials... motivated the IRGC to take revenge and act against him", said Iran-based intelligence analyst Sassan Tamgha.
He had come to the conclusion that he had been deceived, and his remarks showed that, Tamgha added. He said Molavi was under the impression that he was serving his country, but later discovered the rampant corruption and activities that benefitted only corrupt officials.
Similar accusations led the Islamic Republic to kidnap Ruhollah Zam, the founder of an expatriate media outlet called Amad News, and to execute him in Iran in December 2020, said Tamgha.
Molavi had been entrusted by the IRGC when he was hired to investigate cyber security in government institutions, according to Faramarz Irani, a political analyst based in Kerman.
He discovered "that many of the funds that had been allocated towards cyber security by officials of Iran's Ministry of Intelligence had in fact been formally transferred to the directors of the private companies which they had set up", Irani said.
The main reason for Molavi's assassination was his highly effective information campaign against Iranian officials, including Khamenei himself, he said.
"Everyone who had worked with Molavi knew that he was a patriotic, honest and truthful person," he said.
"His severance from the intelligence community stemmed from his high morals, and his assassination occurred because the regime could not tarnish his record, so it chose to eliminate him instead."
History of murders
The Islamic Republic's actions targeting foreign-based Iranian dissidents and opposition members have aroused widespread alarm.
The Iranian regime has committed some 360 murders outside Iran since the Islamic Revolution of 1978, according to a US State Department report in May 2020.
These terror plots have taken place in 40 countries, "mainly by way of the IRGC's overseas arm (the Quds Force), the Islamic Republic's Ministry of Intelligence, or by proxy groups such as the Lebanese Hizbullah", it said.
Almost all of the Iranian regime's victims have been dissidents or members of the Islamic Republic opposition.
"Iranian diplomatic personnel have repeatedly been implicated in assassinations abroad, as evidenced by arrest warrants, judicial and police investigations, intelligence services and witness reports," said the fact sheet.
Iranian assassins have also shown willingness to use criminal gangs, drug cartels, and other third parties to carry out assassination plots abroad, it added.
"Iran consistently lies about its involvement in killings abroad, even when its own diplomatic personnel are caught surveilling attack targets, providing explosives or fleeing crime scenes."