Iran's regional interference -- in Iraq, Syria, Lebanon and Yemen, via the Islamic Revolutionary Guard Corps Quds Force (IRGC-QF) and affiliated militias -- fuels tensions in these countries and domestic unrest inside Iran, say analysts.
The IRGC-QF reports directly to Iranian leader Ali Khamenei and is responsible for external operations, overseeing proxy forces in the region to construct a defensive shield against reactions to Iran's aggressive expansionist policies.
"Iran pursues and exerts its regional expansionist policies by appointing IRGC commanders to diplomatic posts in the areas subject to interference, all sensitive posts," Iran-based intelligence analyst Sassan Tamgha told Al-Mashareq.
"Military equipment is sent to the areas where these so-called diplomats are deployed," he said, noting that the IRGC-QF's subsequent recruitment and training of mercenaries from different countries have complicated the situation.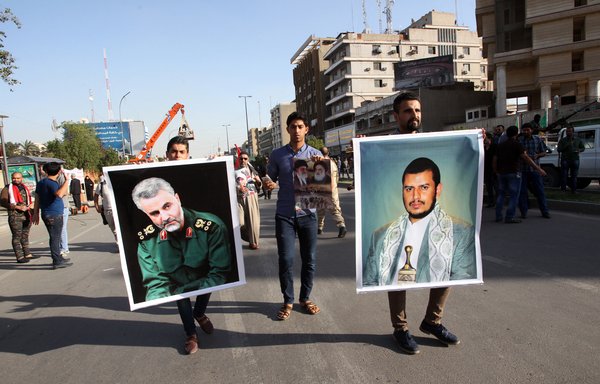 In Yemen, Iranian ambassador to Sanaa Hassan Eyrlou, an IRGC general, is directing military operations in Houthi-controlled areas, including the militia's ongoing assault on the city of Marib.
This violates Yemen's sovereignty and undermines peace efforts.
In Syria, the IRGC-QF has set up military bases and weapons depots near residential areas or displacement camps, placing civilians in danger of retaliatory air strikes targeting Iran-aligned forces.
And in Iraq, civilians have been killed or wounded when IRGC-aligned militias have fired Iran-supplied rocket-propelled grenades (RPGs) or explosives-laden drones at international coalition targets.
As for Lebanon, Iran has shipped oil to the fuel-strapped country in violation of sanctions, thus widening the divide between those who support Iranian proxy Hizbullah and those who blame the powerful party for the stifling economic, social and political crises.
According to the World Bank, Lebanon is now in one of the worst economic crises anywhere in the world, likely since the 1800s.
As a direct result of Iran-sponsored aggression, "there have been numerous reports of Syrian people calling for the expulsion of Iranian and IRGC-backed Lebanese Hizbullah forces from Daraa and elsewhere", Tamgha said.
Iran's meddling in the Arab world has united Arab countries against it, according to Abdollah Kaboli, a specialist on Iranian-Arab relations.
"Any power Iran has is not due to economic, scientific, technical or cultural capabilities but rather the result of interfering in and creating unrest in crisis-stricken areas and countries with weak governments," Kaboli said.
Iranian people pay the price
The Islamic Republic's regional ambitions come at the expense of the Iranian public, which has suffered deeply during the ongoing economic crisis, as already scarce funding is funneled to the IRGC and the people's basic needs go unmet.
This has fueled domestic instability and dissent, with ongoing protests in many Iranian cities over poverty and unemployment, unpaid benefits and salaries, and severe drought and shortages of drinking water.
The impact of Iran's destructive activities across the region "is visible in the country", Kaboli said.
The regime's expenditures have led to widespread domestic poverty, he said, pointing out that "what the regime does in the region returns to the country like a boomerang".
The thousands of missiles and weapons the IRGC purchases or manufactures, as well as the recruitment of foreign mercenaries for "field operations", cost billions of dollars of Iranian taxpayers' money, he said.
The Iranian regime's destructive activities in the region have led to the spread of poverty inside Iran itself, Kaboli added, and poverty has in turn fueled a cycle of violence.
"The money that should have been spent on job creation, development and improvement of the economic situation of poor people in Iran has instead been spent on creating chaos in the region," Tamgha said.
As long as the Iranian regime spends the wealth of the country and its people on costly regional adventures, observers said, there is no possibility of peace and security -- neither inside Iran, nor in the region.