For the best part of a decade, the Iranian regime has invested heavily in Syria, propping up the regime of Bashar al-Assad militarily and spending lavishly in other areas -- but to little measurable effect.
The vast amounts of money Iran has spent in Syria, and continues to spend, has not reaped the hoped-for dividends for the Iranian regime, Iran observers said.
Neither has it bolstered the Islamic Revolutionary Guard Corps and its overseas arm, the Quds Force (IRGC-QF), they added, noting that the force is far weaker now than it was two years ago, even after millions of dollars in expenditure.
According to Abdollah Kaboli, an Iran-based expert on Iran-Arab relations, Iranian officials also have greatly exaggerated the influence exerted by the late IRGC-QF commander Qassem Soleimani in Syria and on Russia.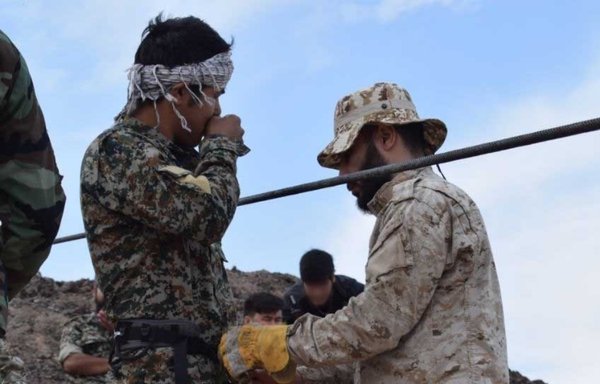 Russia and Iran both intervened in Syria's war in support of al-Assad's regime. But as the war winds down, they are emerging as rivals, with each seeking to profit from their role and further their own agenda at the expense of the other.
"Tehran believed Soleimani had persuaded [Russian President Vladimir] Putin to intervene militarily in Syria," Kaboli told Al-Mashareq.
"But the reality is that, by taking advantage of Iran-backed militants in Syria, Russia took control of the situation and reaped political and economic gains," he explained.
Iran's human and financial costs during the Syria war have been staggering, Kaboli said.
He noted that it was Iran that prevented the fall of al-Assad's government from 2015 to 2017 by spending Iranians' money in Syria and sacrificing the lives of IRGC-QF fighters, but "Russia took the credit".
Russia has succeeded in securing key advantages as a result of its intervention, he said, pointing out that the Syrian regime "has allowed Moscow to use Syrian ports and facilities free of charge in a 49-year deal".
Iran has been losing out to Russia elsewhere in the region as well.
Russia took advantage of Iran's severed ties with Saudi Arabia to improve and expand its own economic and political ties with the kingdom and to establish greater influence within OPEC, compared to Iran, observers said.
Saudi Arabia and Russia also signed a military co-operation agreement on August 24 at the seventh annual International Military-Technical Forum -- an arms expo -- near Moscow.
'Lost cause'
Iran's presence in Syria has slowly but surely turned into a lost cause for the Islamic Republic, said Iran-based strategic analyst Siavash Azarami.
It has not been able to stabilise the al-Assad regime, and neither has it been able to prevent the spillover of the war in Syria into Lebanon, he said, describing the crisis in Lebanon as a side effect of Iran's intervention in Syria.
According to some Middle East analysts, Syria has become a quagmire for Iran.
Iran has donated hundreds of millions of barrels of oil and millions of dollars to al-Assad's regime over the past decade, they said, and all the giving, which has translated to shortcomings and hardships in Iranian lives, has been in vain.
The loss of its economic and political interests in the region and on the global stage is another heavy price Tehran is paying for its regional interference, particularly in Syria, and there is no imaginable end to it, they said.
"Iran lacks a local popular base" in Syria, Iranian writer Amir Taheri wrote in 2017.
"Iranian general Hussein Hamadani, killed in action in Syria, admitted that much in a revealing interview he granted weeks before his demise [in 2015]. In it he reveals that even supporters of al-Assad within the Syrian army and Baath Party were hostile to Iranian presence in Syria," Taheri wrote.
"The way we think, the way we live is abhorrent to them," Hamadani had said in the interview.
According to Azarami, Iran's presence in Syria has been so overwhelming, and at the same time so miscalculated, that it will not even be able to extricate itself from the conflict without paying a hefty price.
This includes the loss of its reputation as a government that supports the Shia population around the world, he said.