As the Middle East increasingly becomes a battleground of influence between world powers, the ongoing disruptive actions of Iran's Islamic Revolutionary Guard Corps (IRGC) represent a major obstacle to the economic and military plans of Russia and China, and an impediment to Iran's long-term development and recovery.
Signs abound that leaders in Moscow and Beijing -- alleged allies of Tehran -- are aggressively trying to deepen their presence and influence in the Middle East.
China has secured a number of agreements and is trying to secure more with several countries in the Middle East as part of Beijing's Belt and Road Initiative (BRI), and in March signed a 25-year, $400 billion "strategic co-operation pact" with Iran.
Russia on the other hand continues to deepen its presence in Syria and is expanding into Lebanon. Earlier this year it began to heavily court a number of Gulf Arab states.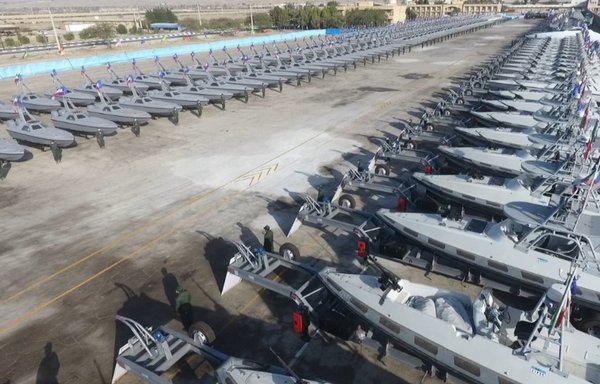 Meanwhile, the IRGC, and in particular its foreign operations arms the Quds Force, has been responsible for exporting terror and for arming the Iranian regime's proxy militias throughout the region, including in Iraq, Syria, Lebanon, Bahrain, Yemen and Afghanistan.
The IRGC has undermined the sovereignty of regional governments and is responsible for thousands of deaths and misery throughout the Middle East and beyond.
All this presents serious trouble for leaders in Moscow and Beijing.
Tenuous alliance with Russia
No more evident is the conflict between Russia and Iran than in Syria, where both countries are vying for militia recruits and reconstruction contracts.
Russian President Vladimir Putin has been attempting to regain relevancy in the Middle East, Afghanistan, Central Asia and elsewhere for years, following the fall of the Soviet Union and Russia's subsequent international isolation.
As part of this strategy, the Kremlin has thrown in its lot with Iran, which has been in need of allies as it continues to defy international pressure to curb its nuclear activity and support of IRGC-backed proxy militias across the region.
But this alliance has become increasingly tenuous, most noticeably in Syria, where both Russia and Iran intervened in the war on the side of the regime of Bashar al-Assad.
Russia has been steadily working to consolidate its influence in Syria, entrenching itself militarily and in the economic arena through its control of the oil, gas and phosphate industry, slowly edging out Iran in the process.
The Iranian regime had hoped for a huge return on its investment in Syria, but it has become increasingly clear that Iran's share of new business opportunities has not met the regime's aspirations and estimates, said Syrian economist and Damascus University lecturer Mahmoud Mustafa.
This is largely due to Russia's influence and its control over revenue-generating projects such as the phosphate mines in Syria's eastern desert (Badiya) and commercial ports in Tartus and Latakia.
It seems that Russia's plans "severely broadsided and hindered the Iranian calculations, with Russia depriving Iran of many revenue sources from which it had expected to generate money", Mustafa said.
The two countries are also engaged in a frantic race in southern Syria to entice local youth into the ranks of their respective militias, with each attempting to outdo the other as they vie for new recruits.
Moscow's overt presence in Syria and Lebanon and the security and intelligence agreements it has entered into with those countries have curbed Iran's ability to expand its own footprint in the Levant, security experts in the region said.
Even though the two nations are ostensibly on the same side of the conflict in Syria, Russia's dominance ensures Iran has no room for growth and is not able to reap as large a share of the potential profits as it might hope, they said.
They are currently engaged in an asymmetrical balancing act, which if thrown out of equilibrium could ultimately endanger Iran's national security.
Meanwhile, recent Russian efforts to court Arab states reveal that Moscow's alliance with Tehran may not be as solid as the Iranian regime might hope, observers say.
China buddies
The co-operation agreement signed between China and Iran earlier this year has been described as a "win-win" by both regimes, but in reality the pact puts China in a vulnerable position as it opens the door to punishing US sanctions.
The details of the 25-year "strategic co-operation pact" signed in March are murky at best.
Negotiations for the agreement -- an expansion of Beijing's flagship trillion-dollar BRI -- drew heated debate in Iran last year, and virtually no details of its contents have been released.
The deal, first proposed in 2016, also calls for joint military training and exercises, joint research and weapons development, and intelligence sharing.
Expanding Chinese assistance to Iran also means that Beijing would be providing direct support to the IRGC, a designated terrorist organisation.
Iran's decision to deal with China is a political misstep that carries a heavy economic toll and could hinder its relationship with the international community, but it is also a mistake on China's part.
The United States sanctioned two units of China's largest transportation network, China Ocean Shipping Co. (COSCO), in September 2019, stating that they had been complicit in circumventing sanctions on Iran.
The embargo on COSCO immediately drove up the price of oil shipments in Asia and increased overall costs by about 30%.
The fallout reached the point in which Chinese government officials demanded the removal of sanctions on the company during trade negotiations with the United States in January 2020. The United States eventually lifted sanctions on one of the two units.
If the US government imposes sanctions on Chinese companies or citizens over their Iran-related activities, China would lose significant segments of its global markets, which are estimated to yield several times the potential profit of investment in Iran.
Disrupting economic potential, undermining security
Iran's self-described "Axis of Resistance" -- an alliance between Tehran and its affiliates, which most recently include Kataib Hizbullah and Asaib Ahl al-Haq in Iraq, Hizbullah in Lebanon and the Houthis in Yemen -- is more akin to an "Axis of Terrorism" as it pursues policies that are detrimental to both regional and global security -- and is upsetting the plans of Russia and China.
Such proxies are working on several fronts to impose the Islamic Republic's hegemony and expansionist policies in the region. In return, Tehran provides its "axis" partners with all the money, weapons and support they need.
All this comes at the expense of its own people, who are reeling from a severe economic crisis, and continuing actions of the IRGC -- such as its disruptive activities in international waters -- are limiting the economic potential of the region.
And while Tehran grapples with a national currency in free fall, severe hyperinflation, economic stagnation and a dire shortage of resources, anger is growing on the Iranian street.
Making matters worse for the Islamic Republic is a report last week by the United Nations' nuclear watchdog showing that Iran had raised its uranium enrichment to 60% purity.
This news is making talks on reviving Iran's 2015 nuclear deal with world powers "more complicated", the foreign ministers of Germany, France and the United Kingdom said on August 19.
Under the accord, Iran had committed to keep enrichment to 3.67%, though it had stepped this up to 20% in January, before further boosting its capabilities to the current 60%.
The 2015 deal known formally as the Joint Comprehensive Plan of Action (JCPOA) gave Iran relief from sanctions in return for curbs on its nuclear programme.
"While refusing to negotiate, Iran is instead establishing facts on the ground which make a return to the JCPOA more complicated," the European foreign ministers said.