Though it is technically an Iraqi militia, Kataib Hizbullah is fully controlled by Iran's Islamic Revolutionary Guard Corps (IRGC), as evidenced by its actions in Syria, where it is being manipulated like a chess piece, say analysts.
As is true for the rest of Iran's proxies in the Middle East, only the IRGC has authority over Kataib Hizbullah, said Sheyar Turko, a specialist in the affairs of IRGC-affiliated militias.
These militias are just pawns that are moved directly by Tehran, regardless of where they get their funding or where they operate, he said.
In the case of Kataib Hizbullah, the militia is supposed to be "a purely Iraqi military group established to fight terrorism, with funding from the Iraqi treasury".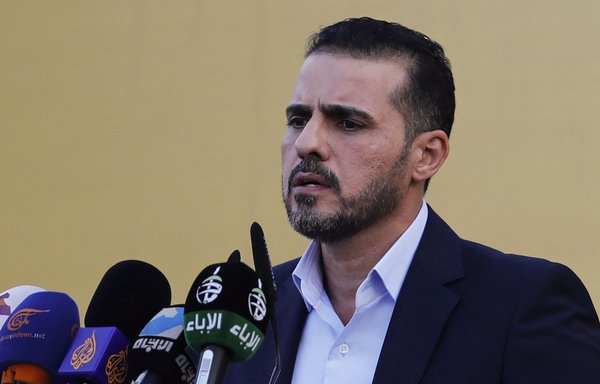 "Yet it has carried out many military operations in a way that serves only Iranian interests," Turko said, even to the detriment of Iraq.
"Iran is once again exploiting the wealth and natural resources of the peoples of the region to fund its plans and proxies, without taking into account that the people need the money to rebuild what has been destroyed," he said.
Many areas of Iraq suffer from neglect due to the ongoing wars.
Even though the Iraqi leadership disapproves of Kataib Hizbullah's actions, Turko said, the militia is continuing its operations in Syria, as well as its dubious activities in Iraq.
Much of the attention of Iran-backed militias, including Kataib Hizbullah, has been focused on shoring up and consolidating a presence in areas of strategic interest -- particularly around the Anbar province border town of al-Qaim -- a main crossing with Syria.
The border area is a key segment of the route that these groups use to move fighters, weapons and even consumer goods between Iraq and Syria.
Deployed under false pretences
"Kataib Hizbullah now has many bases in Syria and is deployed at several sites, stretching from the Iraqi border all the way to the city of Deir Ezzor," said Deir Ezzor activist Jamil al-Abed.
The militia was ostensibly there to protect Iraqi borders from terror attacks and carry out pre-emptive operations inside Syria, he said, "but some time ago it began carrying out military attacks on the international coalition".
Its presence in Syria has further undermined the fragile security situation, and the militia's clashes with several groups deployed in the region "caused an increased deterioration of the situation", he said.
Co-ordination between Lebanese Hizbullah and Kataib Hizbullah is evident from their joint deployment and division of areas of influence, said al-Abed.
For example, he said, several Lebanese Hizbullah officials have been observed commanding Kataib Hizbullah patrols.
The Iraqi militia acts on the direct orders of IRGC officers, said Iranian affairs researcher Fathi al-Sayed of Al-Sharq Centre for Regional and Strategic Studies.
This connection is widely known to all, he said, which means Iran's hand is known to be behind the militia's actions in both Iraq and Syria.
This knowledge has compromised Iran, according to al-Sayed, and weakened its position as it engaged in talks in Vienna to return to the 2015 nuclear agreement, known as the Joint Comprehensive Plan of Action (JCPOA) and to a potential lifting of sanctions.
But Kataib Hizbullah is not Iran's only liability: Russia's invasion of Ukraine will inevitably have an impact in Syria, where Russia and Iran are both fighting in support of the Syrian regime of Bashar al-Assad.
This complication will not help Iran, al-Sayed said, as "the global anger with Russia has torpedoed the Iranian game and even weakened its position".