Iranian military commander Qassem Soleimani was plotting action that threatened American citizens in the region when the general was killed in a US strike on Friday (January 3rd), according to US officials.
Soleimani, commander of the Islamic Revolutionary Guard Corps Quds Force (IRGC-QF), was killed in an air raid at Baghdad International Airport.
US President Donald Trump said Soleimani was planning an "imminent" attack on US personnel in Baghdad and should have been killed "many years ago".
"He was actively plotting in the region to take actions -- a big action, as he described it -- that would have put dozens if not hundreds of American lives at risk," US Secretary of State Mike Pompeo said Friday.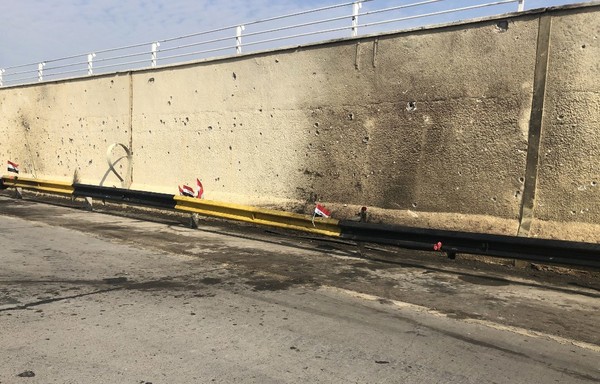 "We know it was imminent," Pompeo said of Soleimani's plot. "This was an intelligence-based assessment that drove our decision-making process."
Separately, Pompeo designated as a "foreign terrorist organisation" Asaib Ahl al-Haq, a group it says is "extensively funded and trained" by the IRGC, and also blocked its assets and those of two of its leaders.
"Asaib Ahl al-Haq and its leaders are violent proxies of the Islamic Republic of Iran," Pompeo said.
"Acting on behalf of their masters in Tehran, they use violence and terror to further the Iranian regime's efforts to undermine Iraqi sovereignty," he said.
IRGC ships missiles to Iraq
Soleimani's Quds Force has been reinforcing the arsenal of its affiliated Iraqi militias with a range of missiles and advanced weapons for months.
Thaer al-Bayati, secretary-general of the Salaheddine Arab Tribal Council, said the IRGC supports Iran-backed militias with weapons and money "to bolster their position as an influential force with significant power that resembles an Iraqi revolutionary guard loyal to Iran".
Over the past several months, Iran has transported short-range missiles to Iraq and hidden them in military bases under the control of these militias in Baghdad and other provinces, he told Diyaruna.
The smuggling of these missiles across the border and their storage in secret locations "is still ongoing", and might have even picked up pace, al-Bayati said.
Soleimani was plotting through the IRGC-QF to place more of these missiles in the hands of its Iraqi agents in order to continue launching missile attacks against US military bases inside the country, he said.
In the first hints of a possible retaliatory response to Soleimani's killing, two mortar rounds hit an area near the US embassy in Baghdad on Saturday, security sources told AFP.
Almost simultaneously, two rockets slammed into the al-Balad airbase where American troops are deployed, security sources said.
The Iraqi military confirmed the missile attacks in Baghdad and on al-Balad and said there were no casualties.
While no one claimed the attacks, a hardline pro-Iran faction within the Popular Mobilisation Forces (PMF) shortly after urged Iraqis to move away from US forces.
"We ask security forces in the country to get at least 1,000 meters away from US bases starting on Sunday at 5:00 p.m.," said Kataib Hizbullah.
Washington has blamed Kataib Hizbullah for a series of rocket attacks in recent weeks targeting US diplomats and troops stationed across Iraq.
Kataib Hizbullah's "thugs are telling Iraqi security forces to abandon their duty to protect (the US embassy in Baghdad) and other locations where Americans work side by side with good Iraqi people," Pompeo tweeted in response.
"The Iranian regime telling Iraq's government what to do puts Iraqi patriots' lives at risk. The Iraqi people want out from under the Iranian yoke," he said.
"Indeed, they recently burned an Iranian consulate to the ground," he wrote, referencing the November sacking of the Iranian consulate in the southern city of Najaf by a protest movement angry at the government and its backers in Iran.
Protecting coalition personnel a 'priority'
The US strike on Baghdad international airport early Friday killed a total of five Iranian Revolutionary Guards and five members of Iraq's PMF.
Among the dead was PMF deputy head Abu Mahdi al-Muhandis, a top advisor and personal friend to Soleimani.
Iran's supreme leader Ayatollah Ali Khamenei promised "severe revenge" for Soleimani's death and Tehran named Soleimani's deputy, Esmail Qaani, to succeed him.
Trump warned Saturday that the US is targeting 52 sites in Iran and will hit them "very fast and very hard" if Iran attacks American personnel or assets.
European Union foreign policy chief Josep Borrell on Saturday stressed the "need for de-escalation".
After meeting Iran's Foreign Minister Mohammad Javad Zarif in Brussels, Borrell said he underlined the "need for de-escalation of tensions, to exercise restraint and avoid further escalation".
Following tensions, NATO said it was suspending its training activities in Iraq and a US defence official told AFP that US-led coalition forces would "limit" operations.
"Our first priority is protecting coalition personnel," the official said.