BEIRUT -- Journalist Mariam Seif Eddine is no stranger to the harassment and physical assault of members of the press that has become prevalent in Shia circles in Lebanon where the Iran-backed Hizbullah wields influence.
Seif Eddine, an outspoken critic of Hizbullah, has been the victim of online harassment by its operatives and supporters since she started speaking out against the group after the October 2019 protests erupted in Lebanon.
People took to the streets to protest against corruption and new proposed taxes. Seif Eddine, who was working as a journalist for the daily Nidaa el Watan, often criticized Hizbullah in her articles and on social media.
Since last November, Hizbullah elements have physically assaulted her family members on several occasions, most recently on May 23.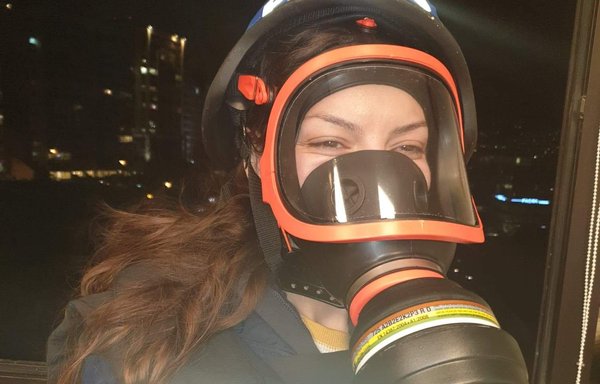 Hizbullah elements "viciously assaulted my mother, smashed the surveillance cameras we had installed around the house specifically to document their attacks, and stole the video tapes", Seif Eddine told Al-Mashareq.
Then they savagely beat her father, she said.
"The brutal armed assault and insults my parents were subjected to that day were the latest in a series of similar incidents since November," she added.
On November 2, a few days after she quit her job at Nidaa al-Watan, Seif Eddine's brothers were assaulted in front of their house in Burj al-Barajneh, a municipality of the Hizbullah stronghold in Beirut's southern suburbs.
"Since then, we have been subjected to brutal, cruel and continuous physical assaults by my uncle and cousin, who are affiliated with Hizbullah, as well as a number of other party members led by the nephew of Hizbullah MP Amin Sherri," she said.
Seif Eddine said Hizbullah elements beat one of her brothers on December 5 and broke his nose.
After the attack, she claims the police told her there was no need for them to come unless someone was dead or wounded, according to global media organisation Open Democracy. She saw this as collusion by the police officers in the neighbourhood, who she claims are under the control of Hizbullah.
Seif Eddine said the group has repeatedly threatened to harm her family if they did not leave Burj al-Barajneh. Her and her four brothers finally decided after the December attack to move to another house in an area that does not fall under Hizbullah's control.
But both her parents stayed behind, and the threats continued unabated.
She said she was being watched, and continues to get threat messages from Hizbullah loyalists, stating,"If you return, we will kill you".
Hizbullah leader Hassan Nasrallah has appeared to legitimise threats and assaults on members of the press, she said, as evidenced by his own threats to the media.
Prior to activist and Hizbullah opponent Lokman Slim's assassination, Nasrallah had in January advised the media against criticising the party, adding that if that were to happen, Hizbullah would take matters into its own hands. Slim was assassinated shortly thereafter.
Attempts to silence journalists
Attacks on journalists who are critical of Hizbullah have been on the rise since late 2019, with observers saying they have noticed a decline in freedom of speech and of the press during that period.
Slim's bullet-riddled body was found in southern Lebanon on February 4. Before he was killed, Slim had warned he would lay the blame on Hizbullah and its ally Amal, should anything happen to him or his family.
Murr TV reporter Nawal Berry was attacked in central Beirut in the first days of the protests by supporters of Hizbullah and its allies.
Similarly, Dima Sadeq and Luna Safwan have had to endure endless cyber attacks and bullying from accounts supporting Hizbullah.
Political journalist Asaad Bechara said Hizbullah and its allies in Lebanon are known for silencing journalists and restricting freedoms whenever the media try to perform their duties within the boundaries of the law.
"We have witnessed major incidents related to the issue of freedoms in Lebanon, including the assassination of two journalists, Gebran Tueni and Samir Kassir [in 2005], the torching of the headquarters of Al-Mustaqbal newspaper [in 2008], and most recently, the assassination of activist Lokman Slim," he said.
"Whoever dares to call things as they are is first subjected to intimidation then other means to be silenced," he said, adding that "freedoms are in decline in Lebanon".
Journalist Elsy Moufarrej of the Alternative Press Syndicate said that Seif Eddine's case is an indication of what is happening to free voices in the areas of influence of Hizbullah and Amal, "wherein you stand either with this duo or against it".
Journalists who speak out against Hizbullah are assaulted, intimidated, harassed and forced to relocate to avoid direct physical assault, she said.
By supporting Seif Eddine through media coverage of her ordeal and intervening with law enforcement, the Alternative Press Syndicate is making a stand for public freedoms and freedom of expression for journalists, Moufarrej said.