BEIRUT -- A growing number of European countries have designated Hizbullah as a terrorist group amid fresh concerns over its activities on European soil and in light of the destabilising actions of its backer, Iran.
The German government on Wednesday (May 19) announced it is banning three groups close to Hizbullah that are providing financing to the party.
"Whoever supports terror will not be safe in Germany... They will find no refuge in our country," said a spokesman for German Interior Minister Horst Seehofer.
Austria recently announced it was outlawing Hizbullah's political and military wings, going beyond the European Union (EU) policy of outlawing the group's so-called military wing only.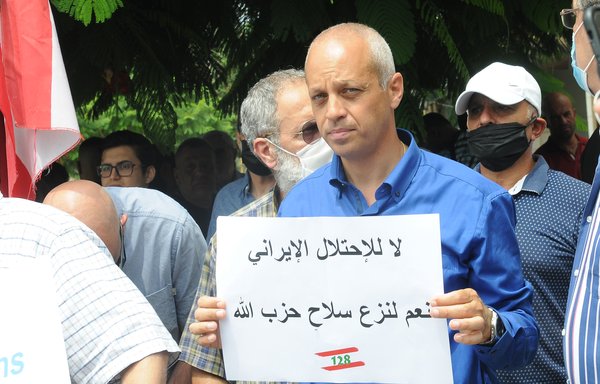 "This step reflects reality. The group itself makes no distinction between its military and political arms," Austrian Foreign Minister Alexander Schallenberg said on May 14.
He also expressed regret that no progress had occurred with regard to the United Nations Security Council's call to disarm Hizbullah.
Other European countries that have outlawed the group in its entirety include the Netherlands, Germany, Estonia, the Czech Republic and Slovenia, while France continues to distinguish between its two wings.
Austria's designation of Hizbullah coincided with an EU announcement stating that it was formulating sanctions against Lebanese politicians whom it saw as hindering the formation of a government, Reuters reported May 12.
The EU, led by France, is seeking to intensify the pressure on Lebanese politicians, amid an economic and political crisis partly blamed on Hizbullah.
The new designations come amid heightened US efforts to counter Iran's malign activities and expansionist agenda in the region and beyond.
The United States on May 11 imposed sanctions on seven Lebanese citizens it said have links to Hizbullah, and called on world governments to take action against the group, which it described as a global threat.
US Secretary of State Antony Blinken called for "countries around the world to take steps to restrict its activities and disrupt its facilitation networks".
'A covert negative role'
More and more countries are designating Hizbullah as a terrorist group because there is a growing global perception that it functions as an executive arm of Iran, said political writer Elias al-Zoghbi.
The increasing number of European countries taking a stance against Hizbullah "will put pressure on reluctant countries, France in particular", he said.
France historically has sought to keep the door open to all parties in Lebanon, including Hizbullah.
But the party is playing "a covert negative role in undermining the French initiative" to resolve the Lebanon crisis, al-Zoghbi said, which makes it harder for France to maintain this position.
Meanwhile, the United States is trying to contain Iran's nuclear programme and ballistic missiles and the expansion of Iranian influence in some Arab countries, he said, "especially Iraq, Syria, Lebanon and Yemen".
European countries are moving to classify Hizbullah as a terrorist group after obtaining evidence implicating it in activities related to security, drugs and terrorist networks, said a political source, speaking on condition of anonymity.
Any implication of Hizbullah in such activities "is based on practical evidence", he added, noting that the party has laundered money and committed other crimes in more than one country.
Behind Hizbullah stands its backer, Iran, he said, which is destabilising the region through its proxies and through the money laundering and drug trafficking operations that fund them.
"No state can be established as long as Iran is present," he said, referring to Lebanon's ongoing political crisis and Hizbullah's domination of the country's decision-making process.
This is because with Hizbullah enmeshed in the government, the militia's agenda and the revenue-generating schemes that enable the party and its backer Iran to survive take precedence over the well-being of the Lebanese state and people.
'A clear message to Iran'
For its part, the United States will continue to impose sanctions on Hizbullah as a clear message to Iran, as it did with individuals linked to the party's al-Qard al-Hasan association, a so-called charity accused of engaging in money laundering.
European countries now see a clear conflict between their values and Iran's ideology and authoritarian regime, said Lebanese University political scientist and French-American relations researcher Nabil el-Khoury.
But France continues to draw a distinction between Hizbullah's political and military wings for geo-political reasons related to Lebanon, he said.
"France does not tolerate the party's financing networks even though it has been engaged in dialogue with it for many years," he noted.
It also is convinced that dialogue is the only way to ensure Hizbullah lays down its weapons, as "any attempt to disarm it by force would lead to civil war".
France opposes the expansion of Iranian proxies but seeks to address Iran's expansionist and geopolitical activities through dialogue, said el-Khoury.
The United States, through the ongoing nuclear agreement negotiations, also seeks to set a tone for stability in the Middle East and to protect its allies in the Gulf, he said.