ADEN -- Authorities in the eastern Yemeni province of al-Mahra are working to tighten security measures following recent drug and weapons smuggling busts.
On May 13, the first day of Eid al-Fitr, security services in al-Mahra thwarted a large-scale narcotics and weapons smuggling operation.
In response to a tip-off about the smuggling operation, al-Mahra's Criminal Investigation Department (CID) conducted an investigation, in co-ordination with Coast Guard and Arab Coalition forces, al-Mahra Media Centre said.
After verifying the tip was accurate, they carried out joint maritime patrols that culminated with the seizure of two fishing boats, with five Yemeni sailors on board, who confessed to attempting to bring in narcotic substances by sea.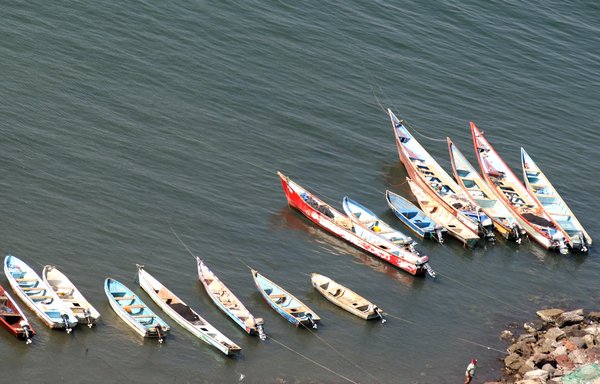 Security services are making progress in combating this "scourge", said Col. Ahmed Ali Raafit, deputy director general of security and police in al-Mahra, and are diligently pursuing and arresting criminals on land or at sea.
On April 28, al-Mahra's CID seized three tonnes of hashish from a boat on the Yemeni coast.
In mid-November, al-Mahra Coast Guard intercepted a boat carrying close to 1,000kg of drugs, and arrested six Iranian and Pakistani sailors, according to al-Mahra Media Centre.
Arab Coalition naval forces have previously intercepted a number of shipments of Iranian arms destined for the Houthis (Ansarallah) off the Yemeni coast.
Al-Mahra's director general of security and police Brig. Gen. Mufti Suhail Samouda met last week with district security chiefs to discuss stepped-up campaigns to prevent drug trafficking, al-Mahra Media Centre said.
During the May 20 meeting, Samouda urged the district security chiefs not to be complacent and to strike with an iron fist anyone who endangers the community, in particular the youth, and seeks to sow chaos.
The meeting's objective was to "step up security measures", said Col. Mahmoud Adam, deputy director of security and director of moral guidance in al-Mahra.
Another meeting, with all district security directors present, will address the security plan for the second half of the year and the best ways to implement it to preserve security and stability, he said.
Fueling violence
"The arms and drugs shipments that were destined for Yemen unequivocally confirm Iran's determination to fuel the violence and war in Yemen," said Abaad Studies and Research Centre director Abdulsalam Mohammed.
This interference is occurring "to such a degree that it would be difficult to imagine the implementation of any peace initiative", he said.
Mohammed noted that the initiatives for a peaceful solution to the war "will not get off the ground as long as Iran continues the flow of weapons and drugs, which does nothing but fuel the war".
Across the region, he said, Iranian proxies such as Lebanese Hizbullah and the Houthis (Ansarallah) in Yemen "engage in the smuggling of weapons and drugs as part of their activities".
The Houthi militia has engaged in drug trafficking to fund its activities. But its own fighters also use them to enhance their performance on the battlefield.
Curbing the smuggling of weapons and drugs to Yemen requires "a serious effort by the international community and major countries that have the ability to track and monitor trade corridors by sea and along the Yemeni coast", he said.
Arms and drug smuggling
Director of the Centre for Studies and Research at the Ministry of Human Rights Walid al-Abbara said the bust in al-Mahra "confirms Iran's involvement and continued role in fomenting subversion in Yemen and countries of the region".
The arms and drugs smuggling operations from Iran to the Houthis are "a product of the smuggling networks that Iran has engineered since the last century", he said.
These operate by sea and by land, he said, using territory in and around al-Mahra as "staging areas for their arms and drugs smuggling activities".
Despite an enhanced international security presence on the Red Sea, he added, these networks remain active and effective, as confirmed by the United Nations Group of Eminent Experts on Yemen in reports for the years 2017, 2018 and 2019.
These networks have enabled the Houthis to acquire "unmanned aerial vehicle (UAV) technology and ballistic missiles that they are using to attack Yemen, neighbouring countries, and global economic interests", al-Abbara said.