ADEN -- Iran's repeated attempts to generate revenue for itself and its proxies, the Houthis, by smuggling drugs into Yemen have proven hazardous to regional security and deadly to the Yemeni people, officials and analysts said.
In response to this threat, Yemeni security forces have pledged to crack down harder on drug trafficking carried out by land and sea, they said.
After "a meticulous month-long tracking and monitoring process", security forces in the southeastern province of al-Mahra on June 1 announced the arrest of five Iranian sailors and one Pakistani who allegedly were smuggling narcotics.
The six men had been attempting to smuggle illegal drugs into the country via motorboat, al-Mahra Media Centre said.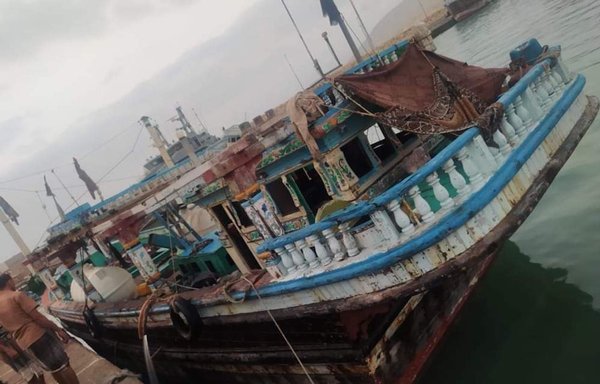 Criminal investigation officers in al-Mahra seized the motorboat and confiscated its cargo, which included "shabu" (crystal meth), one of the most dangerous types of illicit drugs, the centre said.
"Security services caught sailors unloading the ship's cargo of drugs on the coast of Hawf district, with the aim of smuggling them via Yemen to the Gulf countries," political analyst Aref Abu Hatem told Al-Mashareq.
The seized narcotics were "in large quantities, in addition to quantities of Iranian banknotes", he said.
Col. Ahmed Ali Rafeet, deputy director general of security and police and director of the Criminal Investigation Department in al-Mahra, said a large security campaign is under way to pursue drug-smuggling gangs and "death dealers".
Security forces will not hesitate to carry out their tasks, he warned.
The security forces' level of vigilance has been raised, Rafeet said, noting that they are now working directly with the Yemeni Coast Guard to combat all forms of smuggling in Yemen's territorial waters.
Trafficking undermines security
Security services in al-Mahra have destroyed quantities of drugs seized along the province's coast in the past period.
They have also seized smuggled weapons, including the March 11 seizure by the customs at Shahn port in al-Mahra of 52 Kornet anti-armour missiles that were on their way to the Houthis, local media reported.
The Iranian regime has been smuggling ballistic missiles, drones, weapons and ammunition into Yemen, said Minister of Information, Culture and Tourism Muammar al-Eryani.
"It has been sending the Houthis experts in the manufacture of mines and explosive devices in order to kill Yemenis," he said.
And it has tried to flood the country with drugs as part of its strategy to undermine the security and stability of Yemen and the region, he said, noting that civilians pay the price for this.
The Houthis have become "Iran's strongest and longest arm in the region", said political analyst Faisal Ahmed.
As Iran's proxies, he said, they have threatened regional security by smuggling drugs and weapons, and carrying out attacks that threaten maritime navigation.
"Drugs are the primary means used by Iran and its proxies in the region to create sources of funding for their activities, as they generate large profits from them, as is the case with Lebanese Hizbullah and the Houthis," he said.
Drugs are a 'lethal weapon'
"Iran is tampering with the peoples of the region by using the drug weapon, which is no less dangerous than its other tools -- its affiliates in the region who use missiles and drones to implement its agenda," said economist Abdul Aziz Thabet.
Drugs achieve two goals for Iran, he told Al-Mashareq.
They serve as "a source of financing for its terrorist activities in the region and a lethal weapon targeting youth and the peoples of the region in general", he said.
Thabet stressed the importance of raising social awareness, especially near sea and border crossings, about the dangers of drugs, with the need to involve mosque preachers and the media.
Al-Mahra has become "a target for drug-smuggling gangs who use it both to deliver drugs to Houthi areas and as a transit area for the Gulf countries, especially Saudi Arabia", he said.
Drug busts in the Middle East region have become more frequent, with larger hauls being made in recent months.
Smuggling attempts have been thwarted by the vigilance of customs officials and by civilian tip-offs -- including from disgruntled insiders who feel cheated out of their share of the profits, security sources said.
Trade in Captagon in the region grew exponentially in 2021 to top $5 billion, posing an increasing health and security risk, a report by the New Lines Institute said in April.
Regional drug busts
On Sunday (June 12), the Jordanian army announced that members of its border guard foiled an attempt to smuggle 900,000 Captagon tablets from Syria, The National reported.
The troops seized the pills after "a group of people coming from the Syrian territory tried to cross the border illegally", it said.
Arab security officials say the main centres of production are regime-held areas of Syria, where hundreds of millions of pills are produced each year by cartels linked to the Syrian regime and pro-Iranian militias supervised by Hizbullah.
A large proportion is smuggled through Jordan to the Gulf.
Lebanese authorities on May 29 arrested a Saudi man at Beirut airport who allegedly attempted to smuggle 18.3kg of Captagon out of the country, AFP reported.
Lebanon's interior ministry said in a statement that the drugs were destined for Kuwait.
The ministry added that the man is a Saudi citizen and a Kuwait resident who holds documents saying he works in "security" there.
Security forces have intensified efforts to thwart smuggling operations after Riyadh suspended fruit and vegetable imports from Lebanon in April last year. It said shipments were used for drug smuggling.
On May 26, the Abu Dhabi Police caught a four-member cell with 600,000 Captagon capsules, concealed inside construction stones.
The men were planning to distribute the drugs in the country, the police said in a statement.