A civilian plane was engulfed in flames Wednesday (February 10) after the Iran-backed Houthis (Ansarallah) launched a drone strike on Abha International Airport in southern Saudi Arabia.
Saudi authorities did not immediately report any casualties from the attack.
In a report aired on state-run Al-Ekhbariya television, the Arab coalition described the incident as "a cowardly criminal terrorist attack".
Houthi spokesman Yahya Sarie claimed the attack in a post on social media.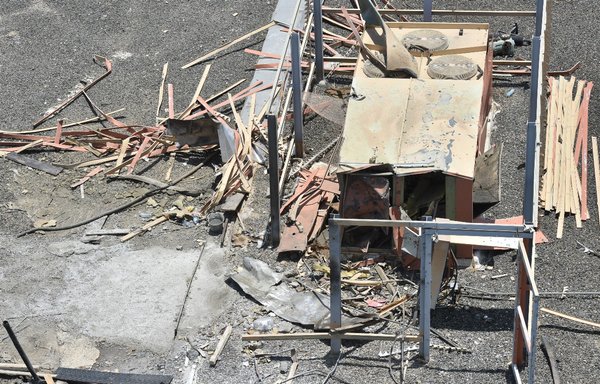 The Arab coalition, which backs the Yemeni government in its battle against the Houthis, said that targeting the airport constituted "a war crime" and "put the lives of civilian passengers in danger", the Saudi Press Agency (SPA) reported.
On Sunday, Saudi Arabia intercepted an armed drone the Houthis had launched towards the kingdom.
The Arab coalition "intercepted and destroyed an armed drone", spokesman Turki al-Maliki said in a statement carried by the SPA.
"It was launched systematically and deliberately by the terrorist Houthi militia to target civilians and civilian objects in the south of the region," al-Maliki said.
String of attacks on airports, civilians
In late December, Yemeni officials blamed the Houthis for the attack on Aden airport that killed at least 26 people, shortly after the arrival of a plane carrying members of a new unity government.
Abha International Airport has been the target of a number of previous attacks carried out by the Houthis. On July 2, 2019, the Houthis launched a cross-border attack on the airport, in which nine civilians were wounded.
The July attack was preceded by a string of Houthi drone attacks targeting Abha airport, the nearby city of Khamis Mushayt and Jizan airport, near the kingdom's southern border with Yemen, in which dozens of civilians were wounded.
Saudi and Arab coalition forces have intercepted numerous drone attacks.
The crisis in Yemen, fuelled by the Houthis, has led to more than 17,500 civilians killed and injured since 2015, according to the Yemen Data Project.
More than 20 million people are experiencing food insecurity and 10 million are at risk of famine, Human Rights Watch reported.
From the outset, Iran's Islamic Revolutionary Guard Corp (IRGC) intended to use the Houthis as a proxy force to upset the balance of power in the region.
This is due to the militia's strategic location near key rival Saudi Arabia's southern border, and Bab al-Mandeb strait, a gateway for global trade.
Top Iranian general Qassem Soleimani, former commander of the IRGC's Quds Force, actively transfered the IRGC's intelligence and security expertise to the Houthis to carry out specific tasks that would gain them influence and control.
This included the launch of ballistic missiles and unmanned aerial vehicles (UAVs), and the laying of mines in international shipping lanes.