Domestic discontent is growing inside Iran as its economy and the lives of ordinary citizens continue to suffer from the mismanagement and misplaced priorities of regime leaders.
This discontent is fuelled by the increasing evidence that top leaders, including Supreme Leader Ali Khamenei and his allies in the Islamic Revolutionary Guard Corps (IRGC), have prioritised the regime's expansionist agenda abroad over the economic well-being of its citizens.
Years of regional intervention and the pursuit of expansionist policies have left Iran increasingly isolated on the international stage and its economy on the brink of collapse.
Oil exports have fallen dramatically since 2017, in light of the re-imposed US sanctions. In the 2019-2020 Iranian calendar year, oil exports declined by 37% to fewer than 300,000 barrels per day.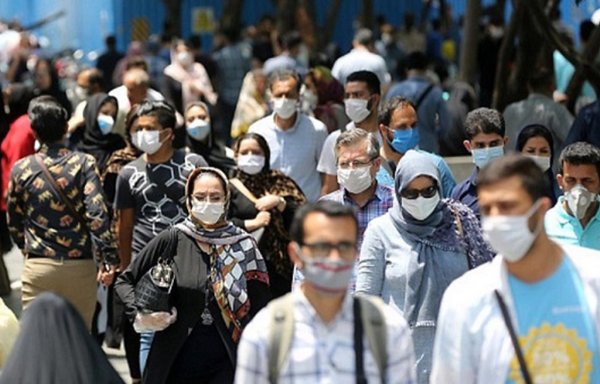 Furthermore, Iran's gross domestic product (GDP) has contracted by nearly 17%, and its currency has lost more than 80% of its value, compared to 2017.
Half of the Iranian population lives below the poverty line, evidence suggests. Although publicly available data show Iran's overall unemployment rate is about 12%, the real number is much higher, with some observers saying as high as 50%.
Domestic production of various goods has taken a nose dive. Amid the scarcity of pesticides and other agricultural necessities, Iranian farmers are facing poor harvests, causing produce prices to increase.
Instead of shoring up Iran's faltering economy, however, the regime has chosen to spend its dwindling resources on the IRGC and its regional proxies, including the Lebanese Hizbullah, Iraqi militias and the Houthis (Ansarallah) in Yemen.
A recently leaked audio of a controversial interview with Iranian Foreign Minister Javad Zarif provides further proof of the regime's priorities.
In the interview with Zarif, which was leaked and widely published on April 25, the foreign minister admitted to the outsized role of the IRGC, its Quds Force (IRGC-QF) in particular, in Iran's foreign policy.
The Islamic Republic prioritises its regional presence and expansionist policies over diplomacy, Zarif repeatedly stressed in the interview.
These policies, designed and decided by slain IRGC-QF commander Qassem Soleimani, constantly prevailed over diplomacy during Soleimani's tenure, he said.
Soleimani would not compromise for diplomacy, even if the IRGC's stances were damaging to Iran's foreign policy "by 200%", he said.
Evidence abounds of Iran's ongoing support of militant groups across the region.
For instance, the United States has intercepted multiple shipments of weapons to the Houthis from Iran, the latest of which was on May 6-7 when the US Navy seized a huge cache of illicit Russian and Chinese weapons from a stateless dhow in the north Arabian Sea.
A hefty price
The IRGC's support of militant groups comes at a hefty price.
Estimates of Iran's military and economic spending in Syria range from $30 billion to $105 billion in the first seven years of the war, according to an Atlantic Council report published in February 2020.
Iran has spent up to $16 billion per year on its proxies in the last decade -- roughly 4% of its GDP, the US government estimates.
That may not seem like much money for a country with an annual GDP exceeding $400 billion, but that money could have improved Iranians' lives, said US-based journalist Shahin Mohammadi.
Iran's education, healthcare and welfare programmes are all underfunded, he noted.
The regime's neglect of domestic needs and its reckless spending abroad have fuelled popular protests in recent years.
In November 2019, after the regime drastically raised gas prices, hundreds of thousands of Iranians took to the streets to protest.
Khamenei described the protests as "dangerous and widespread" and ordered the IRGC and its affiliated Basij Resistance Force to suppress them.
An estimated 1,500 protesters lost their lives.
In January 2020, protesters took to the streets again, condemning Khamenei and the IRGC, after the latter accidentally shot down a passenger plane that was taking off from Tehran's international airport, killing all 176 passengers and crew onboard.
In recent months, workers, retired government employees and citizens who lost the majority of their savings after the government repeatedly encouraged them to invest in stocks have protested.
Retired civil servants have denounced the government's failure to increase their pension in the face of skyrocketing inflation.
Amid rising domestic discontent and Iran's increasing isolation abroad, Khamenei, President Hassan Rouhani, and other top figures tout what they have termed the Iranian people's "resistance" to US pressure.
But in reality, Iranian citizens are feeling the consequences of the Islamic Republic's continued expansionist campaign in the Middle East.
'So much worse'
"Things are so much worse than they were 10 years ago," said Fahimeh Beygi, a retired teacher living in northwestern Iran.
"These people [regime officials] have destroyed Iran, and now they want to do the same to other countries in the region," she said.
Beygi said she sometimes looks to the future and imagines an Iran after the regime collapses with a mixture of anxiety and hope.
"Sometimes I think to myself that after this regime falls, Iranians will have generations of work to do to rebuild what the regime has destroyed," she said, adding that Iranian officials "are tearing at the fabric of society".
Iran's actions in the region are "a travesty", said Mohammadi the journalist.
Targeted sanctions that single out officials without hurting the Iranian public will leave Iran's leaders no choice but to come back to the negotiation table and reach a deal with the United States, its regional allies and other world powers, he said.
The Iranian regime will have to change its behaviour "as a matter of survival", said Mohammadi, noting that if it continues to ignore its own people's demands, it risks collapse.