The United States and France are continuing to work together to counter terror groups, including the "Islamic State of Iraq and Syria" (ISIS), and other threats in the Middle East region.
From March 31 to April 24, at the request of the United States, France's carrier strike group took command of the US naval forces' Task Force 50 (TF 50), which oversees naval strike operations for Operation Inherent Resolve in Syria and Iraq.
The strike group includes the Charles de Gaulle aircraft carrier, the multi-mission frigate Provence, the air defence frigate Chevalier Paul, the command and supply ship Var and the Belgian frigate Léopold 1er, according to the French Ministry of Armed Forces.
While in command of TF-50, the strike group conducted the whole range of missions usually entrusted to American combat groups, such as controlling the air-sea space of the coalition fighting against ISIS in the Gulf region, it said.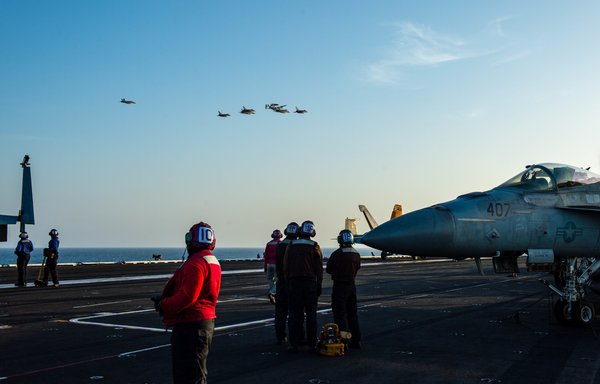 The decision to have the Charles de Gaulle take command of TF-50 "confirms the credibility of the French armed forces and demonstrates the trust our American allies have towards France", a statement from the ministry said.
"France has been co-operating with the United States of America for many years in the fight against terrorism, in the Sahel as well as in the Middle East," it said.
"Such co-operation confirms the United States' recognition of the French armed forces' operational credibility and high value."
A history of co-operation
This is France's second time taking over the task force after the Charles de Gaulle oversaw it from December 2015 to March 2016.
"France ... is a nation that defends the freedom of maritime navigation, endeavours to reduce regional tensions and contributes through this commitment to appeasing the situation in a vital, unstable and complex region," the statement said.
"Operating in this area where regional stability and European security are at stake, enables France to maintain autonomous situational awareness and assessment capabilities."
The Dwight D. Eisenhower carrier strike group began on April 13 dual-carrier flight operations with the French strike group in the Arabian Sea.
"Our co-operation is deeply rooted in a common history," said Rear Adm. Marc Aussedat, commanding officer of France's Task Force 473 and TF-50.
This "links our two navies and represents a unique opportunity to train and to strengthen our interoperability", he said.
"Thus our [carrier strike groups] are ready to work together, as currently within TF-50 in the fight against [ISIS] and tomorrow, where our common interests will require it," said Aussedat.
Regional threats
The efforts of TF-50 also come amid heightened tensions over Iran's nuclear programme, and worries Iran may attempt to impede maritime traffic.
World powers on April 14 expressed "grave concern" over Iran's announcement it would move to boost uranium enrichment up to 60%.
The step would bring it closer to the 90% purity threshold for military use and shorten its potential "breakout time" to build an atomic bomb.
As talks are under way in Vienna between world powers and Tehran to return to the 2015 nuclear deal, Iran is continuing its acts of aggression in the Middle East through the Islamic Revolutionary Guard Corps (IRGC) and its proxies.
US forces in Iraq are facing regular rocket and drone attacks attributed to Shia militia groups linked to Iran.
Three rockets crashed into a base at Baghdad airport housing Iraqi and US troops on April 23, wounding an Iraqi soldier.
It was the second attack on the anti-ISIS coalition in Iraq in less than a week. On April 18, five rockets targeted al-Balad airbase north of the capital, wounding three Iraqi soldiers and two foreign contractors.
US President Joe Biden in February ordered airstrikes against targets in Syria of Iran-linked militias after a rocket attack killed a contractor for the anti-ISIS coalition and injured US personnel.
"You can't act with impunity," Biden said at the time. "Be careful."
Meanwhile, the coalition and its partners completed 29 operations against ISIS in April, preventing 36 terrorists from committing acts of terror against the people of Iraq and Syria, coalition spokesman Wayne Marotto said April 23.
The coalition also continues to provide support to Kurdish forces battling ISIS in northern Syria.
Coalition forces said they provided Syrian Democratic Forces (SDF) partners with "intelligence, surveillance and reconnaissance" support during an SDF anti-ISIS operation in late March at the al-Hol camp in eastern Syria's al-Hasakeh province and in neighbouring Deir Ezzor province.
"The purpose of this SDF operation is to degrade and disrupt ISIS activities within the camp," Marotto said at the time.