Local residents are welcoming an ongoing security operation that is targeting "Islamic State of Iraq and Syria" (ISIS) operatives in al-Hol, a sprawling desert camp in eastern Syria's al-Hasakeh province, and in neighbouring Deir Ezzor province.
Kurdish forces on Tuesday (March 30) said they had arrested 53 suspected ISIS elements during a sweep of the camp, which has been rocked by assassinations and breakout attempts, AFP reported.
According to the Asayesh forces, which are responsible for internal security in Kurdish-controlled areas, "five leaders of ISIS sleeper cells that carried out violent terrorist attacks in the camp" were among the detainees.
Security forces also "confiscated mobile phones as well as several laptops".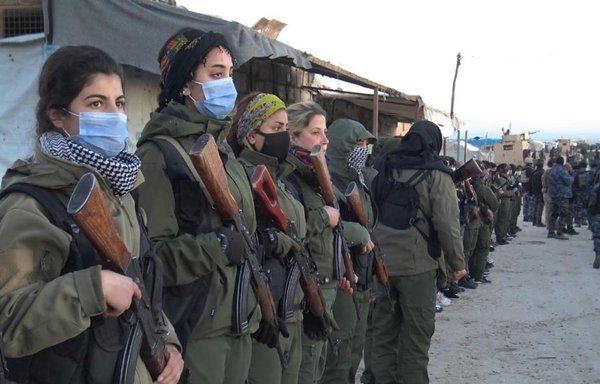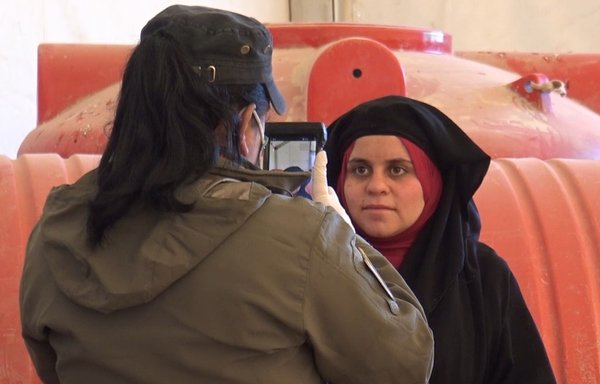 The Asayesh, affiliated with the Syrian Democratic Forces (SDF), launched the campaign with support from the People's Protection Units (YPG), Women Protection Units (YPJ) and Syrian Kurdish Anti-Terror Forces Command (HAT).
Al-Hol is the larger of two Kurdish-run camps in Syria's northeast that house the relatives of ISIS elements. It holds mostly Syrians and Iraqis but also thousands from Europe and Asia suspected of family ties with ISIS fighters.
Simand Ali, a Kurdish official, told AFP extremists had dug trenches in al-Hol that they used to hide prohibited electronic devices and other goods.
One suspected ISIS element confessed to being part of a cell that killed three people and revealed that those who tried to distance themselves from ISIS's ideology had been targeted for murder, local media reported.
Algerian ISIS emir Mohamed Abdelrahman Sherif Dabakh and an ISIS jurist known as "Abu Mohamed al-Jumili" are among those who have been arrested.
An extremist powder keg
Kurdish authorities have warned that al-Hol, home to almost 62,000, is turning into an extremist powder keg, as ISIS elements are hiding out among camp residents.
The security campaign came in response to a surge in crimes committed inside al-Hol against civilians who reject the extremists' ideology and refuse to co-operate with them, said YPG member Roshan Kobani.
Kurdish authorities have recorded more than 40 murders in al-Hol since the start of this year, most of which have been blamed on ISIS sympathisers.
"The campaign was augmented with a number of female troops to prevent contact between women in the camp and the [male] elements taking part in the operation," Kobani said.
The female troops helped search women in the camp "since the raid and search operations are accompanied by a wide-scale registration of all camp residents that includes taking retina scans, fingerprints and DNA", she said.
The operation involved "a thorough sweep of all eight sections of the camp", she said, with each section "isolated for a thorough search".
The process involved the use of "metal detectors and devices that detect any type of communication", she added.
The ongoing security campaign is perhaps the largest and broadest since al-Hol's establishment, with more than 5,000 men and women taking part, she said.
Support from local tribes
"The new security operation in al-Hol camp was welcomed and fully supported by the people in eastern Syria, particularly the leaders of the tribes and clans spread across the region," said Deir Ezzor resident Moataz al-Akidi.
"This stems from their desire to eradicate and completely uproot terrorism in the area, as al-Hol camp is a hotbed for terrorists who are terrorising and killing the camp's residents," he said.
The completion of the operation will also enable authorities to resume the evacuation of some families from the camp who have been proven to have no links to terrorism, al-Akidi said.
The security campaign had "positive reverberations in areas of Deir Ezzor in particular and eastern Syria in general", said Deir Ezzor activist Jamil al-Abed.
"Terrorism is the same, whether it is inside or outside the camp," he said.
"The security campaigns conducted in recent months in various areas of Deir Ezzor received the full support of the people of the region," he said, as civilians had suffered all kinds of harassment and extortion by sleeper cells.
"Available information on the al-Hol camp campaign indicates dozens of male and female terrorists and collaborators were arrested, including two of the group's leaders who planned and supervised the terrorist operations in the camp," he said.
"Large quantities of weapons were seized, including sharp objects, knives, pistols, incendiary materials, computers and mobile phones," al-Abed added.
The participation of a large number of female troops in the operation also was "welcomed by the people of the region, because it is in keeping with customs and traditions", he said.
This is significant, he noted, as ISIS cells have exploited this issue in the past to to turn public opinion against security forces.