BEIRUT -- Beneath a photo of himself with Lebanese drug baron Nouh Zaiter and Mohammed Zarour of the Syrian regime's 4th Division, which is deeply involved in the illegal drug trade, Wasim Badie al-Assad wrote: "The best brothers".
Al-Assad, a cousin of the Syrian president -- who is widely accused of turning Syria into a narco-state -- recently shared the photo of the trio's January 17 meet-up at the Damascus Sheraton on social media.
Baladi News said the photo offers further evidence that Syrian regime and Hizbullah networks distribute Captagon via Bashar al-Assad's relatives -- his brother Maher commands the 4th Division -- and Hizbullah operatives.
Zaiter has made frequent and public visits to certain parts of Syria, such as al-Zabadani, Bloudan, Latakia and al-Qardaha, and is wanted by Lebanon's security agencies, the media outlet said.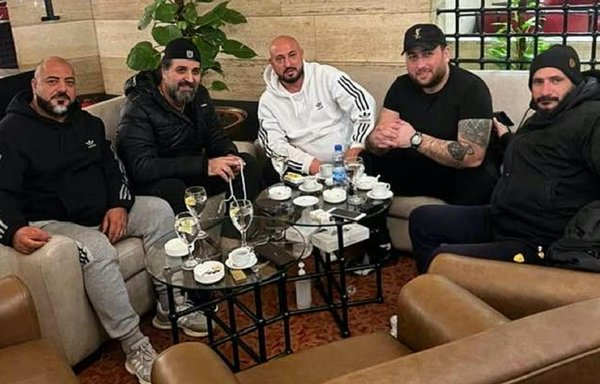 He is clearly a friend of the al-Assad regime, with pro-regime media in Syria going so far as to describe him as "an ally worthy of respect".
Commenting on the photo of the "brothers", Lebanese analysts told Al-Mashareq it proves the Syrian regime and Hizbullah have turned Syria into a narco-state.
They said it is clear that Zaiter, a fugitive who is wanted by Interpol for his involvement in growing and dealing in cannabis in Lebanon, is a "key ally" both in the cultivation and manufacture of drugs, because of his long experience.
"The picture of Zaiter with Wasim al-Assad reflects the strategy of the regime and Hizbullah," Lebanese Institute for Democracy and Human Rights (LIFE) executive director Nabil al-Halabi told Al-Mashareq.
"He is the most wanted drug lord in Lebanon," he added, noting that "he has turned Syria into a narcotics exporter, especially of Captagon".
"Nouh has partners in drug plants in Syria, and is running his organised, cross-border operations between the two countries using the Hizbullah-controlled illegal crossings," al-Halabi said.
The Caesar Syria Civilian Protection Act of 2019 (Caesar Act) "prompted the regime, along with its partner, Hizbullah, to circumvent sanctions", he said.
"They did that by turning Syria's economy into a black economy involving drug trade, human trafficking and organ trade through influential figures in the 4th Division and Hizbullah," he added.
Drug-trafficking cronies
"Zaiter is the top narcotics man in Lebanon, and has developed cannabis production there since 2014 as a partner of Hizbullah and the 4th Division," Southerners for Freedom co-ordinator Hussein Ataya told Al-Mashareq.
He said Zaiter is using al-Qusayr in northern rural Homs as a base for cannabis agriculture and trade, as the area is suitable for agriculture and is co-controlled by Hizbullah and the 4th Division.
"He also has built a small workshop for manufacturing Captagon," Ataya said, noting that Zaiter is "loyal to the al-Assad regime and is a close associate of Maher al-Assad".
As an ally of the Syrian regime, which is now using Captagon manufacturing and trade as a key source of income, Zaiter "enjoys strong protection", Ataya said, as the regime relies heavily on him to generate revenue.
"The main source for Captagon and drug trafficking networks is Hizbullah, which has moved its drug manufacturing and agricultural operations to Syria," Syrian Network for Human Rights manager Fadel Abdul Ghani told Al-Mashareq.
"The partnership between Hizbullah and the Syrian regime is now organic and structural, bringing them great profits," he said, with the "ties between Nouh Zaiter, Hizbullah and the Syrian regime" pivotal to these operations.
Crackdown on illegal drugs
Lebanon and other countries in the region, notably Saudi Arabia, have made a huge effort to combat the scourge of illegal drugs, apprehending shipments at various seaports and land border crossings.
"The fact that drug trafficking attempts to the Gulf continue, despite some shipments being seized, is an indication of the regime-Hizbullah partnership and their vast distribution and trafficking network," Abdul Ghani said.
US sanctions on Iran have meanwhile weakened Iran's ability to finance its proxies in the region, Lebanese Centre for Research and Consulting director Hassan Qutb said.
Hizbullah and the Syrian regime in particular "are completely dependent on the Iranian support", he said.
"Meanwhile, the US siege on smuggling routes, money laundering and illicit trade run by Hizbullah in Latin America and Africa also has affected Hizbullah's financial capabilities," he added.
"That is why the drug trade has become the alternative for Iran's financial support," he said.