BEIRUT -- There is growing alarm lately over whether the "Islamic State of Iraq and Syria" (ISIS) is regaining a foothold in Lebanon.
This question is repeatedly posed following the Lebanese army's recent arrest of 18 Lebanese and Syrian admitted members of ISIS cells.
The arrests came in "field operations" that took place in the last two weeks of January in the border town of Arsal in the north, a February 1 army statement said.
The arrested individuals confessed to belonging to ISIS and supporting it, and to closely following the group's press releases, it said. Several weapons and ammunition were also confiscated.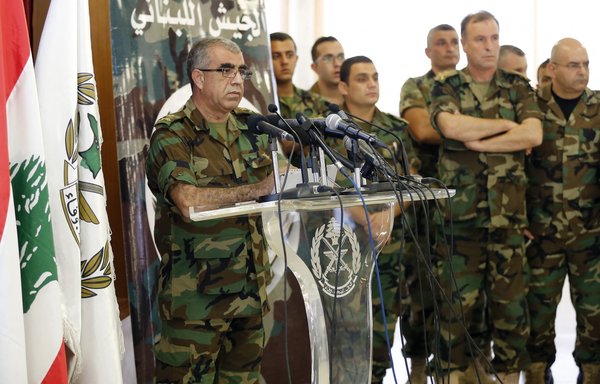 Lebanese security agencies have announced they will keep monitoring, tracking and detaining terror suspects.
Juroud Arsal -- the barren outlying areas of Arsal -- in the mountains between Syria and Lebanon, was in 2017 a base of operations for militants from ISIS and the former al-Nusra Front who were fighting in the Syrian civil war.
Security in that area improved after the Lebanese army retook the territory captured by the extremists in the massive Operation Fajr al-Juroud (Al-Juroud Dawn) in August 2017.
In recent months, however, a string of incidents has raised alarm about a possible resurgence in extremist activity, though experts say Lebanese forces have largely demonstrated they are equipped to handle it.
Fears about a potential ISIS resurgence were voiced by Lebanon's General Security Maj. Gen. Chief Abbas Ibrahim in a televised interview on February 2.
"For a while now, we have been seeing a resurgence of ISIS activities in Iraq and Syria," he said.
"Lebanon isn't an isolated island; it will be affected by a resurgence."
But security agencies are on the lookout for ISIS elements and taking all necessary measures to prevent the return of ISIS to Lebanon, he said.
'ISIS regrouping'
Qasim Qassir, political writer and expert on extremist groups, confirmed growing fears about an ISIS resurgence in Lebanon.
"We are witnessing moves by ISIS to regroup and activate its operations in the region, including in Iraq, Syria and Lebanon, taking advantage of developments in those countries," he said.
Lebanese security agencies have intelligence on ISIS efforts to "reactivate its cells and boost its performance", he said, and have been closely monitoring its activities and attempts to secure funding.
Qassir noted the arrest or killing of members of a large ISIS cell in northern Lebanon late last year.
Lebanese police on September 26 killed at least nine suspected members of a large ISIS cell during a raid on a house in the northern region of Wadi Khaled where "suspects linked to ISIS" were holed up.
Three other members of the cell had been arrested in previous raids.
ISIS is using some open, unmonitored areas on the Syria border and taking advantage of the turmoil in Lebanon to reactivate its cells, said Qassir.
"The deteriorating economic and living conditions in Lebanon, coupled with the [current] political impasse, provide a suitable environment for violent terrorist groups to thrive," he added.
'No presence of major cells'
Some observers wonder whether Lebanon is prepared to deal with a potential return of terrorist activities in the current political and economic climate.
"The Lebanese army and security agencies possess pre-emptive capabilities that have proven to be effective in thwarting terrorist operations while still in the planning and preparation stages, thus sparing the country many security incidents," said security expert and retired military officer Naji Malaeb.
Mona Alami, former non-resident senior fellow at the Washington-based Atlantic Council, said "there may be individual terrorists or small ISIS-linked groups in Lebanon, but there is no presence of major or active cells."
Alami said she believes that Lebanese society is different from Iraq and Syria's; and therefore, ISIS will not find a conducive environment in Lebanon in which it can move as freely.
"Although ISIS has retreated in Syria and Iraq, it has not completely disappeared, whereas it has been expelled from Lebanese soil," she added.