The Jordanian and US armed forces have a long history of partnership, based on shared strategic goals and a close working relationship, and have continued to work together to find new ways to co-operate.
Earlier this month, this partnership was demonstrated during a military exercise that saw soldiers from Task Force Spartan deploying a mobile command post from Kuwait to Jordan.
This involved transporting and setting up equipment, establishing communications and transferring command and control capabilities from Kuwait to Jordan, according to the US military.
The operation gave US military personnel from Task Force Spartan an opportunity to give their Jordanian counterparts an overview of the mobile command post, with an eye to future co-operation in this area.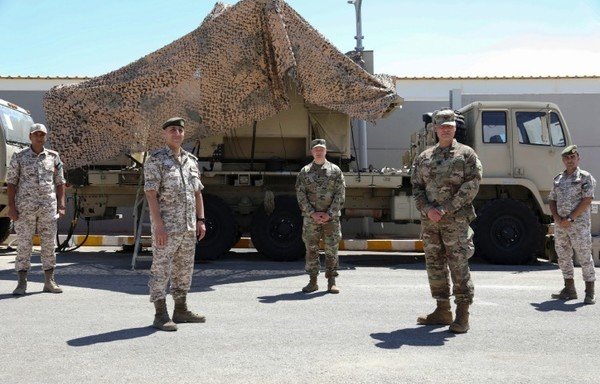 The US is Jordan's single largest provider of bilateral assistance, and in 2019 provided the kingdom with $425 million in foreign military financing, according to the US Department of State.
This military assistance programme is designed to meet "Jordan's legitimate defence needs, including preservation of border integrity and regional stability through the provision of materiel and training", the State Department said.
"In light of ongoing regional unrest, as well as global disruptions stemming from the COVID-19 pandemic, the US has helped Jordan maintain its stability and prosperity through economic and military assistance and through close political co-operation," it said.
Long-standing partnership
Jordan is a key member of the international coalition to defeat the "Islamic State of Iraq and Syria" (ISIS), Jordanian military and strategic advisor Brig. Gen. Hisham Khreisat told Al-Mashareq.
Jordanian forces have long operated in partnership with US forces, he said, with US forces regularly joining their Jordanian counterparts for training at King Abdullah II Special Operations Training Centre (KASOTC) in Amman.
The US designated Jordan a major non-NATO ally in 1996, which made the kingdom eligible to receive excess US defence equipment and training, among other provisions.
US-provided or funded equipment includes advanced F-16 jet fighters and Black Hawk helicopters for use in special operations, evacuation and rescue, Khreisat said.
The US also helped to fund the Special Operations Training Centre, which is now a global destination for special operations training programmes, he said.
Through various training exercises, the US seeks to "ensure the Jordanian armed forces have the same level of readiness as NATO", he added, noting that the US also is helping to develop the capabilities of the Jordanian air force.
The provision of US equipment and training has helped ensure Jordanian armed forces are able to successfully "deploy outside our borders and fight as integrated forces behind enemy lines", Khreisat said.
Strengthening strategic relationship
Co-operation between the US and Jordanian armed forces involves many branches of the Jordanian forces, security expert Omar al-Raddad told Al-Mashareq.
Jordan understands the importance of strengthening its strategic relationship with the US amid the profound transformations taking place in the region, the ongoing threat of terrorism, and efforts to undermine this relationship, he said.
The US has helped to establish counter-terrorism training centres, he noted, and has held numerous joint exercises with Jordanian forces, including the annual Eager Lion drill and the Decisive Spear exercise, staged last October.
In recent weeks, al-Raddad said, Jordanian armed forces established a field hospital in Beirut following the devastating August 4th explosion at the port.
On August 6th, two Jordanian military aircraft transported equipment to Beirut to set up a field hospital to treat those injured in the blast, under the supervision of the Royal Medical Services of the Jordanian armed forces.
The field hospital, staffed by 160 doctors, assistants and nurses, comprised two operating rooms, a radiology laboratory, an intensive care unit, 48 beds and 10 intensive care beds, he said.
"The field hospitals set up by the armed forces reflect professionalism, readiness and a high response rate stemming from the training and experience gained in the framework of co-operation with allies, particularly the US," al-Raddad said.