The novel coronavirus (COVID-19) lockdown is winding down in Jordan, including at al-Zaatari refugee camp, where some 80,000 Syrian refugees have taken shelter.
But the situation is far from normal at another refugee camp in Jordan, al-Rukban.
For a population that has fled conflict, the coronavirus lockdown has been yet another challenge. With so many of them living in close quarters without basic sanitation, Syrian refugees in Jordan found themselves facing a new hardship they were not ready for.
The pandemic is expected to take its long-term toll on refugees in the absence of international aid.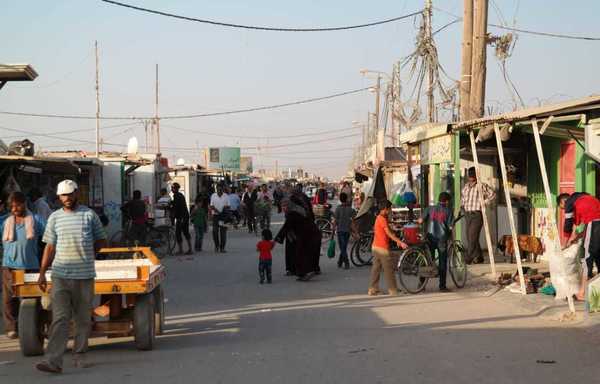 Soaring poverty, unemployment concerns
On the occasion of World Refugee Day on June 21st, UN High Commissioner for Refugees in Jordan Dominik Bartsch said, "Refugees across Jordan are increasingly finding themselves living in poverty especially as a result of the recent coronavirus crisis." "Before the pandemic hit, 79% of refugees in Jordan were already living below the poverty line, but recent surveys indicate that this proportion has now increased."
Health and humanitarian experts have raised concerns about the possibility of the pandemic reaching refugee camps, where inhabitants already live in poor health conditions. This is a heavy burden for Jordan to bear, as it is hosting more than 1.3 million displaced Syrians.
Bartsch said only 35% of refugees in Jordan say they have a job to return to once restrictions are entirely lifted.
Jordanian Minister of Planning and International Co-operation Wissam Rabadi said his country is seeking $6.6 billion from international donors to cope with the ongoing challenge of hosting hundreds of thousands of Syrian refugees until 2022.
Al-Rukban: Distant, desolate, devoid of doctors
Thousands live in squalid conditions at the al-Rukban desert camp, located in the no-man's land near al-Tanf military base on Syria's southern border with Jordan.
At the camp's Palmyra clinic, head nurse Shukry Shehab told Al-Mashareq the recent months have marked a tough challenge for which the clinic was not prepared.
The lockdown itself was nothing new to the 12,700 Syrian refugees who live in the camp, said Shehab. "We have been living under siege for a year now. But it is a real challenge to manage critical cases that require immediate attention in the absence of a well-equipped clinic nearby."
Out of precaution, even UNICEF closed its medical centre on March 18th, according to Shehab. Located five kilometres away from the camp, it was the only well-resourced medical centre serving the camp.
"We do not want any humanitarian assistance, all we need is medical assistance to save people's lives," Shehab said.
Amid lack of food supplies, water and medical care, Shehab also pointed to shortages of masks, gloves, disinfectants and digital thermometers at the height of the pandemic.
"We are nurses doing the work of physicians and surgeons," he said.
Al-Rukban remains Syria's forgotten refugee camp where people live and die in silence. "There is a warm house behind those two mountains where we are stuck, filled with food and drinks. Unfortunately, we cannot reach it," he added.
Al-Zaatari: similar challenges, better conditions
Al-Zaatari, the world's largest camp for Syrian refugees, bears many success and survival stories, a stark difference from al-Rubkan.
During the pandemic, however, its active streets and shops were haunted due to the pandemic, leaving its residents longing for the social interactions they once had.
"Nobody is allowed to move into the camp or leave it," said 23-year-old Bassel al-Shahmeh, a camp resident. "We keep asking why we are still confined to our camp, but we are not getting any answers. Many of us need to leave for work."
Al-Shahmeh said the 20 Jordanian dinars ($28) the UNHCR allots to each refugee is not enough to get by on. Like many other refugees, he leaves the camp illegally to work in nearby farms and collect pearls, watermelon or tomatoes for one dinar per hour. [But] if we are caught, we have to pay double the amount we make [in fines]," he told Al-Mashareq.
The coronavirus pandemic has made Zad al-Kheir al-Zoubi, another refugee at al-Zaatari, appreciate the life she used to have at the camp.
"Life has stopped," al-Zoubi, a senior in high school, told Al-Mashareq. "I used to be busy all the time with my studies and work, and I would hang out with my friends. Social life is part of the camp, it is what connects us," she said.
Although the camp's shops are open from 6:00 am till midnight, al-Zoubi said the markets are not like before.
"People are only getting their basic needs and not going out like before," she said. "It will take months to go back to normal and pay the debts we accumulated during the pandemic."