A tough US sanctions campaign has had some success in cutting off Iran's Islamic Revolutionary Guard Corps (IRGC) from its foreign financial network, which funds activities that threaten international security, experts told Diyaruna.
The effect of the sanctions, which have targeted the economic interests of the Iranian regime and its agents -- especially Iran-aligned militias in Iraq and Lebanon -- is becoming increasingly evident, they said.
The US Treasury has imposed sanctions on dozens of organisations and individuals that fund the IRGC, which collectively funnel millions of dollars to it through money laundering operations, illegal business activity and fundraising.
The most recent batch of sanctions, announced March 26th, targeted a vast network of 15 individuals and five companies operating in Iraq and Iran that supported the IRGC's Quds Force (IRGC-QF).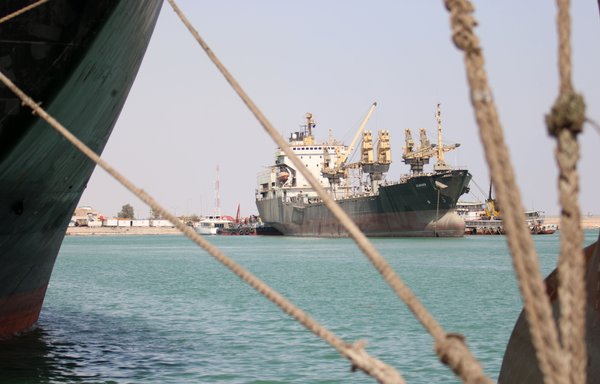 The network was involved in transferring lethal aid to Iran-backed Iraqi militias such as Kataib Hizbullah and Asaib Ahl al-Haq, as well as smuggling through Iraq's Umm Qasr port and laundering money through Iraqi front companies.
It also was involved in selling Iranian oil to the Syrian regime, and smuggling weapons to Yemen, among other charges, the Treasury said.
The most recent sanctions "constitute pressure from Washington to cut off funding sources for the Iranian regime and the militias loyal to it", said Ghazi Faisal Hussain, an adviser at the Iraqi Centre for Strategic Studies.
"No one is allowed to do business with the sanctioned entities or provide any sort of facilitation for them," he told Diyaruna.
"They have to immediately stop any bank transactions, buying and selling, and all their economic and financial activity," he added.
'A significant source of danger'
The IRGC and its agents, including the designated individuals and companies, "constitute a significant source of danger for international peace through their armed operations that threaten civilians", Hussain said.
Some have been involved in activities such as drug smuggling and arms dealing, in addition to the plundering of national resources, he said, adding that the sanctions "have significantly minimised the work of Iran's agents".
"The sanctions have targeted several bank networks, trade and money laundering operations serving the interests of Lebanese Hizbullah and Iran's interests in Africa and Latin America," he noted.
As a result, he added, "Hizbullah now suffers from unprecedented economic hardship, which has resulted in withdrawing some of its elements from Syria".
"This also applies to militias in Iran and Iraq whose leaders have been placed on the sanctions list, thus harming their money and oil smuggling operations and their efforts to undermine the Iraqi economy," he said.
"Iran's financiers and agents are a vast and organised network that is active in a host of areas including extortion, taxation and smuggling and theft of public property," former Iraqi MP Mithal al-Alousi told Diyaruna.
US sanctions primarily target the agents and links in this network, with the goal of dismantling it in the region and around the world, he said.
'Effective and impactful' sanctions
Through its sanctions campaign, al-Alousi said, the US aims to disable Iran's agents, who are responsible for harming thousands of innocent people and committing a host of violations.
He noted that sanctions could pave the way for harsher measures taken against the Iranian regime and its allies, calling on the international community to play a larger role when it comes to containing the Iranian threat.
Bahraini writer and political researcher Abdullah al-Junaid told Diyaruna that he believes the sanctions targeting IRGC funding networks are proving to be "effective and impactful".
They have thwarted the Iranian agenda that seeks "to set the region on fire" with wars, problems and conflicts, he said.
Al-Junaid said the sanctions have felled a number of individuals, companies and organisations that used to fund the Iranian regime and help it defy the international community and international law.
The sanctions have prevented the Iranian regime and the IRGC from continuing with their malign activities by targeting the funding for its militias, he said.
In a video clip from mid-February, circulating on social media in early April, a former Islamic Republic minister, Parviz Fattah, disclosed that former IRGC-QF commander Qassem Soleimani once asked him to help finance the Afghan Fatemiyoun brigade.
The military unit was formed by the Quds Force in 2014 to fight in Syria on the side of forces loyal to Bashar al-Assad.
Al-Junaid underscored the importance of following the money trail leading to groups loyal to Iran and to investigate funds that come from donations as well as other large financial transactions.
The hostile foreign policy the Iranian regime has adopted and insists on pursuing, will end up costing it dearly, al-Junaid said.