US forces based in Kuwait have recently received new equipment that will significantly upgrade their ability to respond to any threats to the region, experts told Al-Mashareq.
Kuwait's strategic location makes it a gateway to the Gulf and a deterrent to potential threats from Iran's Islamic Revolutionary Guard Corps (IRGC).
The equipment, known as the Enduring Equipment Sets (E2S), gives these forces the upper hand in the event of an attack or emergency situation as it maximises warfighting capabilities, the experts said.
"E2S gives us the ability to execute our day to day mission sets, thus retaining pre-positioned stocks to deter malign regional actors who might consider launching an attack on our partners as well," said Lt. Col. Jack Joubert, the logistics officer for the US Forces based in Kuwait.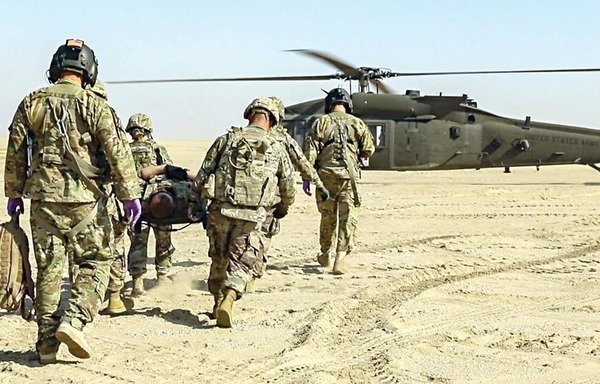 "E2S allows us to retain flexibility," he said, without digging into the army's stockpile.
In early March, thousands of pieces of large equipment, including tanks, armoured fighting vehicles and Mine-Resistant Ambush Protected (MRAP) vehicles for the 3rd Brigade Combat Team, 4th Infantry Division, arrived in Kuwait.
With this significant increase in specialised military vehicles, the US Army's Task Force Spartan is now better equipped to support its military partners in the Gulf and Middle East.
Task Force Spartan maintains a US military presence in the Middle East and Gulf through Operation Spartan Shield that seeks to strengthen regional defence relationships.
"The new logistical support received by US forces stationed in military bases in Kuwait represents a paradigm shift for the US military presence in Kuwait and the region," said Kuwait Army Infantry officer Lt. Col. Nasser Rashed.
This equipment will boost the readiness of US forces and regional armies and provide support to these forces in case of emergency, he told Al-Mashareq.
Enhancing Gulf security
The new equipment "provides an enormous strategic reserve for combat squads in the event of engagement, ensuring they would not deplete their main stockpile", said Rashed.
It would allow them to continue operations for an extended period of time and to act quickly without having to wait for additional support, he said.
This support comes at a time when US forces are strengthening their capabilities and the capabilities of all components of the Kuwaiti army and other armies in the region through joint exercises, he added.
The most recent exercise in Kuwait included special training on emergency response and evacuation skills, and on the UH-60L Black Hawk helicopter, the most advanced maneuverable aircraft, he said.
The training focused largely on upgrading the capabilities of Kuwaiti army officers and personnel in the context of emergency response and medical evacuation, he said.
Strengthening the capabilities of US forces in Kuwait and providing them with new equipment improves Gulf security as well as that of Kuwait, said Col. Rashid Mohammed al-Marri, formerly of the Dubai Police Anti-Narcotics Department.
Kuwait's location makes it "a key gateway" to the Gulf, he told Al-Mashareq.
Therefore, shoring up the military's capabilities and equipment stockpile in Kuwait "is in the interest of all Gulf states", he said.
Thousands of troops from various US military units are stationed at several bases in Kuwait, al-Marri said, adding that the new set of equipment will make them more effective on the ground and provide immediate logistical support.
Deterring the IRGC
Increasing the capability of US military units stationed in Kuwait "sends a strong message from the US to anyone who contemplates threatening the security of the Gulf by land, sea or air", said military expert Abdul Karim Ahmed.
"The strongest message is perhaps directed at the IRGC because of its repeated threats that aim at undermining the security of Gulf states," he told Al-Mashareq.
By having E2S delivered to US forces stationed in the region, this demonstrates the commitment of the US to the region.
It also "will force any hostile country to think twice before embarking on any [military] action or adventure", he said.