The US on November 5th reimposed sanctions on Iran that aim to curb the regional influence of the Islamic Revolutionary Guard Corps (IRGC) and the proliferation of IRGC-affiliated militias and institutions, experts told Al-Mashareq.
These are the toughest US sanctions ever imposed on Iran, the US Treasury said November 4th, and will target critical sectors of Iran's economy, such as the energy, shipping and shipbuilding and financial sectors.
The sanctions include the designation of 50 Iranian banks and their foreign and domestic subsidiaries; the identification of more than 400 targets, including over 200 persons and vessels, in Iran's shipping and energy sectors; and an Iranian airline and more than 65 of its aircraft.
"Treasury's imposition of unprecedented financial pressure on Iran should make clear to the Iranian regime that they will face mounting financial isolation and economic stagnation until they fundamentally change their destabilising behaviour," said Treasury Secretary Steven Mnuchin.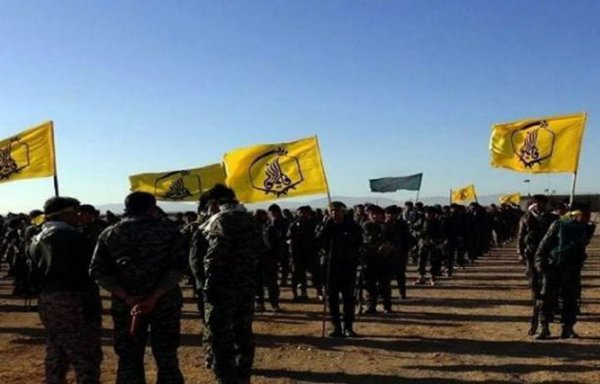 "Iran's leaders must cease support for terrorism, stop proliferating ballistic missiles, end destructive regional activities, and abandon their nuclear ambitions immediately if they seek a path to sanctions relief," he said.
"The maximum pressure exerted by the US is only going to mount from here," he said. "We are intent on making sure the Iranian regime stops siphoning its hard currency reserves into corrupt investments and the hands of terrorists."
Blocking the IRGC's plans
"The plans being implemented by the IRGC had to be stopped and confronted," Al-Sharq Centre for Regional and Strategic Studies researcher Sami Gheit told Al-Mashareq.
The sanctions aim to "undermine the Iranian economy, since it pours most of its liquidity into the IRGC's coffers to finance its military activities and expand its influence in the countries of the region", he said.
Gheit said the initial period of sanctions may not have a direct impact on the expansion pursued by the IRGC, but the anticipated results should begin to show after a few months.
The shortfall in funding will have an impact on these militias "which are essentially built on financing, monthly salaries and in-kind and financial incentives", he said, rather than on ideology.
The logistics apparatus of these militias also will be weakened by sanctions imposed on airline companies that ship militiamen and supplies, Gheit said.
Breaking Iran-backed militias
These efforts could turn Iran-backed militias into bands of fighters that "serve no useful purpose on the ground and can be easily dismantled", Gheit said.
Economic pressure will stem Iran's influence, which relies primarily on IRGC institutions positioned in the region that recruit fighters and supporters, he said.
Recruitment is done through enticements and by "exploiting the dire financial situations of civilians, particularly in the areas of conflict", he added.
This was the case in Iraq and Lebanon, and is now the case in Syria and Yemen, via institutions such as al-Shahid Foundation and Jihad al-Bina, he said.
The pressure placed on financial institutions and remittances to and from Iran will weaken those institutions, he said, as "they cannot function without continuous financial support".
Though the IRGC and Iranian politicians and military commanders have issued threatening responses to the US sanctions, "they will eventually relent and begin to make concessions", said retired Egyptian officer Maj. Gen. Talaat Moussa.
"The first concession made by the Iranians will be to halt their support of the militias deployed in the Middle East, and the deployment of IRGC officers and elements and affiliated institutions," he told Al-Mashareq.
Curbing Hizbullah's activity
"Some groups, such as Hizbullah, may be semi-self-financed through local institutions they have established," researcher Sheyar Turko, who specialises in the IRGC and its funding methods, told Al-Mashareq.
While this is enough to fund their local activities, it is not enough to fund cross-border ventures, "such as Hizbullah's involvement in the Syrian or Yemeni wars", he said.
In these cases, he noted, "the IRGC provides additional support to the militia in exchange for its deployment in those two countries".
"The stoppage of funding will force the IRGC and Hizbullah's leadership to curtail the militia's foreign operations and pull back to Lebanon," he said, adding that this also applies to Iran-backed Iraqi militias.
"The non-Arab militias, such as the [Afghan] Fatemiyoun and [Pakistani] Zainabiyoun militias, will be as good as finished after the sanctions go into effect," Turko said.
These are essentially groups of mercenaries who were recruited through financial enticement, and will become ineffective as recruitment offices operating in countries like Afghanistan, Pakistan and Iraq lose funding, he added.
Need to monitor sanctions
"The imposition of sanctions, especially with regard to oil and the attempt to stop its export from Iran, requires a lot of effort and monitoring," said international law expert and Assiut University lecturer Khairuddin Abdel-Metaal.
Attempts to circumvent sanctions might include offering enticements such as the sale of large quantities at a discount, he said.
Some media reports indicate Iran may be stockpiling large quantities of oil in giant tankers, which it would redistribute, albeit in small quantities, he said.
"Such actions, if they do in fact take place, have a small window of time, and might be carried out for a limited amount of time before they can no longer continue," he added.
It is possible that Iran and the IRGC will attempt to use countries where they have a presence, such as Syria, Iraq and Lebanon, to move the commodities they want to export, he said.
These commodities, including but not limited to oil, would then be re-exported, after their certificates of origin were altered, he added.
"Such schemes will expose many of those who collaborate with the IRGC and facilitate such activities, which will expand the database of those who will be covered by the sanctions," he added.