Partner forces from Gulf Co-operation Council (GCC) countries and the United States have converged on the Air Warfare Centre at King Abdulaziz Air Base, Saudi Arabia, for the Eagle Resolve 23 military exercise.
The annual exercise, which will kick off at the end of May and continue into June, aims to enhance security and co-ordination across the Arabian Peninsula and develop partner nations' ability to respond to current and emerging threats in the region.
All participating forces reportedly arrived on site on 22 May 2023.
The exercise aims to improve the interoperability of GCC partner nations, including Saudi Arabia, Kuwait, Qatar, Bahrain, the United Arab Emirates (UAE) and Oman.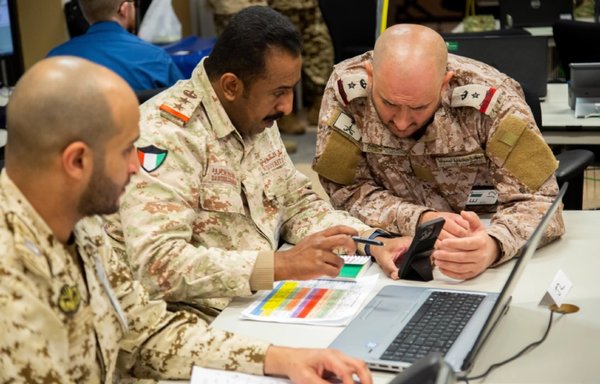 Eagle Resolve 23 is a scenario-driven command post exercise linked with field training exercises and senior leader seminars.
It is designed to develop and employ a Combined Joint Task Force capable of responding to the complexity of regional threats by developing a regional approach for Integrated Air and Missile Defence (IAMD).
"The overarching objective is to protect populations and infrastructures," Air Force Maj. Gen. Steven J. deMilliano, director of the Exercises and Training Directorate at US Central Command (USCENTCOM), said during the initiation of Eagle Resolve 23's planning conference.
"This exercise is designed to enhance regional, civil and military interoperability along with process development, honing the skills necessary to implement crisis management and defend the skies from inbound threats," he said.
Commitment to regional security
The exercise, which first occurred in 1999, consists of scenarios such as air defence concepts, counter unmanned aircraft systems (UAS), counter-terrorism operations, border security operations and inter-ministerial co-ordination.
These scenarios are meant to implement crisis management initiatives, increase counter-terrorism and irregular warfare capabilities, and enhance military co-operation between armed forces to address a regional crisis.
Planners also seek to develop command, control and communications systems in a multi-service and international environment, and deliver military support for government ministries and institutions.
Participating GCC members will contribute a combination of land, maritime and air assets as well as trained personnel.
The exercise demonstrates the US commitment to GCC partners and to regional security and stability, said Gen. Michael "Erik" Kurilla, leader of USCENTCOM.
"These kinds of exercises develop interoperability between military forces, increase military capabilities, and are important to the security and stability of the region," he said.
"The lessons learned during these exercises are exportable to our partners across the region," he added.