A new aerial refuelling drone will enable the US Navy to conduct combat operations longer and farther than ever before.
The MQ-25 Stingray, which first flew in September 2019, is the first operational unmanned aerial vehicle (UAV) designed to serve as a carrier-based aerial refuelling platform, extending the range and endurance of the US Navy's carrier-based aircraft.
Beyond its fuel-delivery capabilities, the MQ-25 Stingray is also expected to have a secondary intelligence, surveillance and reconnaissance (ISR) role.
These features will enhance the capability and versatility of the Navy's carrier strike groups and carrier air wing.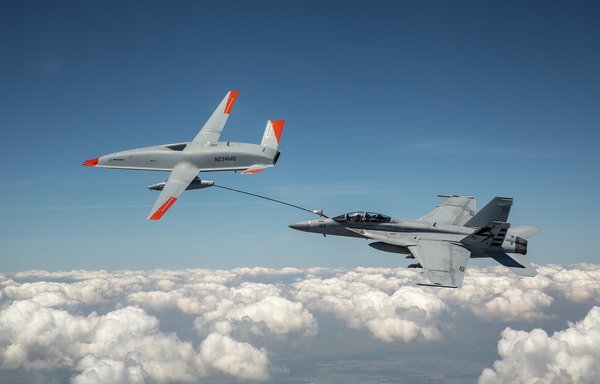 The MQ-25 is now expected to achieve initial operational capability -- namely, deployment on US Navy carriers -- in 2026, according to USNI News. Full capability is expected in the 2030s.
The Navy plans for all Nimitz and Ford-class carriers to eventually be MQ-25 capable.
Refuelling aircraft in flight
One of the key capabilities of the MQ-25 is its ability to refuel aircraft in flight.
This capability is critical for carrier operations, as it allows aircraft to stay in the air longer and travel farther without having to return to the carrier.
The MQ-25 is capable of carrying up to 15,000 pounds (6,804kg) of fuel to a distance of 926km (500 nautical miles) -- enough to refuel multiple aircraft in flight.
By providing in-flight refuelling, the MQ-25 can help to extend the combat range of deployed F/A-18 Super Hornet, F-35C Lightning II and EA-18G Growler aircraft, allowing them to conduct longer-range missions and stay on station for longer periods.
Once the MQ-25 deploys, it will assume the carrier-based tanking role currently performed by F/A-18s, freeing their pilots to concentrate exclusively on strike missions and helping extend the range of the carrier air wing.
Autonomous flight
The MQ-25 is also designed to be highly autonomous, allowing it to operate in a variety of scenarios with minimal human intervention.
It is equipped with advanced sensors and control systems, including radar, lidar (light detection and ranging) and optical cameras, which enable it to navigate in challenging environments and avoid obstacles.
It can communicate with other aircraft and ground-based systems to co-ordinate its operations and share data in real time.
The UAV can be launched and recovered from the same catapults and arresting gear used by manned aircraft, allowing it to seamlessly integrate with carrier operations.
The highly stealthy MQ-25 will be able to operate in contested environments without being detected by enemy radar. It is equipped with advanced radar-absorbing materials and other stealth technologies, which help to reduce its radar cross-section and make it more difficult to detect.
Highly flexible
The MQ-25 is designed to be highly flexible, with the ability to perform a range of missions in addition to aerial refuelling.
"The MQ-25s are expected to have a secondary ISR (Intelligence, Surveillance, Reconnaissance) role and carry radar for maritime operations in support of the main fleet," Military Factory wrote in 2021.
Such flexibility allows the Navy to adapt the MQ-25 to a variety of scenarios and mission sets, making it a highly valuable asset in a range of operations.
Another key capability of the MQ-25 is its ability to operate in a variety of weather conditions, including high winds and heavy seas.
Once the MQ-25 is deployed and operating, Ford-class super carriers will have even more devastating combat power. The F-35 stealth fighters assigned to the Ford carriers, aided by MQ-25 in-flight refuelling, will be able to exceed their previously estimated striking distance.
USS Gerald R. Ford (CVN-78), the first of the Ford class, is expected to deploy to the Mediterranean this year following the planned departure of USS George H.W. Bush (CVN-77).