New technologies and the eventual capability to carry the F-35C Lightning II arguably will make USS Gerald R. Ford the most powerful aircraft carrier in the world.
Built on the legacy of today's Nimitz-class aircraft carriers, the Ford-class carrier will be the most advanced ship on the sea, ensuring the Navy remains ready for crisis response and early decisive striking power in a major combat operation.
USS Gerald R. Ford (CVN-78), the first of the Ford class, left Naval Station Norfolk on March 2 for its Composite Training Unit Exercise (COMPTUEX), a month-long graduation exercise to certify Carrier Strike Group 12 (CSG-12) for worldwide deployment, USNI News reported.
Once the exercise is complete, the Ford is expected to deploy to the Mediterranean following the planned departure of USS George H.W. Bush (CVN-77).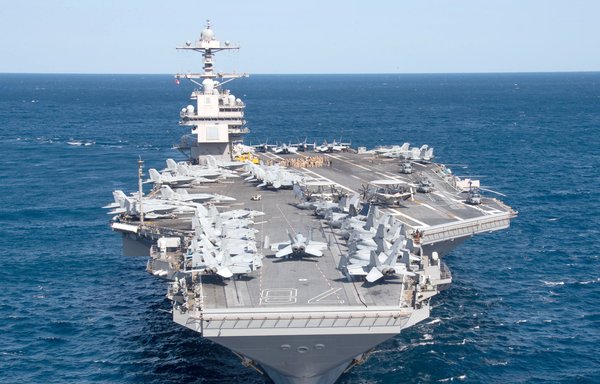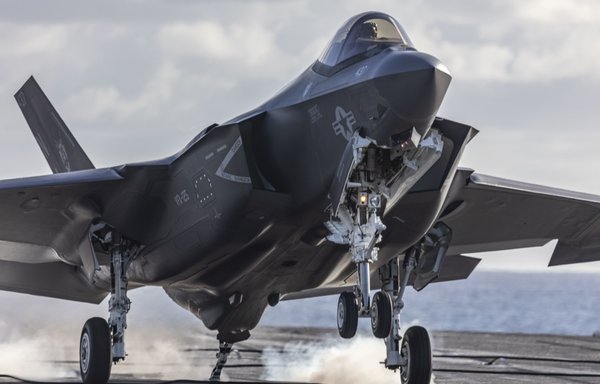 Operationally, the units assigned to CSG-12 include the USS Gerald R. Ford (CVN 78), Carrier Air Wing (CVW) 8, Destroyer Squadron 2 (DESRON 2) and assigned destroyers, and USS Normandy (CG-60).
USS Normandy is a Ticonderoga-class guided-missile cruiser.
Meanwhile, DESRON 2 comprises Arleigh Burke-class guided-missile destroyers USS Ramage (DDG 61), USS McFaul (DDG 74) and USS Thomas Hudner (DDG 116).
Armed with naval guns and anti-air, anti-surface and anti-submarine missiles, plus other weapons, both classes are equipped for surface-to-air, surface-to-surface and anti-submarine warfare.
New technologies
Ford is the first new US aircraft carrier designed in more than 40 years, introducing 23 new technologies that offer impressive advances to its capabilities, according to the Navy.
Such advances reduce the number of personnel required to maintain and operate the ship's systems compared to Nimitz-class carriers.
The new Ford-class carriers have a hull similar to the Nimitz class but introduce new technologies such as the Electromagnetic Aircraft Launch System (EMALS), which provides for more accurate speed control and smoother acceleration, according to the US Navy's All Hands Magazine.
The Advanced Arresting Gear (AAG) System, meanwhile, allows for the recovery (timely and safe removal) of a broader range of aircraft and reduces the fatigue-impact load on the recovered platforms, thus lengthening the aircraft's life cycle.
Other new technologies include advanced weapons elevators (AWEs) that use electromagnetic motors rather than cables and pulleys.
The advanced technology enables fewer sailors to safely move up to 52.8 tonnes of ordnance at 45.7 metres per minute from weapon magazines to the flight deck with unparalleled speed and agility, according to the Navy.
The biggest visible difference from earlier super carriers is the lesser size and the location farther aft of this ship's island, from which flight operations are conducted.
This design allows for more space for flight deck operations and aircraft maintenance, enabling the ship and air wing to launch more aircraft sorties per day, according to All Hands Magazine.
The carrier will accommodate increased sortie rates at 160 sorties a day (compared with 140 sorties for the Nimitz class), with surges to a maximum of 220 sorties a day in times of crisis and intense air warfare, Naval Technology reported in 2020.
Stealth fighter capabilities
Despite the advancements carried by the Ford, it is still not fully outfitted for the F-35C Lightning II stealth fighter.
"It's not that the flight deck can't handle them; we can do that," Cdr. Homer Hensy, the chief engineer on board the Ford, told CBS in October.
"But if you want to bring the full lethality of an F-35 and its air wing and what it brings to a carrier battle group, you have to install other certain operating stations and systems."
The second Gerald R. Ford-class aircraft carrier, the future USS John F. Kennedy (CVN 79), will be the first ship of its class to receive F-35C modifications. The Ford is scheduled to receive the modifications in fiscal year 2025.
The US Navy's F-35C, the carrier variant of the aircraft, can take off from any US aircraft carrier anywhere.
The Navy's carriers are also outfitted for the US Marine Corps' F-35B, which can land vertically like a helicopter and take off in very short distances.
The F-35C is the first and world's only long-range stealth strike fighter designed and built explicitly for Navy carrier operations, according to manufacturer Lockheed Martin.
The wings and landing gear are specifically designed for catapult launches and fly-in arrestments aboard aircraft carriers, and the wingtips also fold to allow for more room on the carrier's deck.
The aircraft's configuration, embedded sensors, internal fuel and weapons capacity, aligned edges, and state of the art manufacturing processes all contribute to its stealth performance, which enables pilots to evade enemy detection.
The F-35C carries almost 10 tonnes of internal fuel, has a range of greater than 1,200 nautical miles (2,200km) and can reach speeds of Mach 1.6 (about 1,200 mph or 1,931km/hour) even with a full internal weapon load.
The F-35C can carry more than 2.6 tonnes of ordnance internally, or more than 10 tonnes of combined internal and external weapons in "beast mode".
This allows the aircraft increased lethality with additional external weapons when it no longer has to rely on its stealth for survivability.