In the aftermath of February's deadly earthquake, as the global community rallied to send aid to the Syrian people, Iran took advantage of the catastrophe to fly in shipments of military equipment and weapons, a new report reveals.
While other nations delivered food and humanitarian relief to mitigate the suffering of a people already reeling from 11 years of war, Iran's move sparked outrage among the Syrian population, who regard it as a cynical power play.
In an April 12 exclusive, Reuters reported that following the tremor, hundreds of shipments carrying military equipment and weapons had been flown in to airports in Aleppo, Damascus and Latakia from Iran.
The flights continued for seven weeks, nine Syrian, Iranian, Israeli and Western sources told Reuters, with convoys of trucks transporting the weaponry and equipment to other destinations in the country.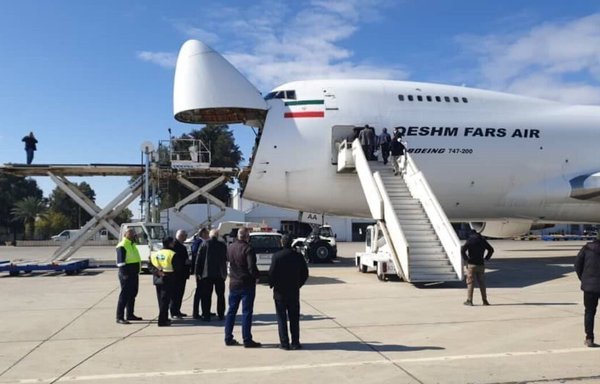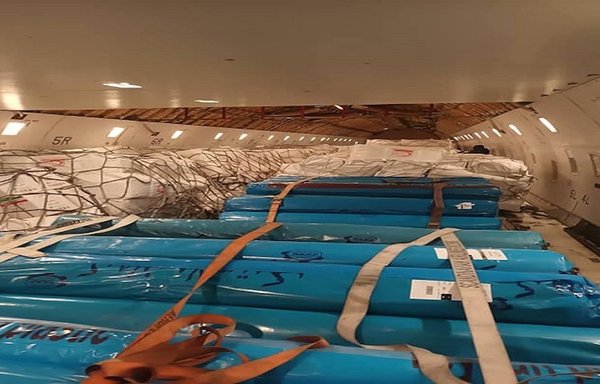 The equipment has been stashed away in Deir Ezzor and Damascus, said Al-Sharq Centre for Regional and Strategic Studies researcher Fathi al-Sayed.
This is not the first time the Islamic Revolutionary Guard Corps Quds Force (IRGC-QF) has shipped weaponry and militiamen through Syrian airports.
The IRGC and its proxies have long used illegal border crossings with Iraq in the vicinity of Albu Kamal to bring in military equipment, al-Sayed told Al-Mashareq.
After the earthquake, Iran sent in trucks carrying humanitarian aid with great fanfare.
Yet "the size of the air and land shipments that Iran claimed to have delivered to Syria for earthquake relief does not match the modest quantities of aid distributed to civilians", al-Sayed noted.
"What Iran has done is a violation of international conventions and an exploitation of emergency conditions that allow the transfer of aid even during embargoes and sanctions," he said.
Shipments arriving in Syria from Iran in the aftermath of the earthquake have faced little scrutiny, he said, amid the ongoing disaster relief efforts.
Commenting on the Reuters report, he said it is highly likely that overt smuggling operations are taking place, with weapons and military equipment encased in containers labelled as foodstuffs or building materials.
He noted the IRGC had been in urgent need of equipment for its air defence system, which has been hit with air strikes, resulting in huge losses.
Special smuggling units
The IRGC has an apparatus for smuggling operations in the Middle East, North Africa (MENA) region and elsewhere in Africa that is managed by high-ranking officers, Iranian affairs researcher Sheyar Turko told Al-Mashareq.
This consists of "an intertwined network of companies around the world that own and lease ships and aircraft", he said, explaining that these are used to deliver "weapons, military equipment and missiles to many countries".
The apparatus usually evades attention, and sanctions, by routing aircraft and vessels through a number of countries before they reach their final destination and unload their cargo, Turko said.
In the case of Syria, however, the IRGC delivered military equipment directly from Iran, under the guise of delivering humanitarian aid, he said.
Unit 190 is the best-known IRGC-QF smuggling entity, and comprises 24 people, including Behnam Shahriyari of the Behnam Shahriyari Trading Company, who has been directly linked to the founders of the IRGC and the IRGC-QF.
Blacklisted by the United States and European Union, Shahriyari also uses other names, including Hojjatullah Narimani and Seyed Ali-Akbar Mirvakili, Turko said.
He has "many front companies around the world that provide funding to the IRGC through the smuggling of oil, contraband, weapons and money".
The network is reportedly linked with mediators and government officials in China, Russia and a large number of other countries, Turko said.
Shahriyari has close relations with Lebanese Hizbullah officials and the Iran-backed Houthis, having been their primary supplier of weapons and military equipment for decades, he said.
He also supplied weapons to Afghanistan, Azerbaijan, Iraq, Sudan and Turkey.
Unit 18000, led by Hassan Mahdavi, also carries out smuggling operations, Turko said, with Mahdavi reportedly organising shipments and scheduling their departure times, destinations and arrival times.
Unit 18000 also co-ordinates with other units -- such as Unit 400, managed by Hamed Abdullahi -- and Unit 4400, a Lebanese network affiliated with Hizbullah run by Muhammad Kassir, also known as "Hajj Fadi".
Airports and land crossings
Iran has been keen to establish control over the Damascus and Aleppo airports and over Syria's land crossings with Iraq, especially those in the vicinity of Albu Kamal, Syrian lawyer Bashir al-Bassam told Al-Mashareq.
Iran also has gained control over parts of Latakia province, he said, with all moves "deliberately planned to facilitate the transfer of weapons, equipment and personnel in support of the Syrian regime and the IRGC-QF militias".
The IRGC-QF does not concern itself with potential human or material losses that could ensue from the use of airports, crossings and civilian ports for military purposes, al-Bassam said.
It has "permanent offices at all land, air and sea ports to co-ordinate the arrival, receipt and distribution of these shipments, both in Syria and Lebanon", he said, with representatives of IRGC-affiliated groups in Syria, Iraq and Lebanon.
Arms and military equipment are transferred from Tehran to Syria by Iran Air, Mahan Air, Caspian Airlines and Meraj Airlines -- Iranian airline companies blacklisted for their terrorist activities, he said.