BEIRUT -- Kawkab Mahmoud Tarabishi gestured towards her grandchildren, huddled on a staircase in the northern city of Tripoli's Bab al-Tabbaneh district, their bodies wrapped in worn and torn clothes.
"They are children of stones, poverty and hunger," she said, painting a grim picture of the neighbourhood, which has been mired in extreme poverty for more than a decade.
Despite the city's commercial and touristic potential, hundreds of thousands of families live in destitution, residing in houses with walls riddled with holes on streets piled with trash.
Poverty in Tripoli has created fertile ground for extremist recruiters, who exploit sectarian tensions and the frustration and despair brought on by the economic collapse to lure young men to join them.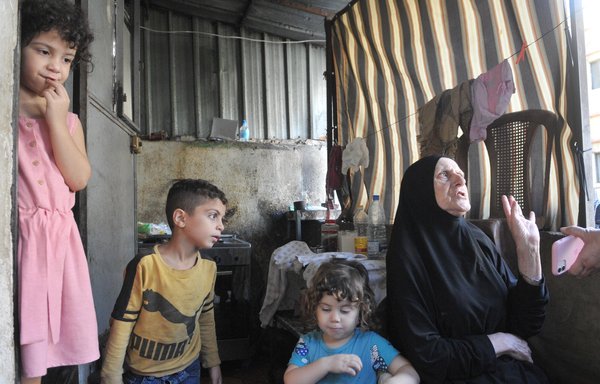 Some have been snapped up by the "Islamic State of Iraq and Syria" (ISIS).
Others have attempted to escape the all-pervasive poverty, which has only deepened after three years of Lebanon's economic crisis, via illegal smuggling mafias and risky sea voyages.
On September 21, at least 100 people drowned when a boat carrying migrants that had set sail from Tripoli capsized off the Syrian coast near Tartus.
According to Information International, 248 migrants from Lebanon drowned at sea between 2013 and September 2022. Most of them were from Tripoli.
'Not the Tripoli we knew'
Tarabishi, who has nine children and 30 grandchildren, lives in a two-room house with a narrow balcony with one of her sons, his wife and their six children who attend public school "when they can cover the transportation fares", she said.
"We are all deprived of everything," she told Al-Mashareq.
"I used to prepare zaatar and oil sandwiches for my grandchildren, and now I mix the zaatar with water," she said. "My refrigerator is empty and we live on the generosity of certain individuals."
"This is not the Tripoli we knew," Tarabishi said.
In his auto body shop on Bab al-Tabbaneh's Syria Street, Ahmed al-Hamoud said his brother had attempted to migrate during Ramadan this year but drowned at sea, along with other family members.
"The youth of Tripoli and their families are drowning in the course of their migration ... to escape poverty and unemployment," he said.
Al-Hamoud, who once had clients from all over Lebanon but hardly gets any work these days, said he also contemplated migration.
"I cannot support my wife, my four children and the daughter of my drowned brother," he said. "We haven't seen electricity in three months. This is not the Tripoli we know, which was a gold mine with its industries."
"Basic services are absent in the area," said Mervat Mukheiber, who lives in Baal al-Darawish in Tripoli's Jabal Mohsen neighbourhood with her three children.
These days, Mukheiber told Al-Mashareq, she cannot afford to buy her heart and blood pressure medications or enroll her children in public school.
Restarting Tripoli's economy
In Bab al-Tabbaneh and Jabal Mohsen, circumstances "have compelled residents to think about illegal migration", said Shafik Abdul Rahman, executive director of Utopia, an NGO that works with the poor and promotes social justice.
The poverty rate in Bab al-Tabbaneh alone, population 80,000, is more than 70%, he told Al-Mashareq, and most youth are unemployed, with some turning to personal weapons trade and car theft.
Lawlessness in the two neighbourhoods has seen daily shootings over drug sales claiming teenage victims, he added, despite the heavy army and intelligence directorate deployment.
For those who seek to leave, smugglers charge between $5,000 and $7,000 per person and up to $20,000 per family, he said. Those wishing to migrate often have to sell "their personal weapons, gold and home furniture" to cover the fee.
It doesn't have to be this way, some insist.
According to Lebanese MP Ashraf Rifi, who represents Tripoli in parliament, the elements of growth and development are present in Tripoli to absorb the youth workforce and put an end to rising poverty and illegal migration.
"Tripoli needs to be setting its economic wheels in motion," he said, starting with putting it back on the map of local and international tourism and rehabilitating the Beddawi oil refinery, out of service since the Lebanese civil war.
Rifi also called for "revitalising the Rashid Karami International Fair, activating work at Tripoli's port, turning the Qoleiat military airport into a civilian one, and activating work in the economic zone".
A revitalised local economy would "provide thousands of job opportunities that would contribute to the development of the region and the eradication of poverty", he said.
For Tarabishi, the Bab al-Tabbaneh grandmother, the solution comes down to leadership.
"We need representatives and leaders who work for us, and who implement development and services projects that provide work for the unemployed youth," she said.