Syrian refugees in Lebanon face significant challenges in pursuing higher education and integrating into university life, a recent study reveals.
The study, conducted in February by Issam Fares Institute for Public Policy and International Affairs at the American University of Beirut (IFI-AUB), is based on a series of interviews with Syrian students.
It identifies some of the main challenges as the inability of prospective students to afford university tuition fees and the difficulty they face in providing documentation of their previous academic record and qualifications.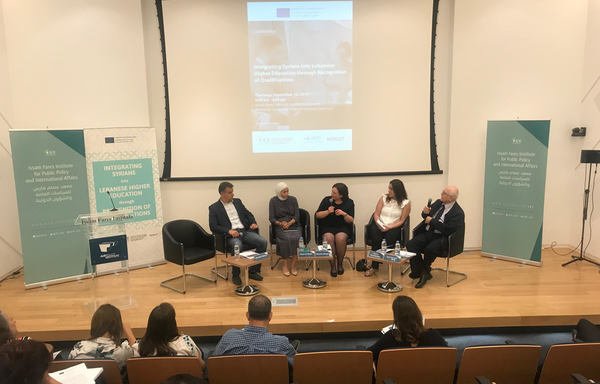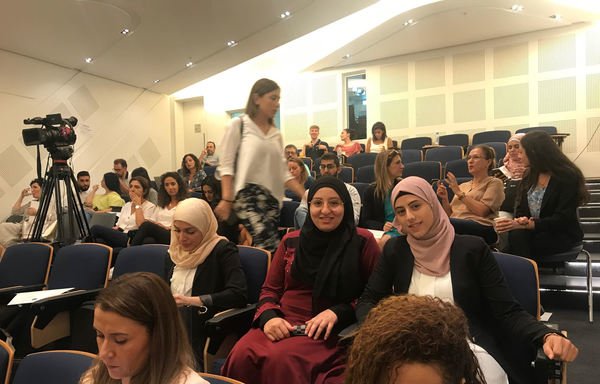 Years of fighting in Syria have wrought chaos for the education of youth, destroying schools and universities and scattering families into displacement across Syria and in neighbouring countries, including Lebanon.
During a September 12th conference, "Integrating Syrians into Higher Education in Lebanon through Recognition of Qualifications", participants reviewed the study's findings and discussed how to address the issues it raised.
There are 11,740 Syrian refugees in Lebanon between the ages of 18 and 24, according to the Lebanese Ministry of Education and Higher Education and the UN High Commissioner for Refugees (UNHCR).
But of that number, only 7,315 registered in universities in Lebanon for the academic year 2017-2018, most of them on scholarship.
Significant challenges
Aya Baydawi, a 22-year-old refugee from Homs, told Al-Mashareq she expects to complete her course of studies in economics at AUB this year.
"When I enrolled at the university, the first challenge I faced was not having my school documents," Baydawi said.
It was extremely difficult to get replacement copies from Syria, she said, but they eventually arrived, "and that enabled me to get the scholarship".
The second challenge "was the difficulty of integrating into university life, and the fact that the instruction methods are totally different from those used in Syria", she said.
Islam Abu al-Hawa, 22, of Daraya, also found it challenging to integrate into AUB's Department of Computer Science after receiving a university scholarship.
"I was very hesitant to enroll in the university because I have refugee status and the Lebanese curriculum is new to me," she said.
"English was a barrier, as was the university environment, not to mention that as Syrians our lives lack stability and we do not know what the future holds for us," al-Hawa said.
"The professors played a major part in helping me integrate into the university and university life, and I have even become active in volunteer work," she said.
Missing documentation
"The study found that the main challenges Syrian students face include the university tuition fees, lack of academic credentials such as certificates and the inability to have these documents authenticated in Syria," said Hana al-Ghali, director of IFI-AUB's Education and Youth Policy Research Programme.
Students who do make it into higher education also face the challenges of integrating into university life, she said, as some must also work to support their families, while others carry with them fears for their families in Syria.
"These students live in an unenviable psychological state," she told Al-Mashareq.
Another challenge is the difference between the two education systems.
"They are accustomed to a teaching method and style that is different from that used in Lebanon's universities, which is based on analysis and freedom of expression, and they are not accustomed to this," al-Ghali said.
Admissions offices in Lebanese universities can help Syrian students by examining their academic records to make sure they are in order, she said.
Al-Ghali said the study produced a recommendation that was presented at the conference, which calls for the admissions office to forward applications to the Norwegian Agency for Quality Assurance in Education (NOKUT).
NOKUT will verify the student's qualifications and make a recommendation on whether to accept or reject the application, she said.
Material and moral support
Meanwhile, the Arab Open University supports Syrian students through a social assistance office, head of admissions and registration Bassam Azoury told Al-Mashareq.
This office "provides financial and moral support to Syrian students in a way that creates favourable conditions for integration into higher education", he said.
The university currently enrolls 700 Syrian students, most of whom have missing documentation or incomplete academic records, he said.
University personnel meet with them to evaluate and assess their academic qualifications with the aim of integrating them into higher education, he added.
Azoury said the university "is making every effort to help them integrate into education and obtain the documents they are missing".