CAIRO -- Tensions have been brewing in and around the Syrian city of Palmyra between militiamen aligned with Iran's Islamic Revolutionary Guard Corps (IRGC) and Russia-backed militias, local observers said.
An armed clash erupted May 4 between the Russian-backed 5th Corps militia and Kataib Hizbullah, an Iran-aligned Iraqi militia, at al-Dar al-Hamra checkpoint to the south of Palmyra, said media activist Ammar Saleh.
The gunfight erupted after a group of Kataib Hizbullah elements, backed by Syrian and Lebanese Hizbullah militiamen, carried out a raid on a house, intending to arrest its resident, a 5th Corps element.
The incident turned violent when the 5th Corps element they were pursuing refused to surrender, and rapidly escalated into a gunfight that killed him and injured a fellow militiaman that was visiting him, Saleh said.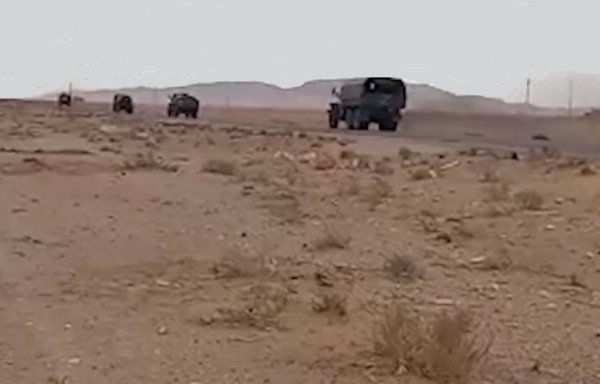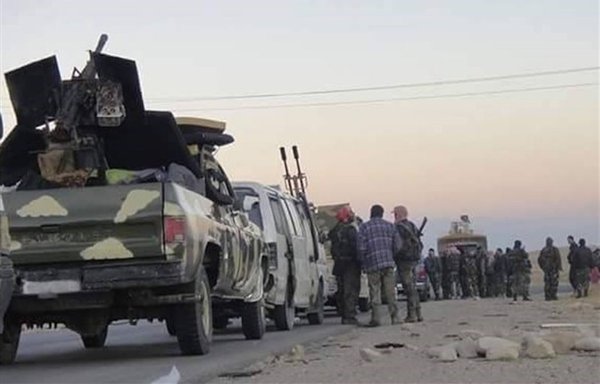 Russia-backed 5th Corps elements retaliated by attacking IRGC-aligned militia headquarters in a clash that left one militiaman dead and injured 10 others on both sides.
The gunfight broke up when Russian forces intervened. They are reportedly conducting an investigation into the clashes, Saleh said.
The IRGC has increased the number of elements deployed in Syria, with these elements currently outnumbering Russia-aligned militia forces, according to Syrian activists.
This has raised tensions in the area between the two sides, they said, and may be a contributing factor to the recent clashes.
Tributes fuel rivalry
Fueling the rivalry between Russian and Iran-backed forces is the imposition of fees, or tributes, on drivers transiting the area, which the militias regard as a revenue stream, Deir Ezzor media activist Jamil al-Abed said.
Iran-aligned militias are imposing tributes, sometimes up to 150,000 SYP ($60), on transit trucks passing through their checkpoints, he said, noting that many of these vehicles are carrying goods from areas controlled by pro-Russia militias.
"This provokes the 5th Corps and always leads to the two sides going on full alert and the eruption of clashes before things calm down after commanders intervene on both sides," he said.
Meanwhile, the two sides are engaged in an increasingly heated competition to recruit new fighters in Palmyra and the surrounding desert area, and in Deir Ezzor city and province, al-Abed said.
"The competition began in 2018, with a slight edge in favour of the Russians at times, especially after they began recruiting for the 5th Corps, the National Defence Forces militia, and Wagner Group affiliates," he said.
Many families in the region prefer Russia's presence to Iran's, he said, as they believe the Iranian regime is incapable of providing them with sufficient protection and security.
IRGC eyeing expansion
Further tension is expected between militias backed by Russia and Iran, as the IRGC and its affiliates appear to be moving towards increasing their numbers on the ground in Syria, some observers said.
Syrian journalist Mohammed al-Abdullah said it appears the IRGC is aiming to gain control over more civilian areas and military sites.
Meanwhile, the Russians are not increasing their forces or expanding their presence, given their ongoing war on Ukraine, he said, noting that Iran has taken advantage of this situation to expand its presence in Syria.
"The situation will undoubtedly reach an explosive point of no return between the two sides because the Russians will not, in any way, give up their areas of influence in Syria," al-Abdullah said.
He noted that the pressure Iran and its affiliates are facing in some parts of Syria, where their positions are being targeted with air strikes, is another reason for the IRGC's increased deployment of forces.
"This has forced Iran-backed forces to look for new hideouts to maintain their presence and preserve their arsenal of missiles and weapons," he said.
The Russians regard the Palmyra region as "a full cash vault" thanks to abundant natural resources such as phosphate, petroleum and salt, and keeping the area under tight control is a priority for them, al-Abdullah said.
Both sides have sent in military reinforcements to Palmyra city on May 8, the Syrian Observatory for Human Rights reported.
Iran's reinforcements comprised heavy machinery, a mechanical digger and drilling equipment, it said, noting that Iran-backed militias have started digging trenches around the area and fortifying their positions and outposts there.