ADEN -- As mines and explosives planted by the Iran-backed Houthis continue to cause devastation to civilians in Yemen, the government's allies have been making a concerted effort to prevent and contain the damage.
Through operations to curb Iranian and Houthi weapons smuggling and efforts to clear mines and explosives, the United States and Saudi Arabia have sought to achieve security and stability in Yemen, officials and experts in Yemen said.
The US Navy on November 8 intercepted a fishing vessel in international waters in the Gulf of Oman that was carrying a "huge quantity of explosive materials" coming from Iran along a route used by the Houthis to smuggle weapons.
The lethal cargo was found to include more than 100 tonnes of urea fertiliser and over 70 tonnes of ammonium perchlorate, a key ingredient "commonly used to make rocket and missile fuel as well as explosives", the navy said.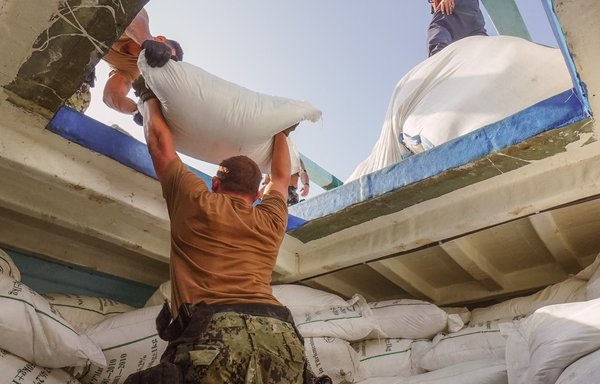 Urea is a chemical compound with agricultural applications that also is known for use as an explosive precursor.
"This was a massive amount of explosive material, enough to fuel more than a dozen medium-range ballistic missiles depending on the size," said Vice Adm. Brad Cooper, commander of the US Naval Forces Central Command.
Since the beginning of 2021, the US Navy has apprehended "more than 36 Houthi smugglers in 10 seizures of Iranian sailboats and vessels, in co-operation with the Yemeni Coast Guard", political analyst Faisal Ahmed told Al-Mashareq.
In some cases, he said, security forces found and seized explosive materials used in the manufacture of mines and explosives.
"The US Navy curbed smuggling operations and stunted the power of Iran and its Houthi militia, which seeks to target international shipping lanes to project itself to the international community as a regional power," Ahmed said.
The US Navy's 5th Fleet in July started offering rewards for information that could help sailors intercept weapons, drugs and other illicit shipments across the region.
Thousands of land mines
The Saudi Project for Landmine Clearance (MASAM), funded by the King Salman Humanitarian Aid and Relief Centre (KSRelief), announced it had removed during the third week of November 700 mines that the Houthis had planted in various parts of Yemen.
Since MASAM's inception, a total of 372,652 mines that the Houthis had randomly planted in various provinces have been removed, it said in a November 20 statement.
Presidential Command Council head Rashad al-Alimi commended the US efforts to prevent Iranian arms shipments from reaching the Houthis.
During a November 17 meeting with the US Embassy's deputy chief of mission to Yemen Inger Tangborn, al-Alimi confirmed the US Navy's enforcement of the decision to embargo weapons sent from Iran to the Houthis.
This has resulted in the interception of many Iranian smuggling vessels, he said, culminating with the huge shipment intercepted last week by the US 5th Fleet in the Gulf of Oman that included explosive materials used in missile fuel.
On the sidelines of the annual Manama Dialogue conference in Bahrain, Yemeni and US military officials discussed prospects for military co-operation between the Yemeni Coast Guard and the 5th Fleet.
Meeting with Cooper, who also commands the US 5th Fleet, Yemeni armed forces chief of staff Lt. Gen. Sagheer bin Aziz said the Houthis continue to threaten international maritime navigation.
He pointed to Iranian support of the Houthis with money, weapons and training as the primary reason for the prolongation of the war.
Mines claim civilian lives
Eleven civilians, including women and children, were wounded on Sunday (November 20) when their car hit a Houthi-laid landmine south of al-Hodeidah and was blown up, al-Sahwa media outlet reported.
"Houthi mines continue to claim civilian lives on a regular basis because the Iran-backed Houthi militias laid mines extensively and without maps," Deputy Minister of Legal Affairs and Human Rights Nabil Abdul Hafeez told Al-Mashareq.
Iranian and Lebanese Hizbullah instructors taught Houthi elements to plant mines in such a way that they blend in with the terrain of the area, he said.
Some are camouflaged as rocks, so that they go undetected, he said.
The Houthis also have planted sea mines made in Iran in the Red Sea, and which have killed "more than 100 fishermen", according to Abdul Hafeez.
The international community has banned the use of landmines, which "claim more civilian than military victims", said Abaad Centre for Strategic Studies director Abdul Salam Mohammed.
The Houthis' use of landmines, with Iranian support, and their establishment of mine manufacturing factories "is a war crime against civilians", he said.
He called on the international community to blacklist the Houthis for their use of mines.
The owners of mine-manufacturing workshops also must face sanctions, he said, as well as engineers, technicians and the Islamic Revolutionary Guard Corps (IRGC) and Hizbullah officers who supervise the manufacture of mines.
Mohammed praised the work of the MASAM Project, which he said "removed tens of thousands of mines that, had they remained on the ground, would have cut down tens of thousands of families".