Though international law prohibits the use of anti-personnel mines, the Houthis (Ansarallah) have continued to manufacture and plant these lethal weapons in Yemen, with support from Iran, officials and experts said.
"The land and sea mines supplied to the Houthis by Iran through the Islamic Revolutionary Guard Corps (IRGC) are a disaster for Yemen," Deputy Minister of Human Rights Nabil Abdel Hafiz told Al-Mashareq.
The Yemeni government "is working to have international sanctions imposed on those involved in the manufacture and planting of landmines, in accordance with international laws and conventions", he stressed.
According to Abdel Hafiz, the Houthis planted two million landmines in Yemen between the outbreak of the current conflict and September 2018.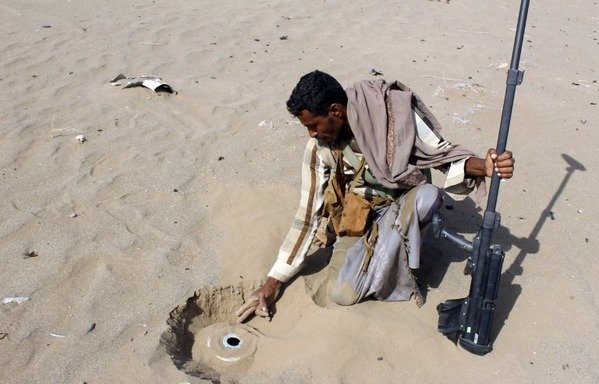 Mines planted in populated areas have killed and maimed many innocent civilians, including children, he said.
A shared responsibility
"Iran and the Houthis bear a shared responsibility for the planting of mines and the victims they claim, since they are partners in the crime," Abdel Hafiz said.
"Iran is supplying the Houthis with landmines and also training them on their manufacture," he added.
The Houthis also have received training from Iran on the planting of sea mines, he said, "putting international shipping lanes and vessels at risk, and consequently posing a threat to countries in the region".
"We have found many factories for the manufacture of land and sea mines in all the areas that were liberated from Houthi control, and on the west coast in particular," he said.
In addition to posing a threat to human lives, he said, mines harm the commercial and economic interests of the countries of the region.
According to a report submitted by the Yemeni Ministry of Human Rights to the Human Rights Council in September 2018, landmines have claimed 1,593 victims in Yemen, including 244 children.
A further 1,413 have suffered injuries, most of whom have been left with permanent disabilities, according to the report.
"This number of dead and injured is disastrous and tragic," Abdel Hafiz said, adding that "the immense cost of removing the mines" is also a heavy burden on Yemen.
Another challenge posed by the mines lies in that "they were planted indiscriminately and without maps, which complicates the process of removing them and limiting the harm they inflict on the population", he said.
The Saudi Project for Landmine Clearance (MASAM) in Yemen in July embarked upon a mission to clear the country of close to one million mines planted by the Houthis, he noted, commending this effort.
On January 6th, Masam announced it has cleared 31,635 mines in Yemen since its launch.
In December alone, Masam cleared 8,683 mines in Yemen, according to the King Salman Humanitarian Aid and Relief Centre (KSRelief), which launched the project.
Mines are 'silent killers'
"Mines are the most serious challenge facing Yemenis, both during the war and after it ends," political researcher Yassin al-Tamimi told Al-Mashareq.
They are "silent killers" that will continue to target innocent people without discrimination, even if the fighting subsides, he said.
"The Houthis rely primarily on mines as a weapon on most fronts, and in retaliations against opponents, without distinguishing between civilians, military personnel, women or children," he added.
The mines come in many forms, with some camouflaged to blend in with the surrounding environment, increasing their lethal effect on civilians and military personnel who stumble upon them unaware, he said.
"The Houthis rely heavily on landmines as a multi-use weapon," said Musa al-Nimrani, media official for the National Organisation for Defending Rights and Freedoms (HOOD).
They use landmines "to force residents to move out of areas they want to seize, and to punish civilians who wish to return to their homes after the Houthi militia withdraws from their areas", he told Al-Mashareq.
Roads and homes have been heavily mined in Marib province, with women and children among those killed, he said, and in Taez province, where women were injured by mines the Houthis placed in front of their homes.
This was intended to force residents to move out of the area, al-Nimrani said.
The militia "disrupted large areas of agricultural land and turned their owners and workers into poor and hungry people dependent on aid", he said, adding that fishermen no longer venture out as far for fear of encountering sea mines.
Violation of international law
International law prohibits the use of anti-personnel mines and obligates warring parties to mark mined areas clearly to ensure the safety of civilians, al-Nimrani said.
But "the Houthis continue to plant mines indiscriminately, and to deliberately place them in areas that are of no military importance".
"In other words, the militia is primarily targeting civilians," he said.
"Moreover, the Houthi militia has modified anti-armour mines by adding plates that detonate the mines as soon as a person steps on them," he said.
The militia also has used advanced technology to manufacture mines planted on the Red Sea coast, which were "found to be equipped with electronic sensors that detonate the mines as soon as a person passes near them", he added.