ADEN -- Iran has continued to supply internationally banned anti-personnel mines to the Houthis, flouting international conventions and disregarding the devastation they cause to the civilian population, Yemeni officials say.
In addition to supplying the Houthis with anti-personnel mines, Iran has been helping its proxies manufacture mines in Yemen, in a move that is intentionally destabilising Yemen and its neighbours, they added.
Anti-personnel mines, designed for use against humans, can kill or maim civilians who stumble upon them as they go about their daily lives.
They are indiscriminate killers, say analysts, with the victims just as likely to be women and children as combatants in a war zone.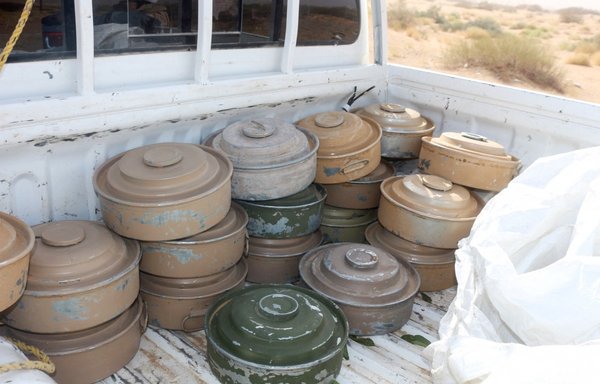 In addition to planting locally manufactured mines and improvised explosive devices (IEDs), the Houthis have continued to "smuggle in other types from Iran", said National Mine Action Programme director Brig. Gen. Amin al-Aqili.
"The continued flow and manufacture of mines point to the Houthis' intention to take advantage of the truce to plant many mines in a systematic and organised manner," he said in an August 22 statement.
Brokered by the United Nations (UN), the truce has been in effect since April 2 and is slated to extend until October, following a commitment from the two sides to engage in negotiations and reach an expanded ceasefire agreement.
While it has brought hope that a permanent ceasefire is within reach, continued violations by the Houthis has darkened the prospects.
Civilian casualties
Al-Aqili called on the the Houthis to stop laying mines and to hand over maps of the mines previously planted in Yemen, adding that disaster will loom for decades unless the maps are handed over.
The Saudi Project for Landmine Clearance (MASAM), funded by the King Salman Humanitarian Aid and Relief Centre (KSRelief), has been making "monumental" efforts to save the Yemeni people from land mine injuries, al-Aqili said.
During the first week of September alone, said MASAM, its personnel dismantled 734 mines planted by the Houthis in various regions of Yemen.
According to the UN's Civilian Impact Monitoring Project (CIMP), Houthi land mines have caused about 9,000 civilian casualties in the aftermath of the Iran-backed group's coup of September 2014.
The use of anti-personnel mines is a crime under various international treaties, Deputy Minister of Justice Faisal al-Majeedi told Al-Mashareq.
These include the Anti-Personnel Mine Ban Convention of 1997, known as the Ottawa Treaty, of which Yemen is a signatory.
Anti-personnel mines planted by the Houthis "are locally manufactured with the help of experts of the Islamic Revolutionary Guard Corps (IRGC) in Yemen or Iranian-manufactured mines", al-Majeedi said.
Iran trained the Houthis on the manufacture of mines, he said, and provided the Houthis with mines manufactured in Iran.
"Iran is directly involved in the devastation in Yemen and the region," he said.
In addition to anti-personnel mines, Iran has provided the Houthis with "naval mines that target international navigation", al-Majeedi said.
"Iran provided the Houthis with IRGC experts who were instrumental in training their elements on the manufacture of mines, and the Houthis also possess Iranian-made mines," said lawyer and rights activist Abdul Rahman Berman.
"Iranian-made mines were found by mine-clearing workers in the areas that the militias mined," he told Al-Mashareq.
The smuggling of mines from Iran to Yemen is a violation of the international agreement that bans the planting of anti-personnel mines, he said.
He described anti-personnel mines as "a blind killer that does not distinguish between a child, a woman, a civilian or a military person, and thus poses a danger to the communities in which they are planted".
"Most of the victims of these mines in Yemen are civilians," he said.
Arms smuggling
Iran seeks to undermine the security and stability of Yemen and neighbouring countries by continuing to support its proxies, the Houthis, with weapons, training and expertise, political analyst Faisal Ahmed told Al-Mashareq.
Yemeni forces have thwarted the smuggling of arms and explosives by the Houthis and IRGC via al-Hodeidah provincial ports on a number of recent occasions, he noted.
In mid-August, joint forces on Yemen's Red Sea coast announced they had dismantled a maritime smuggling cell affiliated with the Iran-backed Houthis, after breaking up two similar cells just days earlier.
Cell members confessed they had been recruited by the Houthis to smuggle explosive materials from Djibouti to the ports of Salif and Ras Issa in al-Hodeidah province.
They also admitted their involvement in transporting two shipments of urea-based fertiliser, which is widely used in manufacturing explosives, before Coast Guard forces intercepted them off al-Khokha, south of al-Hodeidah.
Pro-government forces previously announced they had dismantled seven Houthi cells operating along Yemen's Red Sea coast in August, comprising 35 members in total. The cells had been spying and smuggling weapons for the IRGC.
Targeting stability
Iran has dispatched IRGC advisers to Yemen to train the Houthis on the assembly of smuggled weapon parts and the manufacture of primitive mines that come in all shapes and blend in with the local terrain, said Ahmed.
Smuggling networks working to deliver weapons, explosives and drugs from Iran to the Houthis in Yemen operate in most of the countries in the region, he said.
"This is an indirect form of Iran's targeting of the stability of the countries of the region, including Yemen," he added.
Last year, Iran admitted its involvement in the war in Yemen by providing military support to the Houthis, said Abaad Centre for Strategic Studies director Abdul Salam Mohammad.
According to Gen. Rostam Ghasemi, deputy commander of the IRGC's Quds Force (IRGC-QF), all the weapons owned by the Houthis came as aid provided by Tehran, especially the weapon manufacturing technology.
Manufacturing is taking place in Yemen, particularly of unmanned aerial vehicles (UAVs), commonly known as drones, and ballistic missiles.
Ghasemi acknowledged the presence of Iranian trainers in Yemen, claiming they served in an advisory role, said Mohammad.