The planting of landmines by the Iran-backed Houthi militia in Yemen since the 2014 coup is one of the most serious crimes against humanity and war crimes committed by the militia against Yemenis, present and future.
The Houthis have planted mines in all areas they seized or withdrew from, and in areas still under their control and in military contact zones. They did so indiscriminately and without differentiating between military and civilian sites. The mines have been planted in homes, schools, mosques, markets, grazing and agricultural areas, and around water resources, public institutions, main and secondary roads, airports, seaports, and even territorial waters and international shipping lanes.
According to the National Programme for Landmines Clearance, these mines have maimed or killed more than 7,000 people, most of them women and children, leaving thousands of amputees with permanent physical disabilities. Thousands of livestock have also been killed by these devices, as cows, sheep and camels in the grazing areas of al-Hodeidah, Marib, al-Jawf, al-Dhale and Shabwa governorates have suffered from the presence of mines.
Houthi mines are behind hundreds of tragic stories of civilian victims including women, children and the elderly; one such story is that of 13-year-old Nasser Muhammad, who lost an eye and suffered multiple injuries when a mine blew up while he was playing near his home, and still bears deep scars upon his body.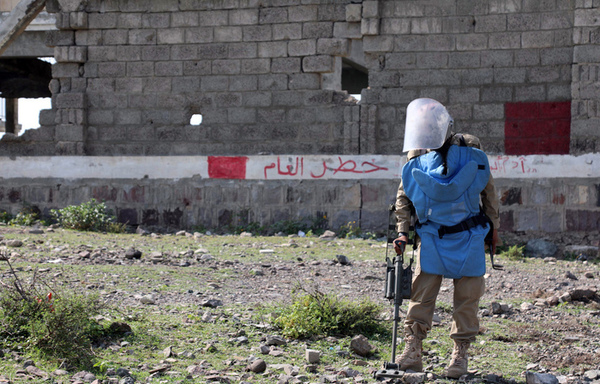 The geographical distribution of mine and IED victims in Yemen between July 2014 and December 2019 shows that Taiz governorate ranks first in the number of victims with a total of 417 dead and 162 injured among children, women and the elderly, out of 1,699 dead and 604 injured in Taiz, al-Hodeidah, Hadramout, Marib, al-Bayda, Lahj, al-Jawf, Amanat Sanaa, al-Dhale, Aden, Abyan, Shabwa, Ibb, Sanaa, Hajjah, Saada, Amran, Dhamar, and al-Mahweet governorates.
The Netherlands-based Rights Radar organisation issued a report in early 2020 on the victims of mines in Yemen, titled "Yemen: Gardens of death", which revealed that between 2015 and 2020, Houthi mines claimed the lives of 580 people, including 104 children and 60 women, and injured 457 people, including 288 men, 113 children and 56 women.
According to Rights Radar, Taiz governorate topped the list of victims with 160 dead, followed by al-Hodeidah with 134 dead, and al-Bayda with 94 dead.
Between January 1st and August 25th, 2020, al-Hodeidah had the largest share of Houthi mine victims, with a total of 52 dead and 31 injured out of 132 killed and 127 injured in the governorates of al-Hodeidah, al-Jawf, Taiz, al-Bayda, al-Dhale, Marib, Hajjah, Sanaa, Saada, Aden and Lahj.
Despite their severity, these numbers do not reflect the scale of the disaster and the actual number of victims of Houthi mines, which is increasing daily due to the continued war and a lack of co-ordination among the different monitoring agencies, which stands in the way of reporting accurate figures. This requires the National Programme for Landmines Clearance to expand its database to include documentation from non-governmental organisations on the number of mine victims in all Yemeni territory.
Reports issued by the National Programme for Landmines Clearance confirmed that the mines planted by the Houthis were not part of the Yemeni army's arsenal before 2014, and that they were manufactured locally by the Houthis under the supervision of experts from Lebanese Hizbullah and Iran's Islamic Revolutionary Guard Corps (IRGC). The reports also noted that these mines were constructed using ammonium nitrate and TNT.
National Programme for Landmines Clearance director Brig. Gen. Amin Saleh al-Aqili said that the Houthi militia used ammonium nitrate (a major component in many types of explosives used in mining, as it is mixed with fuel oils and detonated with an explosive charge), in addition to TNT, as an explosive inside the metal bowl.
Although Yemen signed the Ottawa Treaty in 1997 and passed legislation that criminalises and prohibits the manufacture, design, import, export, possession, transfer, and planting of mines; and although the Yemeni army stockpile of mines was destroyed in 2007, and Yemen was planning to declare its territory free of mines by 2020, the Houthis' manufacturing and planting of hundreds of thousands of mines has brought Yemen back to square one.
Even worse, the Houthis — under the supervision of Hizbullah and Iranian experts — transformed anti-tank mines into anti-personnel mines by attaching them to a pressure plate (pedals) that act as a trigger system. These plates can be anti-tank or anti-personnel, and the activation pressure can be three to five kilogrammes, which means that a small child can activate an anti-tank mine with explosive content of up to 10 kilogrammes.
The Houthis' criminality does not end there, as they have also manufactured IEDs from conventional explosives such as rockets, tank shells or artillery. They have also camouflaged mines and IEDs in the form of rocks to simulate nature, and made tube bombs made of polyvinyl chloride (of plastics) that can contain up to 30 kilogrammes of explosives, a mixture of ammonium nitrate which is more dangerous than conventional explosives.
The Houthis often use infrared technology to activate the camouflaged IEDs and mines on public roads without distinguishing between military and civilian targets, men or women, the elderly or children, or person or animal. The victim activates the device as soon as he approaches it by activating a passive infrared sensor.
The explosive devices can also be activated by the victim through pressure wires, similar to pressure plates, which get activated when the victim steps on them; or through analog timers, which are the timing switches in a regular washing machine or old alarm timers; or through remote detonation.
In their efforts to target the de-mining teams and inflict the largest number of civilian casualties, the Houthis have modified the larger mines to include an anti-lift device, which will make them explode as soon as an attempt is made to remove them.
This Iran-backed Houthi terrorism is not limited to land, as the militia has also manufactured and planted naval mines in the Red Sea and the Bab al-Mandeb Strait to target commercial ships and oil tankers and threaten international shipping lanes.
In the last few years, dozens of accidents involving merchant ships and fishing boats colliding with marine mines were recorded, and hundreds of fishermen were killed and injured along the coast, including fisherman Abdullah Lahji, whose life was ended by a naval mine explosion as he was out making his living.
The Saudi-led Arab Coalition announced it had detected and destroyed 157 naval mines as part of its efforts to ensure the safety of maritime navigation and international trade lanes.
Strenuous efforts to combat mines
The legitimate government, through the National Programme for Landmines Clearance, the military engineering teams of the Ministry of Defence, and in partnership with the UN Development Programme (UNDP), the Saudi Project for Landmine Clearance (MASAM) and supporting states and organisations, have made great strides in removing and destroying mines and raising awareness of their dangers. They have also assisted the victims by performing plastic surgery and fixing artificial limbs, as well as rehabilitating victims and integrating them into society despite the tough economic, political and security conditions in Yemen as a result of the continuing war triggered by the Houthi coup.
Within the framework of the emergency response plan approved by the government, the National Programme for Landmines Clearance was able to clear 28 areas (of a total of 291,333 square meters) of mines, mark 1,332,006 square meters, clear and de-mine an additional 646,455 square meters, and destroy 14,031 anti-personnel mines, 621,531 anti-tank mines, remnants of war and IEDs. Moreover, 1,287,170 people were targeted by awareness-raising campaigns, in co-operation with UNICEF, about the risks posed by mines.
Additionally, the de-mining teams, supported by UNDP, removed from January to October 2019, 532 anti-personnel mines, 9,081 anti-tank mines, 11 naval mines, and 25,842 remnants of war and unexploded ordnance.
From July 1st, 2018 to August 14th, 2020, MASAM teams cleared a total area of 12,965,934 square meters, and removed 2,241 anti-personnel mines, 55,126 anti-tank mines, 117,298 unexploded ordnance, and 5,033 IEDs, with a total number of 179,698 objects removed since the beginning of the project.
The MASAM project, affiliated with the King Salman Humanitarian Aid and Relief Centre, has played a major role in bringing hope to Yemenis by supporting the National Programme for Landmines Clearance with engineering devices and equipment, implementing joint activities, and establishing specialised de-mining teams in all liberated areas. This has enabled internally displaced people to return to their homes and areas of origin. MASAM also has provided medical care and humanitarian support to mine victims.
The excessive use by the Houthis of anti-personnel, anti-tank and modified mines, and improvised explosive devices, and their random laying — without maps — in populated villages and cities, and the spread of remnants of war pose a continued threat to the lives of millions of civilians. These explosives disrupt public life and people's interests and exacerbate their human suffering. They represent an obstacle to development efforts, and their catastrophic effects and the environmental risks they pose will be felt for decades, long after the war ends.
Although the "Houthi mines" issue was and remains a core issue of the peace talks and one of the main points of the Stockholm agreement, UN envoy Martin Griffiths has reiterated in his briefings to the Security Council that the handing over of maps of mines planted by the Iran-backed Houthis is still unattainable, as is the militia's willingness to stop using mines.
And here I wonder, will the international community, the UN, and the Security Council turn their back on the crime of making and converting mines and planting them randomly in populated areas in Yemen, where thousands of children, women, the elderly and even animals fall victims to mines? Or will they stand by the victims and their families by bringing Houthi leaders to justice and holding them accountable? After all, the use of mines is a war crime and a crime against humanity.