A Lebanese nonprofit has been working to rehabilitate residential areas of Tripoli that once were the scene of intense sectarian violence and street fighting.
Tripoli youth from the rival districts of Jabal Mohsen and Bab al-Tabbaneh had for years engaged in intensive rounds of fighting that escalated with the onset of the Syrian war.
In April 2014, Lebanese forces implemented a security plan to curb the violence.
Four years after the plan went into effect, Farah al-Ataa (The Joy of Giving) has brought together a group of volunteers to conduct reconstruction work in Jabel Mohsen's Hara al-Jadidah and Bab al-Tabbaneh's Baal al-Darawish.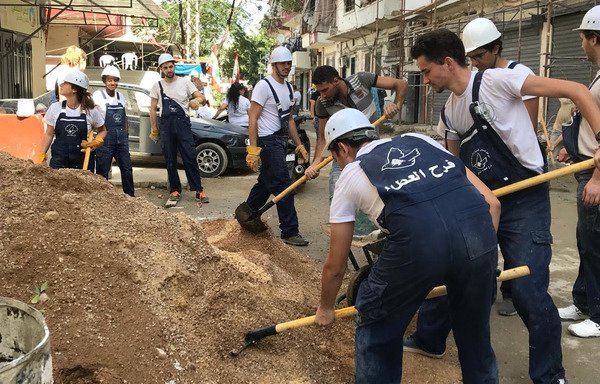 The work began in late August and will continue through the end of the year.
Removing signs of violence
In Baal al-Darawish, Farah al-Ataa volunteers have been working to repair the apartment building where Mervat Ahmad al-Sheikh lives, to her obvious delight.
"After the rounds of violence stopped, we grasped the magnitude of the destruction and devastation," al-Sheikh told Al-Mashareq.
"Building facades are battered and pockmarked with holes caused by artillery shells, and the infrastructure, which was in a dilapidated state to begin with, had suffered serious damage," she said.
The volunteers are repairing and repainting the exterior walls and the common areas inside the building, she said, in addition to rehabilitating its sewage systems and water, electricity and telecommunication networks.
"We have a new clean neighbourhood with renovated buildings, and rats will no longer scamper between the legs of our children," she said. "There are no longer any visible wires in the house where I live with my children and grandchildren."
"Farah al-Ataa visited our homes and assessed what was needed," she said, adding that the rehabilitation efforts have been restoring the neighborhood's beautiful appearance and bringing the people of the two areas together.
Sectarian divisions are no longer palpable in the neighbourhood, she said.
Restoring buildings and services
Farah al-Ataa has established a worksite for its infrastructure rehabilitation projects, which are focused on 21 buildings in Hara al-Jadidah and Bab al-Darawish, Farah al-Ataa president Melhem Khalaf told Al-Mashareq.
In addition to the rehabilitation of common areas, including entrances, stairs, balconies and roofs, he said, the work will include the installation of concealed wiring for electricity and telecommunications networks.
This will eliminate visible and tangled wires, and ensure all wiring is connected through permanent and legal distribution panels, he said.
Water and sewage networks also will be repaired as part of the project, which will include rebuilding walls that are on the verge of collapse, reinforcing roofs, and removing waste from stairwells.
"After initially working every day, seven days a week, we had to scale back to working between Friday and Sunday of every week because the volunteers are school and university students," Khalaf said.
Around 30 Lebanese youth from diverse backgrounds, and a number of French youth, have been working together to "restore life to the two areas and cultivate beauty and joy", he said.
Restoring harmony to the city
"We came in 2002, 2009 and 2011 to repair some of the homes and build public squares and parks for children," Khalaf said. "We have returned today not only to repair buildings and the infrastructure, but also restore harmony between the residents of the area and bring them together."
Farah al-Ataa's work "will not stop, because our goal is to ensure that the residents of the two areas live with dignity" and to provide children and young people with new hope and a healthy environment in which to live, he said.
Jabal Mohsen resident Zein al-Suwayfi said Farah al-Ataa's work is "impressive and admirable, because they are not only repairing buildings, but also planting hope and reassurance and restoring our dignity and humanity".
"My house, in which I live with my wife, son and father, was burned down to the ground, and the relief committee compensated me with a small amount of money that did not cover the cost [of rehabilitation]," he told Al-Mashareq.
Four years after the fighting stopped, Farah al-Ataa has cleaned up the house, painted the walls and repaired the cracked balcony, as well as installed new water pipes and new wiring, he said.