BEIRUT -- Lebanese parliament's recent approval of a $150 million World Bank loan to import wheat, amid acute shortages of subsidised bread, is expected to stabilise bread prices amid the country's economic meltdown.
The World Bank signed off on the $150 million soft loan for food security in crisis-hit Lebanon in May, Lebanese economy minister Amin Salam said, with parliament approving it on July 26.
Lebanese officials are hopeful the World Bank loan will help mitigate the worsening wheat crisis in light of the Russian invasion of Ukraine.
The country consumes 650,000 tonnes of wheat a year.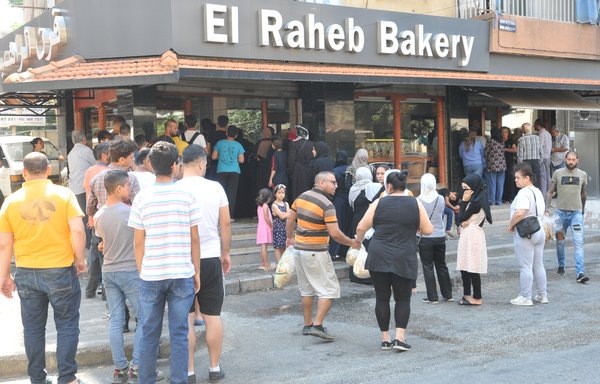 Sources vary on whether Ukraine supplies 60% or 80% of Lebanon's wheat.
Russia's invasion and the ongoing war have devastated farmers in Ukraine, which serves as a breadbasket for much of the region, and Moscow's blockage of the Black Sea halted grain shipments from Ukraine for five months.
The first shipment of Ukrainian grain since the Russian invasion in February left the Black Sea port of Odesa on Monday (August 1), after United Nations (UN) chief António Guterres brokered a plan with Turkey.
The Sierra Leone-flagged Razoni's voyage to Lebanon is being watched closely for signs of how the first agreement signed by Moscow and Kyiv since Russia invaded its neighbour holds.
Lebanon is witnessing a severe and unprecedented shortage of bread that has forced customers to queues for hours every day to buy a bundle of bread, which is subsidised by the Banque du Liban (Central Bank).
During the long hours of waiting, fights occasionally break out, requiring security forces to intervene and ensure that bread is distributed in an orderly fashion.
And subsidised bread is often bought in large quantities and sold again on the black market by unscrupulous dealers.
Multi-faceted crisis
Lebanon is enduring a stifling economic crisis that the World Bank has ranked among the world's worst since 1850.
The national currency has lost more than 90% of its purchasing value against the dollar, which has diminished the Central Bank's ability to subsidise imports of many commodities, including wheat, medicine and fuel.
Banque du Liban is unable to subsidise wheat imports at previous levels. Meanwhile, the Lebanese government is unable to store large quantities of wheat in the Beirut port silos, since the explosion of August 4, 2020.
The limited storage capacity has resulted in restrictions in the amount of flour distributed to bakeries, which are in turn rationing bread production.
The Ministry of Economy has set the price of a bundle of bread at 13,000 LBP ($8.62), having raised it multiple times over the past two years.
While waiting in line for bread outside a bakery in Mazraat Yachou, local resident Georges Moukarzel said some Lebanese consumers consider the World Bank loan a sign of Banque du Liban's imminent rollback of wheat subsidies.
Moukarzel described the bread lines as humiliating, noting that the bread crisis is reminiscent of the country's recent gasoline crisis.
"We are experiencing a real bread crisis in Lebanon that has forced me, my wife and my mother to reduce our bread consumption to be able to provide enough milk for my child," said another local resident, Charbel Kallas.
"I hope the World Bank loan will resolve the wheat crisis," he said but noted that the loan will need to be paid off. "We are already barely surviving."
Pros and cons of loan
The World Bank loan will help supply Lebanon with wheat for six months, said Antoine Seif, head of the Bakery Owners Guild in Mount Lebanon.
The country needs 35,000 tonnes of wheat per month from Ukraine and Russia, he added.
There is no doubt the loan is important, because it will provide the Lebanese with wheat for bread, but it also comes with conditions that include lifting wheat subsidies and rationing bread, he told Al-Mashareq.
A significant cause of the bread shortage is that "wheat, flour and bread are smuggled to Syria, as the borders are open", said Seif.
Combatting smuggling is the Lebanese government's responsibility, he said.
The World Bank loan to buy wheat has its "pros and cons", economist Antoine Farah told Al-Mashareq.
"The pros of the loan include the fact that Lebanon, which suffers from a scarcity of hard currencies, was able to secure a loan for a fixed amount that may be sufficient for wheat imports for a year," he said.
It is advantageous that it is "a soft loan, and the repayment period is quite long and comfortable for Lebanon", he noted.
But a downside of the loan is that wheat subsidies may be rolled back, and ration cards will be issued, which will "increase the poverty and humiliation of the Lebanese", he said.