ADEN -- The Yemeni government is seeking a ban on the sale, at auction, of antiquities that have been looted and smuggled out of Yemen since the Iran-backed Houthis staged their coup in Sanaa in September 2014.
A number of Yemeni artefacts have been slated to be sold at international auction houses in the past few weeks, and in mid-June the Yemeni government issued its appeal.
"Friendly countries should ban the sale of Yemeni antiquities at auctions, and understand the high sensitivity and complete refusal of the Yemeni government and people of the sale of any piece of Yemen's antiquities," said the Yemeni Ministry of Foreign Affairs in a statement.
The ministry demanded that "these pieces be handed over to the competent Yemeni authorities, as they are Yemeni antiquities that no one has the right to dispose of in any way".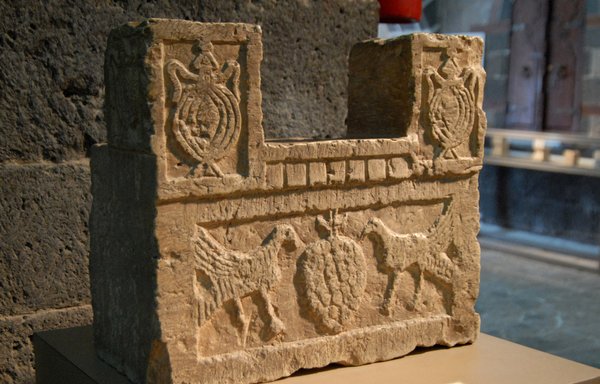 It said it "is considering all available options and means to recover these pieces since they are a right of the Yemeni people that cannot be squandered or relinquished" as they are inked with Yemen's history and ancient civilisation.
Minister of Information, Culture and Tourism Muammar al-Eryani met with General Authority of Antiquities and Museums head Ahmed Bataea and others on June 21 to discuss efforts to address the antiquities issue.
They discussed plans to convene a consultative meeting of antiquities officials and specialists to assess the current situation, with al-Eryani pointing to the Houthis' tampering with and destruction of Yemeni antiquities and museums.
Yemen's history is being sold
Minister of State Abdul Ghani Jamil has accused the Iran-backed Houthis of smuggling and hiding more than 14,000 rare Yemeni manuscripts and hundreds of artefacts.
"The Houthis deliberately tampered with antiquities and archaeological sites," economist Abdul Aziz Thabet told Al-Mashareq.
They did this "to obliterate the features of Yemeni civilisation" and to enrich their leaders, he said, as smuggling and trafficking generate large sums of money.
Yemen is rich in archaeological sites "despite the vandalism and theft they have been subjected to", he said, stressing that the government is serious in its appeal to the world to stop selling its looted antiquities.
The Houthis' coup created a huge security vacuum "that makes archaeological sites a target", he said, calling for an end to the war, as "this alone would stop this continuous looting of Yemen's history".
Thabet called for the establishment of a database of archaeological sites and their contents and the contents of Yemeni museums that would facilitate the process of recovering looted antiquities and artefacts.
Banning sale of stolen antiquities
Yemen has signed agreements with a number of countries to prevent the sale and facilitate the recovery of looted antiquities, said Ahmed Jassar, director of the Department of Museums and Antiquities at the authority's Taez branch.
This is in addition to international treaties ratified by Yemen under which these artefacts can be recovered, he told Al-Mashareq.
"Some archaeological sites were destroyed and their contents stolen, as the Houthis did at the Baraqish site and the Taez Museum," Jassar said, while the contents of some museums in areas under Houthi control were looted.
"When a state is weak, fragile, disintegrated and at war, this encourages groups, militias and gangs to exploit the situation and loot and smuggle antiquities," said Abaad Centre for Strategic Studies director Abdul Salam Mohammed.
Mohammed highlighted the importance of forming a professional Yemeni team to "track the path of these antiquities and where they went".
This is in addition to the government's role "in co-ordinating efforts and putting pressure on the international community to issue decrees banning the sale of Yemeni antiquities", he said.