Iraq's ongoing diplomatic efforts have yielded positive results in recovering antiquities that were smuggled out of the country over the past two decades.
Last year, Iraqi authorities received more than 17,000 recovered artefacts from the United States and several other countries, including clay cuneiform tablets and sealings estimated to be more than 4,000 years old.
Among them was a fragment of a Sumerian tablet with a sequence from the Epic of Gilgamesh, which tells the story of the legendary journey embarked on by the Sumerian king of Uruk, Gilgamesh, in search of immortality.
The tablet was stolen three decades ago and illegally exported to the United States.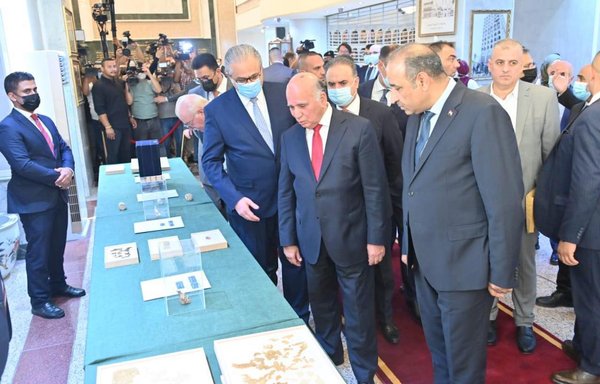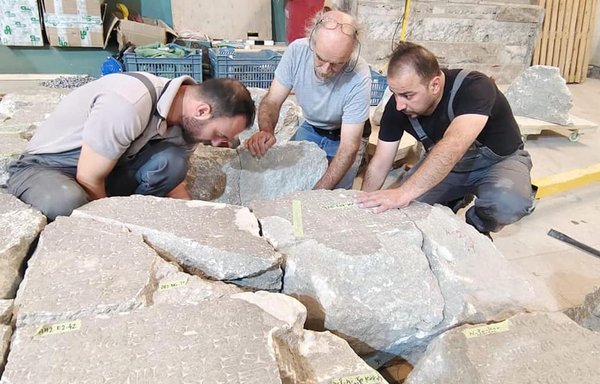 The repatriation of these pieces is the largest ever of smuggled Iraqi antiquities and reflects the US commitment to protect the cultural heritage of Iraq.
Earlier this year, Washington returned five Iraqi artefacts, including an ivory plaque that dates back to the era of King Sargon II (721-705 BCE) in Nimrud, northern Iraq.
The returned artefacts included a bowl containing a flower made of shells dating back to the Neo-Assyrian period (911-612 BCE). The value of these recovered pieces is estimated at hundreds of thousands of dollars.
Iraq also recovered 337 artefacts from Lebanon, including tablets and figures dating back to the ancient Akkadian and Babylonian eras, in addition to other pieces from Japan, the Netherlands, Italy and Switzerland.
On October 21, the Iraqi Foreign Ministry announced the recovery of six artefacts from Turkey, consisting of five gold coins dating back to the Abbasid era and a chunk of a statue dating back to the Sumerian era.
Iraqi General Authority for Antiquities and Heritage statistics indicate that more than 150,000 stolen artefacts have been recovered since 2003 with the help of those countries where these artefacts ended up.
Many arrived at these destinations via auction sales of antiquities and illegal trafficking operations.
The "Islamic State of Iraq and Syria" (ISIS) destroyed or looted many of Iraq's artefacts during its reign over parts of the country between 2014 and 2017.
Preventing smuggling
"It is a matter of pride that we succeeded in recovering this large number of our smuggled antiquities," Iraqi Ministry of Antiquities and Culture spokesman Ahmed al-Olayawi told Al-Mashareq.
"We have made amazing achievements in this regard," he said, noting that the recovery of any piece is not an easy task, as it requires tracking the smuggling of the piece from one country to another, and then proving its provenance.
While Iraq can easily confirm its right to pieces that bear the identifying numbers of its national museums, the same is not true for pieces that are not officially registered, he said.
Some of these pieces have been illegally excavated by criminal gangs and sold on the black market, al-Olayawi said.
"There are international commitments to prevent smuggling and the illegal trade in antiquities, and we are co-ordinating with all countries to find and seize our stolen antiquities, and working hard to verify their Iraqi provenance," he added.
"We have good relations and partnerships with several countries, and there are many that recognise our right to that cultural heritage and co-operate with us in protecting and preserving it," he said, including the United States.
In early November, Baghdad announced it had filed a complaint with the international police (Interpol) in an attempt to pressure some countries to return looted Iraqi antiquities.
Iraqi authorities say there are about 15,000 artefacts, all of which bear Iraqi museum stamps, that have been missing for decades.
As for the undocumented pieces, there are no accurate figures on the number of looted items that have been smuggled out of the country.
International co-operation
The Ministry of Culture is eager to repatriate all Iraqi antiquities, ministry director general of tourism facilities Abdul Qadir al-Jumaili told Al-Mashareq.
"Countries such as the United States and others in Europe are co-operating closely with Iraq to return its antiquities," he said.
They also provide assistance and technical expertise in the excavation and restoration of Iraqi antiquities and the maintenance of sites and museums that were damaged in acts of terrorism after 2014, he said.
On November 16, at the conclusion of excavation work at Ur in al-Nasiriyah, an archaeological mission from the University of Pennsylvania handed over 96 artefacts to the Iraqi Museum, including pot shards, utensils and clay figures.
Prior to that, on October 17, an Iraqi-American excavation team unearthed eight marble slabs that date back to the Assyrian civilisation in Mosul.
The extraordinary 2,700-year-old rock carvings were found at the site of the ancient monumental Mashki gate that ISIS fighters bulldozed in 2016.
The British Museum mission has also unearthed hundreds of artefacts at the Tello archaeological site in al-Nasiriyah, and has trained 50 Iraqi specialists on excavation, maintenance, archaeological surveys, and archiving and documentation.
More than 18 excavation teams from several countries are working in Iraq at various archaeological sites.
Among them is the German University of Heidelberg mission in the Nabi Yunus hill in Mosul, and a mission affiliated with the Italian University of Bologna that has been restoring the Adad gate and parts of the ancient wall of Ninawa.
A French team, accompanied by Iraqi specialists, is meanwhile restoring 27 artefacts destroyed by ISIS at the Mosul Museum.