ADEN -- Shuei Mohammed says he is sad and angry that he cannot provide for his wife and seven children because he is not making enough money from his work -- collecting empty plastic cans from the streets with his children.
"When we were first displaced from al-Hodeidah three years ago, we were receiving a food ration on a monthly basis," he told Al-Mashareq. "But since last year, we have been getting only half of the intended ration, and we get it irregularly."
Unfortunately for Mohammed and many others facing dire conditions in Yemen, the situation seems likely to get worse, partly as a result of the fallout from Russia's assault on Ukraine, which is expected to trigger a rise in food prices.
Last week, the World Food Programme (WFP) warned that the Russia-Ukraine conflict will likely increase fuel and food prices in Yemen, AFP reported.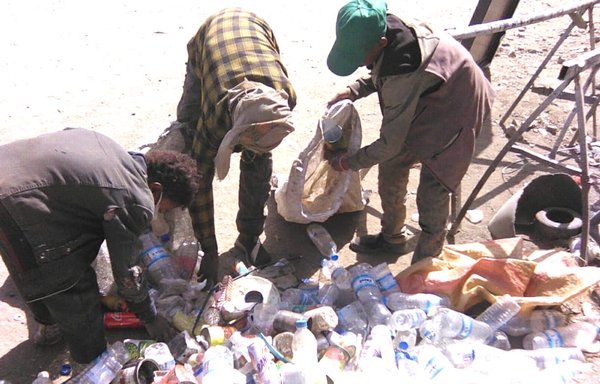 This will push more people into hunger, as aid funding dwindles.
At the start of this year, WFP was forced to reduce food rations for eight million in Yemen and has warned of an impending disaster as a result of the cuts to aid.
"The escalation of conflict in Ukraine is likely to further increase fuel and food prices and especially grains in the import-dependent country," the WFP said in a February 24 statement.
"Food prices have more than doubled across much of Yemen over the past year, leaving more than half of the country in need of food assistance," it said.
"Higher food prices will push more people into the vicious circle of hunger and dependence on humanitarian assistance."
'Countdown to catastrophe'
"We're on a countdown to catastrophe in Yemen! When the money runs out, people don't eat," WFP chief David Beasley said in a February 13 Twitter post. "That's why eight million Yemenis are receiving half rations now."
"Without urgent funds, the programme will be forced to do the unthinkable and fully cut rations for millions... these cuts will be a death sentence," he said.
The WFP has said it will need $765 million in the next six months to maintain the current levels of aid in Yemen, with 13 million inhabitants dependent on aid.
The country is already experiencing the worst humanitarian crisis in the world, with more than 80% of the population in need of aid, according to the United Nations (UN).
The UN is slated to hold a high-level pledging event on March 16 in Geneva to raise $3.9 billion to fund the humanitarian response plan for the current year. It will be co-hosted by the UN and the governments of Sweden and Switzerland.
The donor conference "will represent a critical opportunity for the international community to demonstrate its continued commitment to the people of Yemen", the UN Office for the Co-ordination of Humanitarian Affairs (OCHA) said.
The top donors to the WFP for its Yemen operations are the United States, Saudi Arabia, the United Arab Emirates (UAE), Qatar, Germany, the European Union, Sweden, Canada and Switzerland.
Irregularities in aid distribution
The seven-year war in Yemen has caused a "horrific human tragedy of poverty and famine", Yemeni Deputy Minister of Legal Affairs and Human Rights Nabil Abdul Hafeez told Al-Mashareq.
He noted there had been obstacles to the delivery of international aid that had made the situation worse, including instances where aid was diverted to the fighters of the Iran-backed Houthis and did not reach the intended recipients.
In some cases the food provided was no longer edible as it had remained in storage past its expiration date and had to be destroyed, he said.
"Last year, only $1.2 billion was paid for the aid programme, but Yemen needs between $3 and 4 billion annually," economist Faris al-Najjar said.
"Yemen's Food and Agriculture Organisation (FAO) has stated that more than 16 million Yemenis have entered the third level of food insecurity, which is a very dangerous indicator," he said.
This is "catastrophic because it comes just before famine", he explained.
He pointed to a World Bank report that noted the emergence of "pockets of famine" in many Yemeni provinces, including al-Jawf, Saada and al-Hodeidah.
He also noted some past irregularities regarding the distribution of aid, saying that they led some donors to refrain from providing funding.
"These irregularities prompted many supporting countries -- such as Kuwait, the UAE and Saudi Arabia -- to implement their relief programmes through their affiliates," al-Najjar said.
Saudi Arabia has implemented its relief programmes in Yemen through the King Salman Humanitarian Aid and Relief Centre (KSRelief), for example, he said.
A-Najjar called for enhanced transparency in aid and relief work, adding that with this, donors would be more inclined to provide support and meet Yemenis' needs.