ADEN -- Gas stations in Sanaa and other areas of Yemen controlled by the Iran-backed Houthis have abruptly halted sales of gasoline, cooking gas cylinders and other petroleum products, even as a ceasefire takes hold, residents said.
The Houthis said Wednesday (May 18) they are considering renewing a truce with the government, brokered by the United Nations (UN), which went into effect April 2 and is set to expire on June 2, AFP reported.
Yet residents in areas controlled by the group said they still fear a return of the gas and fuel shortages they endured for four months before the truce, and accuse the Houthis of tampering with the oil derivatives market.
During the two-month truce, some 18 tankers carrying oil derivatives will be allowed to enter the Red Sea port of al-Hodeidah.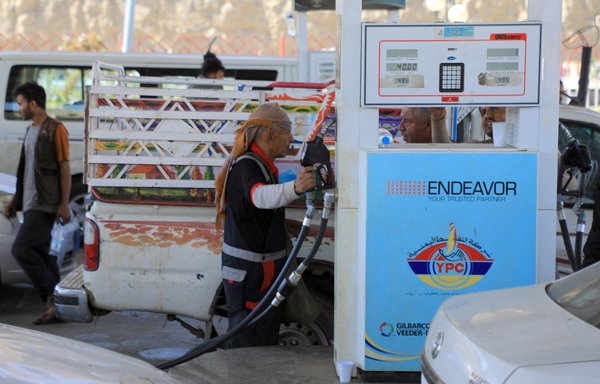 But despite the additional supply flowing in, gas stations and other businesses selling oil products abruptly shut down May 10, indicating that other factors are involved.
Supply shortage not real issue
According to Sanaa-based private sector employee Ibrahim Zayed, the public panicked upon hearing the news of the most recent fuel crisis.
Some people rushed out in search of gasoline, he told Al-Mashareq.
Some drove to gas stations and joined long lines, while others attempted to buy gasoline on the black market, out of fear that prices would skyrocket, he said.
Ali Ahmed, who operates a minibus, said that after he drove by a closed gas station, he stopped taking on passengers, "as many other minibus owners do until fuel becomes available".
He said drivers stop transporting passengers until the price of fuel on the black market is set, as this determines the increase in fares.
"Oil is a basic commodity that impacts everything, increasing the prices of all goods because of the hike in transport costs," said economist Abdul Aziz Thabet.
"It also leads to a rise in the prices of agricultural commodities that require diesel fuel for irrigation," he said, noting that shortages or price increases of oil derivatives "exacerbate the living situation in Yemen".
Yemeni Minister of Information Muammar al-Eryani accused the Houthis of creating a new oil crisis in Sanaa and other areas under their control by manipulating the price of oil derivatives.
He noted that a total of 10 tankers carrying 268,911 metric tonnes of oil derivatives unloaded their cargo in al-Hodeidah between April 1 and May 8, as did two tankers carrying 60,000 metric tonnes of diesel oil.
This amount would exceed the total need for these products in Houthi-controlled areas for a three-month period, he said, suggesting that a supply shortage is not the real issue.
Black market dealing
By being "selective" about the truce, Yemeni Minister of Foreign Affairs Ahmed bin Mubarak said, the Houthis have demonstrated that their priority is collecting funds for themselves.
He said the Houthis have made some 90 billion YER ($360 million) from oil derivatives they have sold on the black market since the ceasefire began in early April.
The group has manufactured oil derivative crises from time to time "for obvious objectives, including the disruption of peace efforts", economist Faris al-Najjar said.
In 2019, gas stations in Sanaa and other parts of Yemen under Houthi control ran short of fuel, even as the black market for oil derivatives was thriving, local residents told Al-Mashareq at the time.
And in 2018, residents of Houthi-controlled areas were forced to use firewood and alternative fuel to cook food, due to a severe shortage of cooking gas.
They blamed the shortage of propane gas cylinders on poor governance, amid widespread reports that the Houthis had been blocking the entry of propane gas tankers into provinces under their control.
Al-Najjar said the Houthis are fabricating the current fuel crisis because they benefit greatly from the money they make by selling fuel on the black market.
"Iran is involved in smuggling fuel and weapons to the Houthis and does not want the peace efforts in Yemen to succeed. It uses the Houthis as a bargaining chip, and this has compounded Yemenis' suffering," he said.