Faced with a shortage of cooking gas and fuel for their vehicles, Sanaa residents staged protests across the city in recent days, which in some areas led to armed clashes with the Houthis (Ansarallah), city residents told Al-Mashareq.
Residents blocked some streets using empty gas cylinders to protest a fuel crisis that has forced many private vehicles and public buses to stop operating.
Long lines of vehicles could be seen outside gas stations, while residents of the city, which is under the control of the Iran-backed Houthis, also have been queuing to refill cooking gas canisters.
The current crisis began at noon Monday (March 5th) with a sudden price hike, prompting vehicle owners to rush to gas stations in an attempt to refuel, local residents said.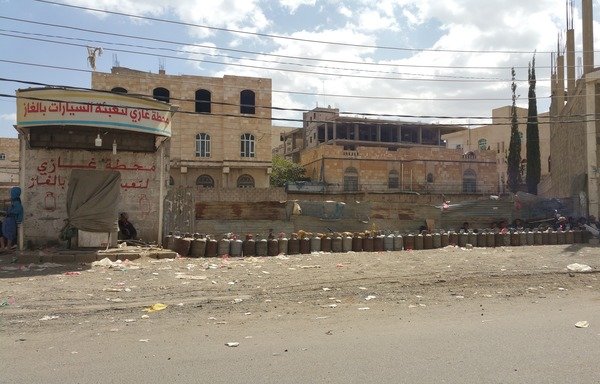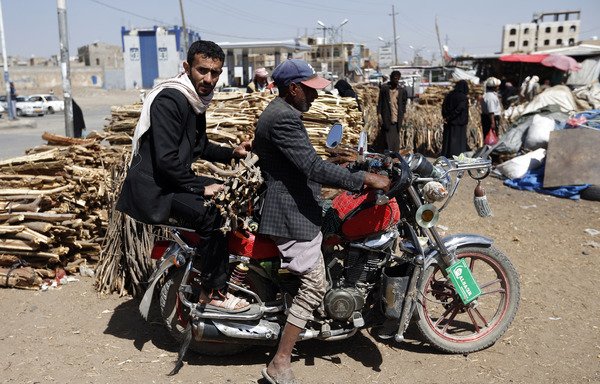 A few days earlier, cooking gas could not be found, even on the black market, they said, prompting many to send their sons to filling stations to obtain gas, where some have been waiting for days.
A 'catastrophic' situation
The Houthis have been widely blamed for causing the crisis, as they are the de facto authority in Sanaa, which they seized during the coup of 2014.
"I have forced my son to stay for three days at the gas-filling station in al-Sabeen in the capital, but to no avail," local resident Ali Nasser al-Hujari said.
"We looked for gas on the black market, but we did not find it," he told Al-Mashareq. "The situation has become really catastrophic."
Meanwhile, residents blocked some streets in Sanaa with long lines of gas cylinders, and armed clashes with the Houthis ensued when the militia intervened to open the roads by force.
"People have waited in long lines outside gas-filling stations for three days, but the quantity that came did not meet their needs," al-Balili neighbourhood resident Salem Ali told Al-Mashareq.
"The situation soon became very tense, and some residents clashed with the [militia's] forces, which tried to open up the street," he added.
Meanwhile, the Houthi-controlled Ministry of Oil accused some "unscrupulous traders" of causing the gas shortage crisis.
"Traders promised to sell gas cylinders for 3,000 Yemeni riyals ($12), but afterwards refused to send gas trailers to Sanaa and other provinces," it said.
Houthi price hikes to blame
According to economist Abdul Jalil Hassan, the Houthis are to blame for the oil derivatives crisis, as they are in control and give the import permits to traders.
"All state institutions are controlled by the Houthis, and they are to be fully blamed for the burdens and sufferings of citizens in areas under their control, including Sanaa," he told Al-Mashareq.
"These price hikes are because of taxes imposed by Houthis on traders and importers at city entrances," said Sanaa University researcher Ali Mohammed.
"Their security agencies also impose fines worth millions on owners of gas-filling and petrol stations, in the event that they violate their orders, including the imposition of a certain price," he told Al-Mashareq, using a pseudonym out of fear for his safety.
The price of a 20-litre cooking gas cylinder had risen to more than 7,000 Yemeni riyals ($28), as compared to 5,000 riyals ($20) on the black market, he said.
Meanwhile, he added, the price of a 20-litre petrol container rose from 7,000 riyals to 8,000 riyals ($32) in just one day.
Customs duties suspended
Yemeni President Abd Rabbu Mansour Hadi on Monday instructed the government to loosen restrictions on the oil derivatives market and to allow all companies and individuals to import and sell them in all Yemeni ports.
This directive included ports controlled by the Houthis.
According to local media reports, Hadi took the decision in order to lower the prices of basic items, including gasoline and cooking gas.
Hadi also ordered the cancellation of all measures and restrictions which impede the transport of oil derivatives.
He called for reasonable transport fares to be applied, as per the Ministry of Transport's estimates, for clearance measures to be facilitated at ports within 72 hours, and for ports and the customs administration to work two shifts a day.
Hadi also called for customs duties on oil derivatives to be suspended, effective immediately, in order to lower the prices.
These measures are to be reviewed and assessed within three months, he said, to measure their impact on the lives of Yemeni citizens.