Residents of Sanaa and other parts of Yemen controlled by the Houthis (Ansarallah) have been forced to use firewood and alternative fuel to cook food since early March, due to a severe shortage of cooking gas.
The shortage of propane gas cylinders is the result of poor governance, residents told Al-Mashareq, blaming the Iran-backed Houthi militia for fueling the crisis and exacerbating the already difficult conditions they endure.
According to local media, the Houthis have been blocking the entry of propane gas tankers into provinces under their control.
As a result of the unavailability of cooking gas, firewood markets have popped up to meet the need for fuel, with prices rising apace, while some residents have reverted to burning dried animal dung as a fuel source.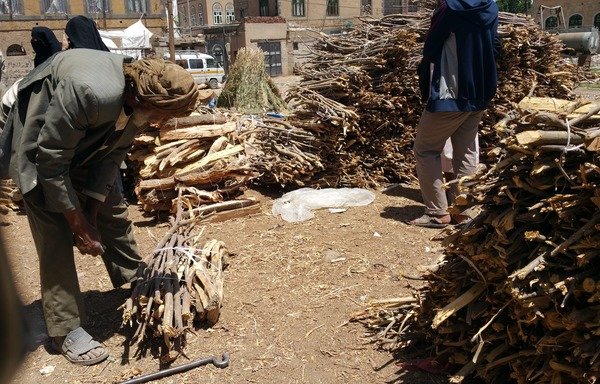 During a recent trip to buy firewood from one such market in Sanaa, Ahmed Ghallab Khatib, imam of the city's al-Hussein mosque, settled for buying just two bundles of firewood, instead of the three he and his wife had planned on.
"I did not expect the price of firewood to rise to such an insane level," he told Al-Mashareq.
Homemaker Safiya al-Hajj also settled for a small amount of firewood.
"I spend hours every day collecting cardboard, construction leftovers and wood, and I add one log of firewood to prepare one meal a day for the children," she told Al-Mashareq.
"The difficult conditions and disappearance of propane gas [from the market] will cause many people to starve," she predicted.
Rising prices
"The war has left us exhausted and we are no longer able to provide the basic necessities," blacksmith Tareq Abdullah told Al-Mashareq. "The money I was able to save from today's work, I used to buy firewood."
The price of firewood has risen threefold since early March due to the unavailability of cooking gas, with firewood markets now scattered throughout most neighbourhoods of Sanaa.
"The high demand for firewood has caused prices to soar," said Ahmad al-Jawzi, a firewood dealer in Sanaa's Dar Salm neighbourhood.
"We used to supply one truckload of firewood a week, and now we supply one truckload a day to meet the high demand," he told Al-Mashareq.
"Our workers are cutting trees in the rural areas outside the cities of al-Hodeidah and Hajja, where trees are abundant," he added. "People from all walks of life, rich and poor, are buying firewood."
Under the current circumstances, "obtaining a cylinder of propane gas [is] an extremely difficult and complex proposition", said economist Abdul Jalil Hassan.
"The war circumstances forced Yemenis to revert to using firewood, a traditional means that has been long since abandoned," he told Al-Mashareq, adding that some families have reverted to using dried animal manure as fuel.
Ongoing propane gas crises over the past three years of war have increased public interest in firewood as an alternative to gas, he said.
As a result of the shortages, the streets of Sanaa now resemble those of an earlier era, he noted, with photos circulated on social media showing donkeys carrying firewood in some neighbourhoods.