Syrian president Bashar al-Assad recently returned from Tehran, where in a rare and previously unannounced visit on Sunday (May 8), he met with Iranian leader Ali Khamenei and president Ebrahim Raisi.
Though al-Assad's agenda was opaque, his visit comes at a time when Iran is seeking to make economic and territorial inroads in Syria while its "ally" and rival Russia is distracted by the Ukraine war.
Syrian media on Tuesday reported that al-Assad had opened a new line of credit with Iran to purchase energy and other essentials, in a move that will leave Syria further in debt to the Islamic Republic.
Al-Assad has travelled to Iran only once, in 2019, since the beginning of the war in Syria, which has killed some 350,000 Syrian civilians to date.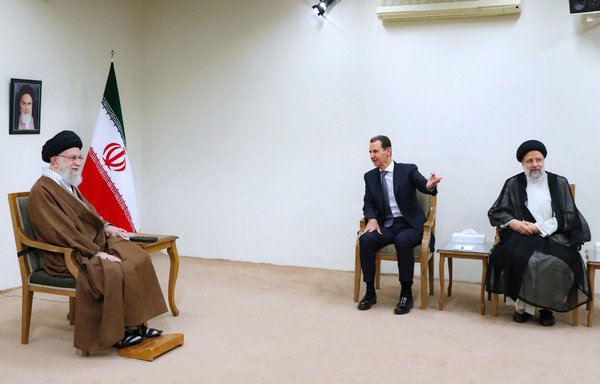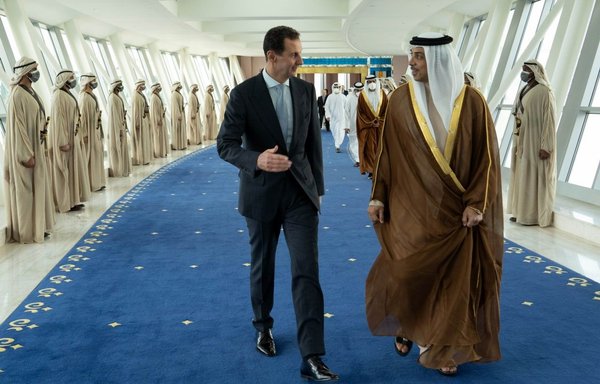 Khamenei took the opportunity to publicly praise al-Assad, an international pariah who is facing sanctions and fresh war crimes allegations.
He lauded the regime's "resistance and persistence in an international war", which he said would "add to Syria's credibility" on the international stage.
Iran spends billions on Syria
Since the start of the war in Syria, Tehran has been the Syrian regime's closest regional ally, spending billions of dollars to prop up al-Assad in a war waged on Syrians demanding freedom, dignity and democracy.
By some estimates, Iran has deployed thousands of soldiers to fight alongside the Syrian regime's military forces. These include militias trained and armed by the Islamic Revolutionary Guard Corps' Quds Force (IRGC-QF).
Khamenei noted the IRGC-QF's role in helping al-Assad carry on the war against his own people, and cited Qassem Soleimani, the late IRGC-QF commander, as "one of the instrumental reasons for Syria's victory in the war".
He said Soleimani's "behaviour in Syria" was similar to his "behaviour during the Iraq-Iran war", and noted that the late general and the "IRGC elite" regarded "helping al-Assad in the Syrian war as a duty and holy responsibility".
Khamenei also alluded to al-Assad's March trip to the United Arab Emirates (UAE), his first since the war in Syria began, where he met with Emirati officials.
Along with the majority of Arab states, the UAE broke off ties with Syria soon after the war erupted, and at one time backed Syrian opposition factions.
Iranian hardline media reporting on the visit applauded al-Assad for his "victory over the West".
But US State Department spokesman Ned Price issued a word of caution to countries that might be considering normalising relations with al-Assad's regime.
"We urge states considering engagement with the al-Assad regime to weigh carefully the horrific atrocities visited by the regime on the Syrians over the last decade," Price said at the time.
Syrian, Iranian civilians suffer
Tehran continues to support Damascus with money, militias and ammunition, arming and training militias to support al-Assad's brutal regime, even as Iranians are grappling with dire economic conditions at home.
Iranians face rising prices, low income, unemployment and other economic and social woes, as the government teeters on the brink of bankruptcy.
Meanwhile, the United Nations Children's Fund (UNICEF) on Sunday warned that Syrian children are in need now more than at any other time during the war.
A total of 9.3 million Syrian children are in need of aid both inside the country and in the wider region where they have fled, UNICEF spokeswoman Juliette Touma told AFP.
"More than 6.5 million children in Syria are in need of assistance, the highest number recorded since the beginning of the crisis," UNICEF said.
In neighbouring countries, 2.8 million Syrian refugee children depend on aid.
Yet during al-Assad's recent visit, Khamenei described Syria as a "better place" now compared to 2011, saying that before the war "Syria did not have the respect and credibility it has now".
He went on to praise al-Assad for his "strong and high spirits" and vowed to further expand relations with Syria.
Extensive human rights violations
Close to a decade ago, then United Nations High Commissioner for Human Rights Navi Pillay issued a stern warning about al-Assad's atrocities and severe human rights violations in Syria.
A commission of inquiry into human rights violations in Syria "has produced massive evidence… [of] very serious crimes, war crimes, crimes against humanity", she said in 2013.
"The evidence indicates responsibility at the highest level of government, including the head of state," Pillay said, in reference to al-Assad.
Today, the Syrian regime's grave human rights violations, which include the use of chemical weapons against its own people, continue to come to light.
Video footage of an April 2013 massacre of Syrian civilians in the Damascus suburb of Tadamon, shows Syrian regime intelligence officers jeering at blindfolded civilians in the Damascus suburb of Tadamon before shooting them dead.
Footage of the massacre emerged only in April this year following an expose by the Guardian and the online New Lines Magazine.
In March, two mass graves filled with the bodies of thousands of Syrians, many of whom were killed under torture by the regime, were brought to light, a New York Times investigation revealed.
Many of the bodies had bruises, lesions and missing fingernails, an eyewitness to the burials told the newspaper. Some had what looked like rope marks around their necks or gunshot wounds.