ADEN -- Houthi ballistic missile and drone attacks in Marib province this month have wounded and killed civilians, destroyed private homes and displaced dozens of families -- some for a second time.
The targeting of local residents and internally displaced persons (IDPs) has drawn public outrage, with rights groups and government officials also denouncing the violence.
The Houthis began firing on Rahba district, in the south of Marib, in early September, as part of a larger plan to gain control of the province.
During the assault, the homes of Rahba residents and IDPs were hit with rockets, heavy artillery and explosives-laden drones -- attacks that killed a number of civilians and injured scores of others, forcing the rest to flee.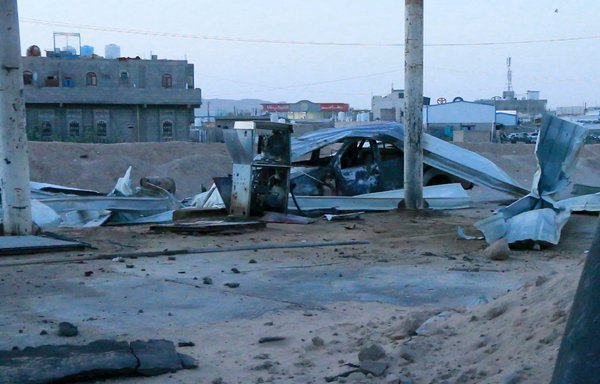 In a September 5 statement, the executive unit for the management of IDP camps in Marib said the Houthis' bombardment of residential areas had destroyed 28 homes, killing two civilians, including a 75-year-old.
Nine people were wounded in the assault, among them five women and a child.
Local organisations joined a team from the Human Rights Office in Marib on September 6 to conduct a field visit to document some of the violations.
The team recorded the testimonies of a number of IDPs in al-Juba district in an attempt to document the violations and ensure the perpetrators face justice.
Widespread condemnation
Minister of Information, Culture and Tourism Muammar al-Eryani condemned the Houthis' violence against civilians in Rahba.
He accused the Houthis of indiscriminately bombarding villages, homes and IDP camps in the district with heavy weapons, ballistic missiles and drones.
Yemen's Ministry of Legal Affairs and Human Rights also denounced the Houthis' targeting of defenseless civilians in the district.
The ministry said the bombardment had made it difficult for residents and IDPs to obtain basic necessities, forcing them to leave their homes and campsites, and called on humanitarian organisations to provide emergency aid.
"Since August 30, the Iran-affiliated Houthis have carried out systematic and continuous violations and indiscriminate bombardment of population centres, forcing [people] to flee their homes," Himaya Organisation in Marib chairman Ali al-Tam told Al-Mashareq.
The assault targeted civilians, including women and children, and "instilled terror and fear among the residents of districts adjacent to Rahba, which caused them to flee their areas", he said.
As well as the bloody offensive in Marib, the Houthis have also stepped up drone and missile strikes on Saudi targets.
Two children were wounded and 14 homes damaged as Saudi forces intercepted ballistic missiles fired across the border by the Houthis earlier this month, AFP reported.
And a few days before that, a drone hit the airport in the Saudi city of Abha, wounding eight people and damaging a civilian plane.
'Justice will be served'
"The Houthis commit war crimes and crimes against humanity against civilians, and what happened in Rahba is proof of that," lawyer and human rights activist Abdul Rahman Berman told Al-Mashareq.
This is part of the group's modus operandi, he said, noting that "it fed on violence and trained its members to commit it".
"Killing and destruction is the modus operandi employed by Iran's militias and affiliates, who engage in brutality against citizens to instill terror and deter them from resisting it," Berman said.
The targeting of civilians is a "systematic crime that we cannot label as mistakes because they are carried out on the orders of their leaders", he said.
In another incident that drew international ire, the Houthis publicly executed on Saturday (September 18) eight men and a 17-year-old boy in Tahrir Square in Sanaa in "judicial proceedings that do not appear to have fulfilled the requirements of fair trial and due process under international law", the UN said.
Clad in blue prison uniforms, the nine were forced to lie face down on the ground, before a Houthi firing squad shot them in the back as bystanders and senior Houthi leaders looked on.
Deputy Minister of Human Rights Nabil Abdul Hafeez said that targeting defenseless civilians is a reflection of the true nature of this group.
"When this militia fails militarily, it retaliates against unarmed civilians in order to declare some kind of victory, even if it is at the expense of those who have no stake in this war," he said.