Her voice shaking, 26-year-old Balqis recounts her ordeal at a checkpoint controlled by the Iran-backed Houthis in northern Yemen, where experts say repression of women is rampant after years of war.
"There is no limit to their shame," she said, asking to use a pseudonym for fear of reprisal.
It is rare for women to speak out, but Balqis described how a Houthi official stopped her at a checkpoint leaving Sanaa when travelling by bus with female friends.
All were aged over 20, but Balqis said he referred to them as "minors".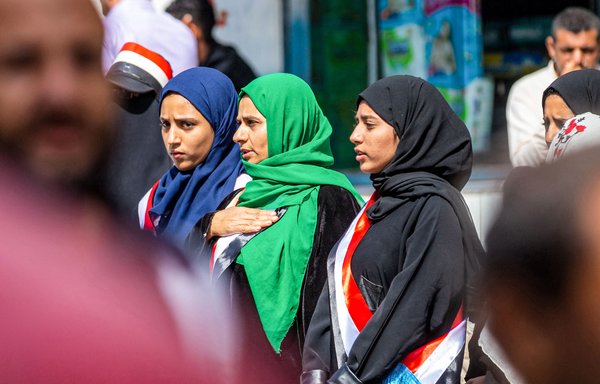 "He was asking us questions and yelling," she said. "He accused us of violating public morality."
Balqis said they were dressed in modest clothes but not the plain black robes and face veil women have traditionally worn in Sanaa, and which the Houthis prefer.
"He had a problem with the way we were dressed," she said, adding that the man complained their clothes were too colourful.
The Houthis have a history of targeting women's apparel, staging a series of raids in Sanaa shops and confiscating clothing and other items they claimed contributed to the "debauchery of women" .
Violations of women's rights in Houthi-controlled areas grew "more acute" last year, according to Yemeni non-governmental organisation Mwatana for Human Rights.
The clampdown on freedoms includes restricting women's right to work, it said.
"The situation is bad for women all over the country, but it is worse in the areas under Houthi control," Mwatana's Noria Sultan said.
'Imprison and humiliate'
One Sanaa resident, also speaking on condition of anonymity, said the Houthis used the smallest apparent infringement of their rules as an excuse to "beat, imprison and humiliate women".
In Balqis's case, Houthi officials also objected to the women travelling without a male guardian -- which although not law in Yemen, is demanded by Houthi forces. "It used to be normal for women to travel," she said.
When Balqis said she planned to cross the front lines to travel to the government-controlled southern port city of Aden, things turned worse.
"He said, 'God willing, you'll be going to hell,'" she said.
Houthi forces seized their identification papers and ordered them back to Sanaa.
"I felt like I was being interrogated like a criminal," she said, also noting that the Houthi fighters were staring and leering at them in an unpleasant manner.
"If there were proper institutions, we could have insisted on our rights, but there's no one to complain to," she added. "It's humiliating."
Last year, the United Nations (UN) Security Council imposed sanctions on a top Houthi security official for playing a prominent role in a policy of intimidation and the use of torture, sexual violence and rape of politically active women.
The UN said Sultan Zabin, director of the Criminal Investigation Department (CID) in Sanaa, bears direct responsibility for a number of cases involving harm to women, at least one of whom is a minor.
Wesam Basendawa, director of the March 8 Bloc for Yemeni Women, noted that beyond Zabin, there is an entire network of people involved in perpetuating these abuses against women.
A shadow over women
Yemen's women and girls are bearing the brunt of the war, set in motion by the Houthi coup of September 2014, which has stripped away many of their freedoms and crippled state institutions, leaving them unable to seek help.
A strict interpretation of Islam is being enforced in Houthi-controlled areas and mass displacement, with millions driven from their homes, often makes education and employment impossible.
Huda Ali Alawi, who directs the Women's Research and Training Centre at Aden University and has conducted a number of studies on gender-based violence, said the war has "cast a shadow" over women.
Their quality of life and education has suffered, she said, and there has been a massive increase in child marriage in Yemen.
"There are a lot of cases of girls dropping out of school because of living hardships and displacement," she said. "Many families have lost their sources of income, and girls' education was no longer a priority."
Studies have shown an increase in gender-based violence since the war broke out, she said.
In a 2020 report documenting abuses of Yemen's women during wartime, the Rights Radar for Human Rights states that women were subjected to 16,667 violations between September 2014, when the war began, and the end of 2019.
All parties to Yemen's conflict have been implicated in committing these violations, it said. But the Houthis were responsible for the largest number, with their crimes against women accounting for close to 15,000 of the total.